Hello there, I'm Hulo and I would love to come home with you! I'm a handsome boy who loves to cuddle, although I also enjoy my space. The ideal home for me is one where I am the only feline. Don't worry though, because I'll shower you with love to make up for it.
I'm sure you've noticed my luxurious fur coat – it's so soft and fluffy, you'll love spending time petting me. And don't even get me started on my gorgeous expressive eyes! Looking this good does take some work though, so I would love it if you could help me with this! Now I can be a tad particular when it comes to my litterbox habits. I would love if my future family could provide me with a large litterbox that is cleaned daily and is in a low-traffic zone where I can do my business in private.
I am currently on a Urinary Diet to manage my history of urinary crystals – this may need to be continued in the future to keep me happy and healthy. The team here at CHS recommends that my future family follows up with their regular veterinarian to discuss managing my unique needs in the long term.
A few more things about me – I love hanging out in a window and watching the world and I get really good use from my scratching post! Well, that's what you need to know about me – so get here and adopt me now! A cute face like this won't last long.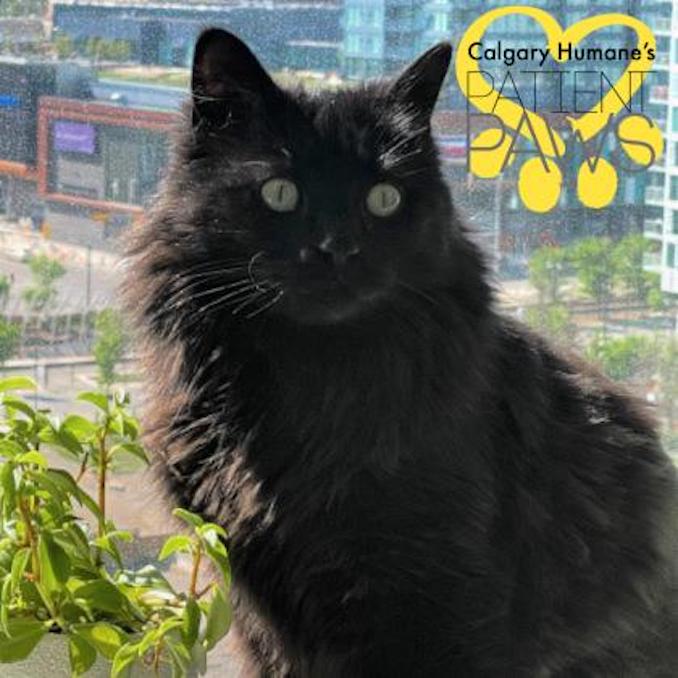 Meet Hulo
Age 7 years 8 days
Gender Male
Size Large
Color Black
Spayed/Neutered Yes
Hulo is currently staying with a foster family, please contact the Adoption Department at adopt@calgaryhumane.ca if you wish to be added to the waitlist for this animal. Our team will be in contact with you as soon as possible to update you on where we are in the meet and greet process of the animal you are interested in.
About this column:
Each week we feature animals available for adoption from local shelters in the Calgary area with the hopes that our readers will assist in finding good homes for them. If you, or someone you know, has the resources to take care of one of these animals, please do get in touch with the appropriate shelter via the links provided.