Our featured recipe this week comes from Chef and co-owner Alli Said of Mikey's on 12th. This Chicken Oaxaca Mole recipe is a modern take on a heritage dish from Oaxaca, Mexico and is sure to become a quick favourite!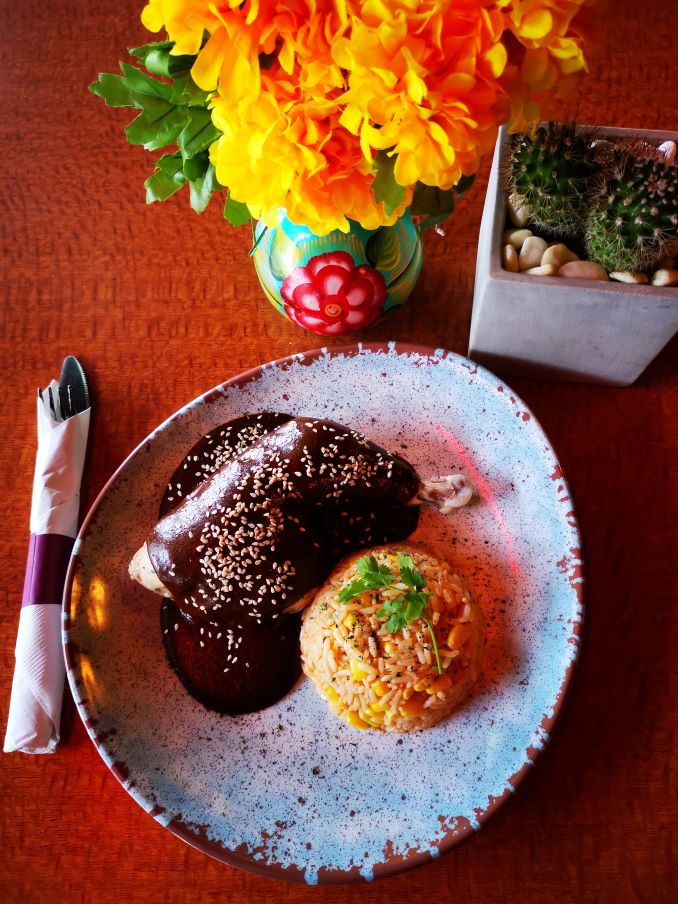 Ingredients
Chicken legs 4 pcs
Black peppercorn 5 pcs
(½ tea spoon each) Marjoram, anise seed, dry thyme, oregano
Whole clove 5 pcs
Corn tortillas 5 pcs
Almond ¼ cup
Hulled pumpkin seeds ¼ cup
Cinnamon 1 stick
Tomatoes 6 pcs
Ancho chile 4 pcs
Guajillo chile 5 pcs
Garlic 10 cloves
Raisins ½ cup
Mexican chocolate 1 pc (disc form)
Canola oil 6 table spoons
Directions
In a large pot add the chicken, peppercorns, garlic cloves and the onion, cover with water, season with salt. Let it simmer over low heat and cook until tender around 30 min. Transfer the chicken into a bowl, keep the stock aside.
Remove the stems and the seeds from the dry chilies, in a skillet heat 3 spoons of canola oil and add the chillies, fry until lightly toasted about 2 minutes. Transfer to a bowl and cover with hot water for about 30 min.
In the same skillet cook the tortillas, tomatoes, raisins, almonds, pumpkin seeds, clove, anise seeds and the cinnamon stick until golden brown around 2 minutes then add to the blender with the remaining oil from the skillet. Add the softened chillies and puree, pouring in 2 to 3 cups of the stock to make a smooth sauce .
Heat the remaining canola oil in a large pot over medium-high heat. Add the sauce and fry , stir until thickened . At around 5 minutes add about 4 cups of the stock and simmer until the sauce starts to thicken around 15 minutes then add the chocolate and stir untill the chocolate melts and the sauce reduces, season with salt
Heat the chicken and put on a plate with the mole sauce on top, garnish with the sesame seeds and serve with Mexican rice and of course tortillas.