Our featured charity this week is The Calgary Fringe Festival, which supports performing artists of all kinds from around the world.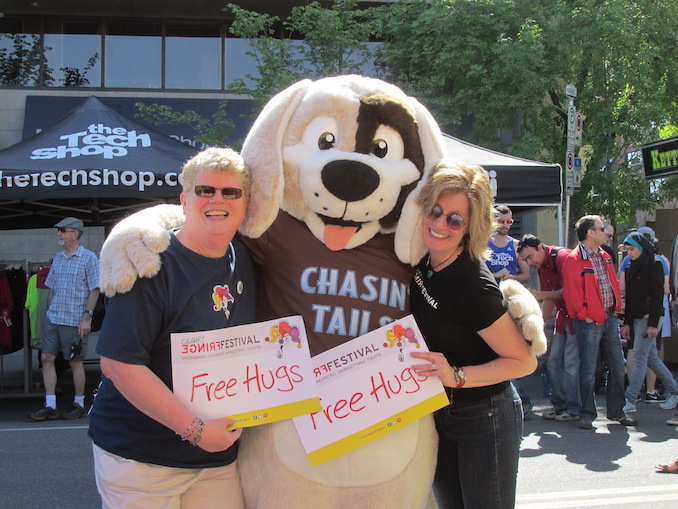 Describe your charity/non-profit in a few sentences.
The Calgary Fringe Festival strives to support performing artists of all disciplines from around the globe by offering opportunities that offer a hand up, not a handout. We strive to offer Calgarians an opportunity to build community through the performing arts by offering the community inclusive and accessible arts programming that stress a broad-based, interdisciplinary approach to the arts, and by fostering an environment of artistic freedom and expression. It is a welcoming community where values of equality, non-discrimination, and tolerance of diversity are appreciated and actively promoted by all. 100% unbiased. 100% in-juried. 100% of all ticket revenue (excluding GST and ticketing surcharges) goes back to the artist.
What problem does it aim to solve?
We feel it very important that people are out in the world, getting involved – engaging with one another interactively and face-to-face vs passively via social media. To learn more about each other through actual physical connection which helps dispel myths or misconceptions about one another, and creates a fertile breeding ground for tolerance, understanding, and acceptance. Our main goal is to bring people of different backgrounds together in community and fellowship through the performing arts – to showcase and celebrate the wonderful diversity in our city. We aim to accomplish this by providing unique opportunities through our annual summer Festival – for artists to create and perform in a nurturing, safe, and supportive environment in which to hone their craft and share their gifts, and for Calgarians to get out from behind their computers and/or their Smartphones to actively engage, connect, and participate. It's about INCLUSIVITY, not exclusivity – we see it as our responsibility to create an environment where everyone is felt valued, supported, and heard, and ensure we are all treating each other with honour, dignity, and respect.
When did you start/join it?
The Calgary Fringe was resurrected in 2005, with our first Festival taking place in the summer of 2006. I've been involved since the very beginning – first as a volunteer and support network, then gradually taking the reigns as Festival Director and Producer. We just completed our 14th Fringe Festival.
What made you want to get involved?
I've always been passionate about the performing arts, having been both on stage and behind the scenes in a variety of capacities throughout the years (this in addition to my day job in financial planning industry). I'm also passionate about community engagement and involvement and bringing people together in unique ways that are not typical of the norm. I saw this as a perfect way to bring together all my passions under 'one roof'.
What was the situation like when you started?
There weren't very many opportunities available for performing artists during the summer months and limited opportunities for Calgarians to get out there to interact, connect, and engage. What we liked about the Fringe Festival environment (and still do!) is how accessible, embracive, and open it was – to both artists and patrons. Smartphone and Social Media were just starting to make its presence felt, and we could feel a shift coming, though not fully understanding just how big of an impact Smartphone, the internet, and social media would have on our daily lives.
How has it changed since?
Over the years, Social Media has exploded! Almost everyone nowadays has a home computer, at least one social media accounts (eg. Facebook, Instagram) and a Smartphone. What started out as an additional tool or add-on to assist us in staying connected with one another has gradually shifted to Social Media becoming more of a substitution for face-to-face engagement and interaction. For our health and well being, humans need to be physically engaged and interacting with one another, and not passively through social media or our Smartphones. It's too easy nowadays to become an 'armchair critic', passing judgment on someone or something without first vetting the source and finding out the how's and the why's.
What more needs to be done?
We need more events like the Calgary Fringe Festival to draw people out from behind their computers and Smartphones and engaging interactively one-on-one. The Arts has always been that one common language or denominator that bridges the divide and brings people together. The performing arts, in particular, has for centuries been a way that people could learn more about each other and the world around them in a very real way. So it's vitally important, now more than ever, to continue supporting the performing arts/artists and bring people together – if for no other reason that to reconnect/stay connected with our humanity.
How can our readers help?
People can help by volunteering (both on the Board of Directors and Management Committees and during the Festival itself in box office services or ushering) or by sponsorship or donation (both in kind and in cash). The Calgary International Fringe Festival Society is a registered non-profit and charity, which allows us the ability to issue tax receipts. Anyone interested in any of these options is invited to contact me at michele@calgaryfringe.ca.
Do you have any events coming up?
Our 15th Calgary Fringe will take place Fri July 31 to Sat Aug 8, 2020.
Where can we follow you?
You can follow us on our website, by Facebook, or via Twitter.