On this Wild Mushroom & Stinging Nettle Gnocchi recipe, blanching stinging nettles removes the stinger-like fine hairs these plants are known for so you can enjoy their woodsy flavour (just be sure to wear gloves when handling them raw). Pairing them up with wild mushrooms takes this forest-inspired dish to the next level.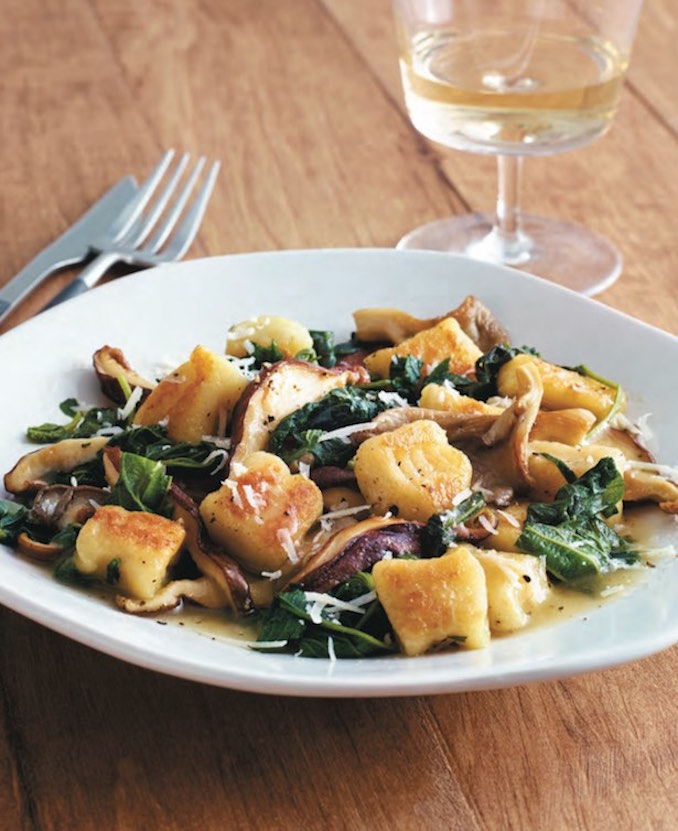 Wild Mushroom & Stinging Nettle Gnocchi
Ingredients

:
8 oz russet potatoes
5 oz wild stinging nettles
8 oz ricotta cheese
3 egg yolks
1 cup all-purpose flour, plus more for dusting
13/4 oz freshly grated Parmesan cheese
1 tbsp melted butter 2 tsp kosher salt
9 oz mixed wild mushrooms, sliced
4 tbsp olive oil, divided
3 pinches kosher salt
Freshly ground black pepper -1/2 cup water
1 tbsp unsalted butter
Asiago cheese, for grating
Directions

:
1. Preheat the oven to 400°F.
2. With the tines of a fork, poke each potato three times. Place on a baking sheet and bake in the preheated oven until tender, about 45 minutes.
3. Meanwhile, bring a large pot of heavily salted water to a boil. Prepare an ice bath.
4. Add nettles to boiling water and blanch for 15 sec- onds. Using a slotted spoon, immediately transfer to the prepared ice bath to cool.
5. When cool enough to handle, roughly chop (be sure to wear gloves). Set aside.
6. Using a ricer or food mill, pass cooked potatoes into a bowl. Add ricotta, egg yolks, flour, Parmesan, melted butter, and salt. Stir until a soft dough forms.
7. Bring a large, covered pot of water to a rapid boil.
8. Divide dough into 4 equal parts. Lightly dust a clean work surface. Using your hands, gently roll dough into long cylinders about 1/2 inch in diameter. Using a sharp knife, cut cylinders into mini gnocchi each about 1/2 inch long. Gently press the tines of a fork into each gnocchi to make slight indentations. Dust lightly with flour.
9. Place gnocchi in boiling water and cook until they float to the top, about 1 minute. Using a slotted spoon, transfer gnocchi to a large tray.
10. Preheat the oven to 400°F.
11. In a bowl, toss mushrooms with 2 tbsp oil and pinches of salt and pepper. Spread on a roasting pan and roast in the preheated oven for 10 minutes.
12. To finish, in a large skillet, bring 1/2 cup water to a boil. Add remaining 2 tbsp oil and butter, stirring until butter is melted. Add cooked gnocchi, nettles, and mushrooms, tossing to combine. Heat through, 1 to 2 minutes. Transfer to a large platter and grate Asiago overtop. Serve immediately.
***
Excerpted from Peter & Chris Neal's Goodness: Recipes & Stories (Blakeman Books).