Our featured recipe this week is Mediterranean Stuffed Eggplant by Chef Aelie Swift of Simply Gourmet. This dish is simple to prepare and is the perfect dish to serve at a lunch party as an appetizer.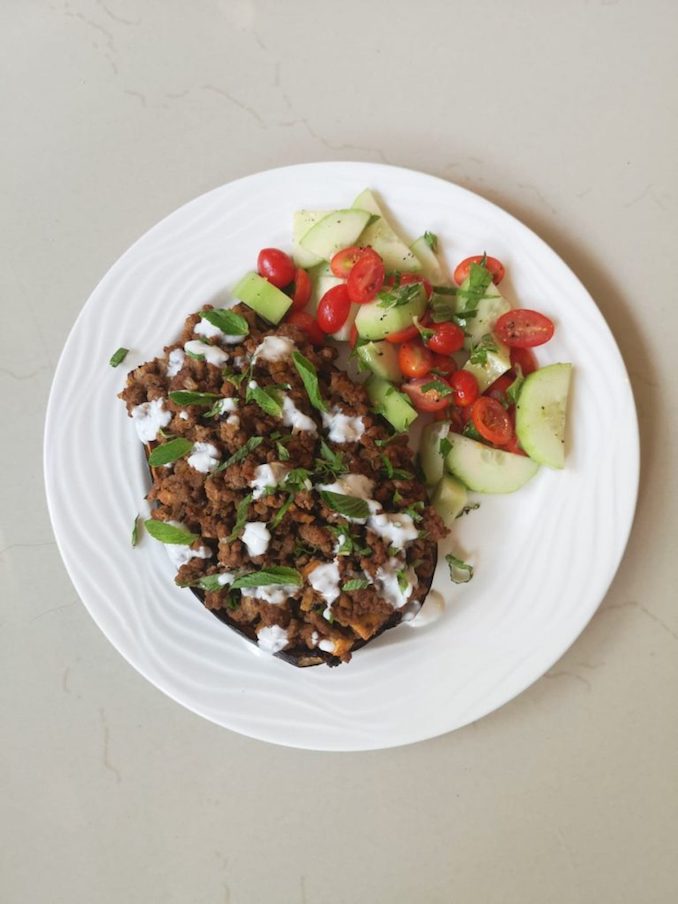 Mediterranean Stuffed Eggplant
INGREDIENTS
– 2 medium eggplants, cut vertically in half
– 3 TB avocado oil, divided
– 1 ¾ lb lean ground beef or ground turkey
– 1 onion, diced
– 3 cloves garlic, minced
– ¼ cup sundried tomatoes, sliced
– 4 TB pine nuts
– 2 tsp dried basil
– 2 tsp dried oregano
– 1 tsp red chili flakes (or to taste)
– 100 grams cream cheese
– 2 lemons, zested and juiced (save 2 TB for the sauce)
– Salt and pepper to taste
Sauce
– ⅓ cup plain yogurt
– 2 TB fresh lemon juice, reserved from earlier
– 2 cloves garlic, minced
– ¼ cup fresh mint, divided
DIRECTIONS
1. Preheat oven to 375°F.
2. Heat skillet with 1 TB of oil over medium-high heat. Add in onion, garlic and ground beef. Cook, breaking up beef until browned. Add in sundried tomatoes, herbs, chili flakes and season with salt and pepper. Lower heat and add in cream cheese. Stir until melted and fully incorporated and then add in lemon juice and zest and pine nuts.
3. Prepare eggplant by scooping out all but 1 inch. Drizzle with remaining oil and season with salt and pepper. Place in a casserole dish and fill each half with beef mixture.
4. Bake covered for approximately 15-20 minutes. Uncover and bake a further 5-8 minutes until eggplant is tender but not too soft.
5. While eggplant is baking prepare dressing. Mix together yogurt, lemon juice, garlic and half of the fresh mint. Season with salt and thin out with 1-2 tsp of water so it is easily drizzled.
6. When eggplant is done, garnish with sauce and finish with remaining fresh mint.  7. I served mine with a simple cucumber and tomato Greek salad!
Find out more about Simply Gourmet