Armstrong Cheese shared with us this delicious recipe for Sheet Pan Quesadillas, courtesy of Ioanna (Joanne) Rappos. Indulge in the deliciousness of these Sheet Pan Quesadillas, a perfect solution for a quick and flavorful meal. Packed with a medley of ingredients including shredded rotisserie chicken, black beans, and vibrant bell peppers, all seasoned with a blend of spices, these quesadillas are assembled on a sheet pan for easy preparation. Baked to perfection with layers of Armstrong Mexican Fiesta Marble Jalapeño cheese, they emerge from the oven golden and crisp, ready to be sliced into 12-16 satisfying portions. Top with your favourite garnishes like sour cream, pico de gallo, or guacamole for an irresistible fiesta of flavours.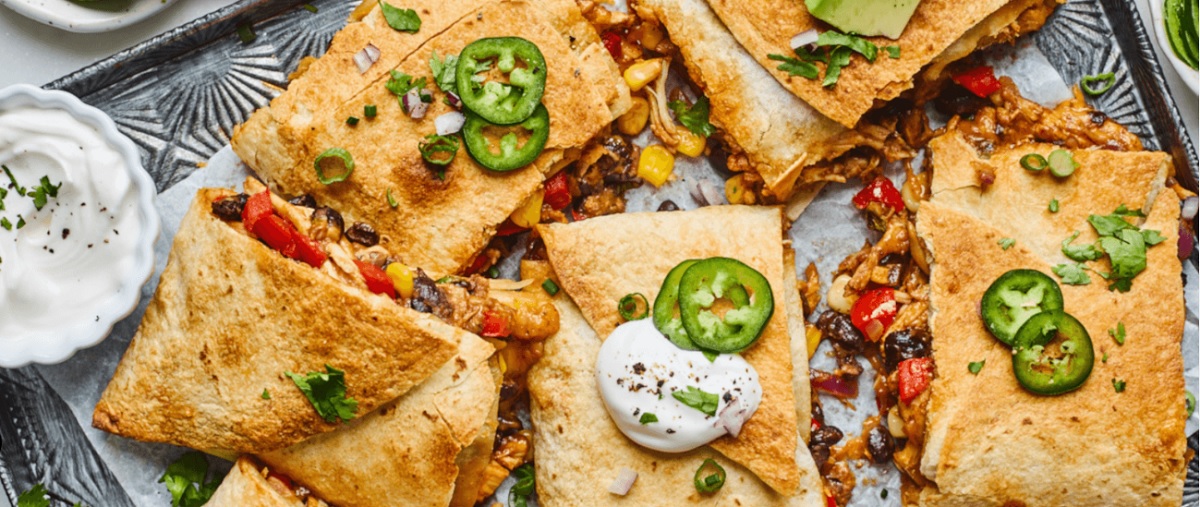 Sheet Pan Quesadillas
Prep Time: 20 min
Total Time: 30 min
Serving: 12-16 slices
Ingredients:
2 tbsp olive oil, plus more for greasing pan
1 yellow or red onion, peeled and diced
1 large bell pepper, seeds and stem removed, diced
4 cloves garlic, peeled and minced
4 cups shredded rotisserie chicken
1 15 oz can of black beans, rinsed and drained
1 cup of corn (fresh, frozen or canned)
1/4 cup fresh cilantro, finely chopped
1 tbsp chili powder
2 tsp cumin
1 tsp smoked paprika
1/2 tsp dried oregano
Salt and pepper to taste
1 lime, juiced
10 large burrito flour tortillas
2 packages Armstrong Mexican Fiesta Marble Jalapeño cheese slices (22 slices)
Recommended Toppings:
Sour cream
Pico De Gallo
Guacamole (or sliced avocado)
Sliced black olives
Sliced green onions
Chopped cilantro
Sliced jalapeños
Sour cream
Salsa
Directions:
1. Preheat oven to 218˚C (425˚F).
2. Heat olive oil in a large skillet over medium heat. Add the onion, garlic and bell pepper and cook until softened, about 3 to 4 minutes.
3. Add in chicken, beans, corn, cilantro, chili powder, cumin, smoked paprika, oregano, salt, pepper, and lime juice. Stir together until well mixed.
4. Cook until heated through, stirring often. Remove from heat and let cool to room temperature.
5. Generously grease a half sheet baking sheet with non-stick cooking spray or brush with olive oil. Place 6 tortillas around the sides of the pan so half of the tortilla is hanging over the edges of the pan. Place 1-2 tortillas in the middle, covering the exposed pan.
6. Lay half the Armstrong Mexican Fiesta Cheddar cheese slices over the tortillas. Spread cooled chicken mixture evenly over the tortillas. Place remaining cheese slices over the top.
7. Place the remaining 2 tortillas over the cheese in the centre of the pan. Fold the overhanging tortillas onto the pan so they cover the fillings and touch the centre tortillas. Press gently to even out filling if needed.
8. Grease the underside of a second baking sheet or sheet pan then place it over the tortillas and transfer to oven. Bake for 20 minutes. Remove the top sheet pan and continue baking for another 5 minutes, or until the tortillas are golden and crisp.
9. Cut into 16 pieces or desired size. Serve with toppings.