Some would say that 1st Street is an underrated strip of Calgary's downtown. Just south of the iconic Calgary Tower and the bustling pedestrian streets of Steven Avenue, 1st Street certainly has a lot to live up to when it comes to its neighbours. However, those who choose to venture off the beaten path will be pleasantly surprised.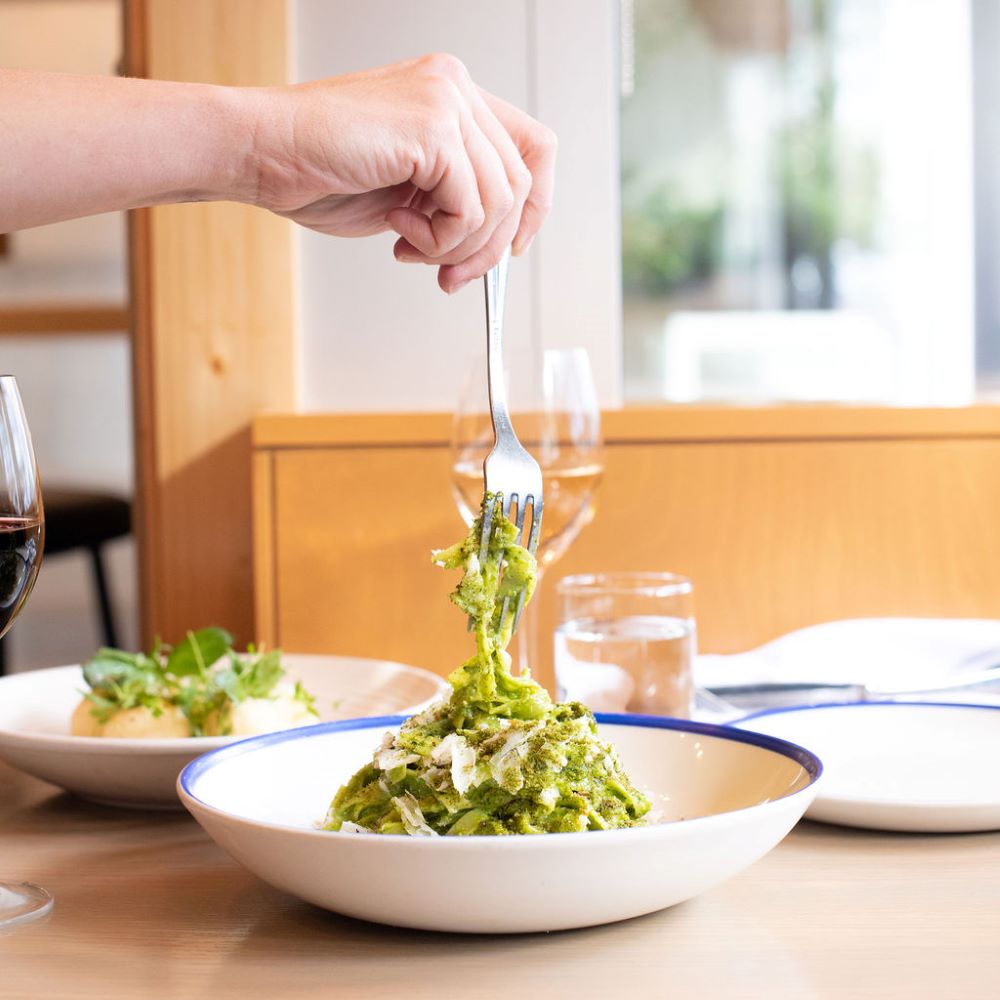 From the 1st Street Food Market (built in the fall of 2021) to locally owned shops only a minute's walk from one another, you could easily fill an entire afternoon without ever leaving this small part of Calgary's downtown. Regardless of how many steps you've taken in a day of sightseeing, shopping, or exploring, there is no better place to rest your feet than at Ten Foot Henry – a relaxed contemporary restaurant serving vegetable-forward cuisine with an eccentric side.
For those curious, a visit to Ten Foot Henry's website will reveal that their namesake is a 1980s comic book character, Henry. More specifically, they've named themselves after a real, 10-foot-tall statue of Henry that had represented the flourishing of Calgary's art community. Likewise, Ten Foot Henry (the restaurant) plays a key part in developing and diversifying the city's culinary scene. They are one of few places in the city unafraid to include more than one major cuisine as an influence – from Asian-inspired dishes to Italian classics like cacio e pepe, there is something to accommodate everyone in your group.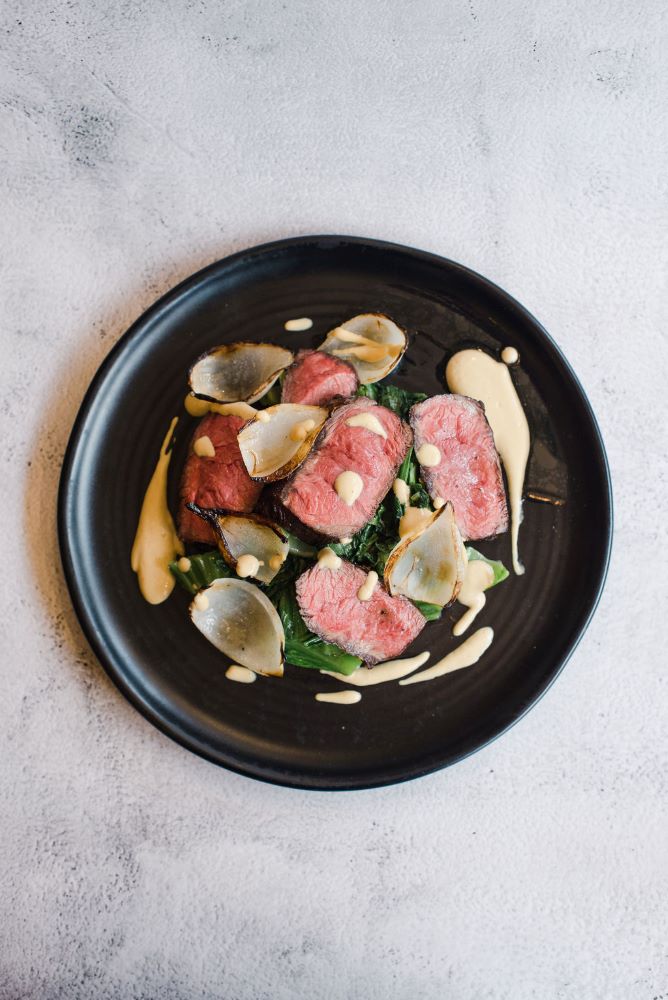 If the name didn't already give it away, Ten Foot Henry is not your typical upscale restaurant, especially in the fact that they don't take themselves too seriously. The interior is a perfect balance of elegance and playfulness. The dining room in particular evokes the concept of an outdoor picnic, with wooden beams, bench tables, and rows of verdant plants strung across the ceiling. Despite the prevalent rusticity in Ten Foot Henry's atmosphere, it is accented by a clean, contemporary layout, foreshadowing the elevated dining experience awaiting visitors.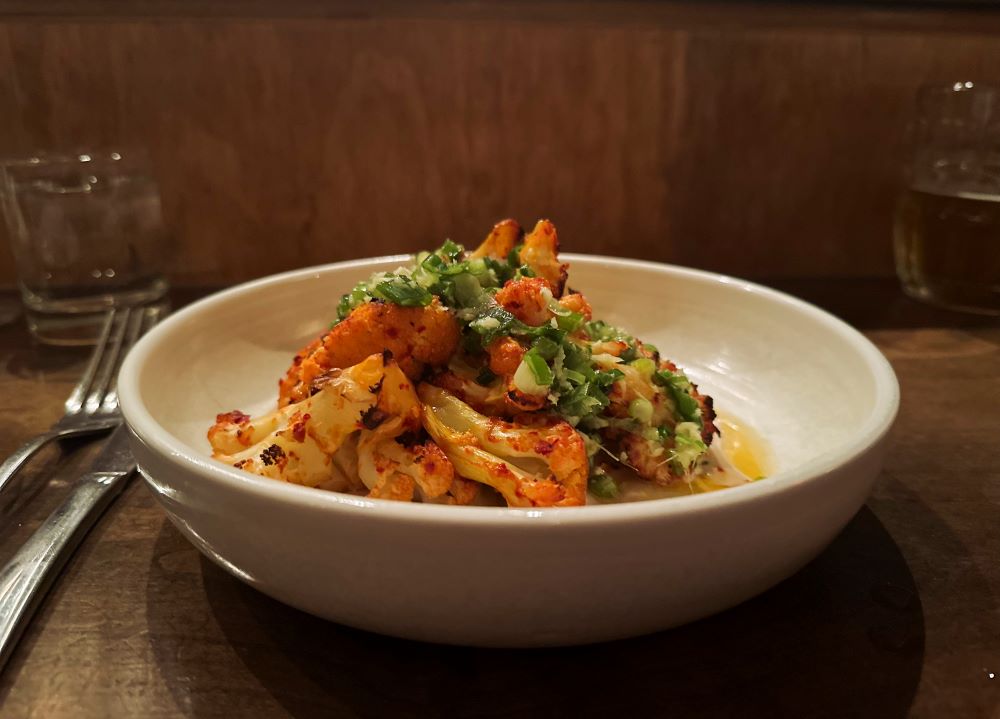 The second difference between a picnic and a meal at Ten Foot Henry is that the food here is not your typical cheese and bread fare. Rather, the menu is unattested as some of the most unique and innovative across Calgary. While they describe their cuisine as "vegetable-anchored", by no means does this translate to a limitation. Rather, this signifies that the vegetables here are various, plenty, and most importantly – elevated. Furthermore, Ten Foot Henry sets out to play with a variety of other ingredients and flavours. The menu features a "Fish & Meat" category, with main courses that range from spring salmon to striploin steak. What separates the carnivorous side of the menu here from other restaurants is that Ten Foot Henry is not afraid to elevate their proteins with an unexpected variation of other pairings. For example, it's unlikely to hear of a salmon dish that features both horseradish and a grape gastrique, but you can bet Ten Foot Henry will make it work.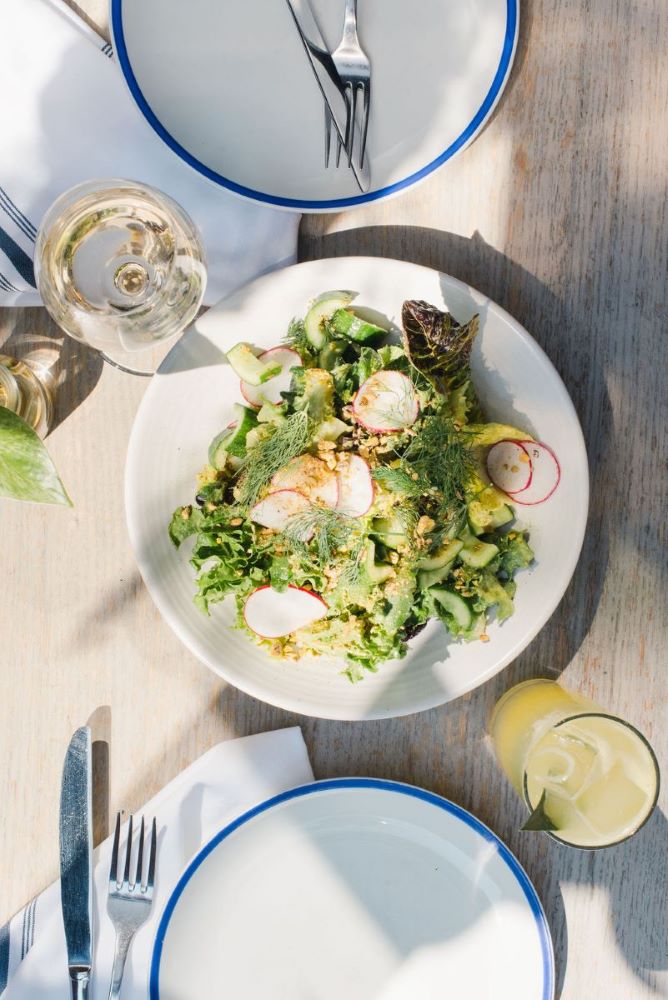 Likewise, vegetable lovers will not want to miss this spot. Another cardinal skill of the chefs at Ten Foot Henry is their ability to incorporate any typical vegetable into a main course of exciting flavours and textures. A great example is the cauliflower, alchemized with ingredients like gochujang and ginger to taste remarkably like Korean fried chicken. While any vegetarian will complain about the trials and tribulations of falling into a salad rut whenever going out for dinner, this shouldn't be the case at Ten Foot Henry. The menu features around a dozen vegetarian-friendly dishes, each one offering something different from the rest.
Ten Foot Henry is on a mission to provide the type of nourishing, locally sourced food that people actually want to eat. Because they don't take things too seriously, it seems that the chefs at Ten Foot Henry allow themselves a bit of fun when curating their menu, the result of which is a selection of refreshing, innovative dishes with flavour and nuance. There is no better way to enjoy it than under the plants and Edison bulbs, sitting at a bench, sharing it all with family and friends.