Our featured recipe this week is Ricotta Dumplings with a vodka tomato sauce from Chef MacKenize Parvka of Bridgette Bar. Bridgette Bar is a chef-driven bar in the heart of Calgary's Design District.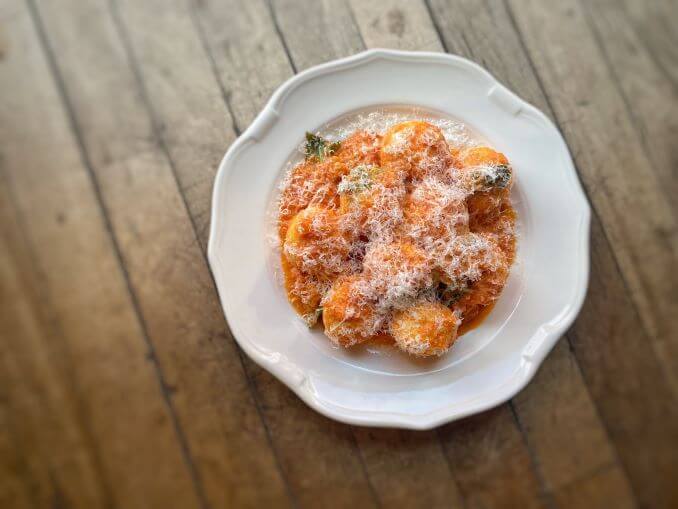 Ricotta Dumpling
DUMPLING DOUGH:
Ingredients:
– Ricotta x 1 Kg
– 00 Flour x 170g
– Egg x 1 (whole)
– Salt x 8g
Directions:
1. Add all ingredients into a bowl and mix by hand until you make a "dough ball" while ensuring the flour, egg, and salt has been incorporated into the ricotta.
2. Roll the dumplings into 25g portions and cook them in simmering salted water for roughly 5-6 minutes
VODKA SAUCE:
Ingredients:
– Butter x 80g
– Olive Oil x 50ml
– Onion x 250g (small dice)
– Water x 125ml
– Canned Tomatoes x 800g (strained and hand crushed)
– Salt x 7g
– Sugar x14g
– Vodka x 90ml
– Cream x 150ml
– Calabrian Chili x 10g (any Italian store will have this comes in a paste)
Directions:
1. Add 40g of butter to a heavy bottom pan (melt it) then add your chopped onions and water. Cook onions on medium heat until translucent and soft. You want no colour on them. Take onions our of pot and set aside once cooked (all liquid should be evaporated)
2. Add olive oil and remaining butter to the pot with the strained hand crushed tomatoes. Season with the salt, sugar, Calabrian chili paste and the vodka + cream
3. Cook everything together for 15-20 mins and then hand blend the sauce to a rough consistency.
4. Once sauce is blended toss in the cooked onions you set aside to finish the sauce. Cook for an additional 5 mins, double check the seasoning, and add more salt if needed.
Assemble!
Warm up the vodka sauce, add in a little more butter for richness (to taste) then add in the 5–6-minute cooked dumplings. Season with red wine vinegar (to taste) salt, and some fresh basil. Shave parmesan over top and drizzle a nice finishing olive oil roughly 30ml.
Enjoy!