Buzz is a wonderfully mellow, laid-back guy who loves chin rubs, gentle patting (even though is a big boy he only likes very gentle) and hugs and kisses. When he has had enough patting he gives a funny little meow to let you know. He is quite the poser and gets in the most comfortable and adorable weird positions. He will be a wonderful companion for someone as he is a very affectionate cat and just wants to be loved. Buzz's favourite things are the mini catnip pillows and cat wands, or to just be in the same room with you. He would like a high perch beside a big window. Did you know that Mitten's is my sister? Would you consider adopting us together?
He has the most beautiful outline around his eyes that is so perfect it looks like someone painted them, a very handsome boy. He is happy lying next to you and just staring at you with those captivating eyes.
Someone is going to be very lucky when they welcome this very lovable big boy into their home. Buzz is a very gentle giant and nothing short of perfect.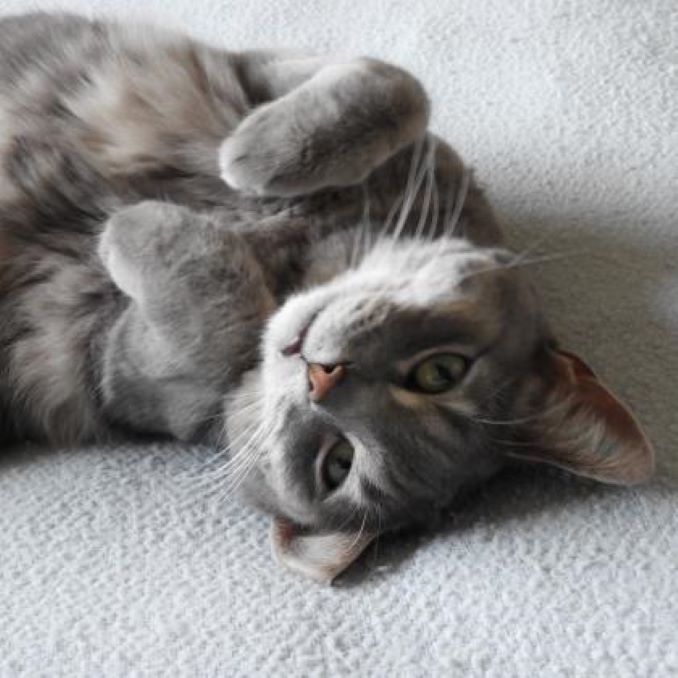 Buzz
Age: 7 years 1 day
Gender: Male
Size: Medium
Colour: Grey
Spayed/Neutered: Yes
Buzz is available for viewing at the Calgary Humane Society! Interested adopters are welcome to self-schedule for an adoption appointment using our online calendar here.
About this column:
Each week we feature animals available for adoption from local shelters in the Calgary area with the hopes that our readers will assist in finding good homes for them. If you, or someone you know, has the resources to take care of one of these animals, please do get in touch with the appropriate shelter via the links provided.