Portland Street Pizza is Eighty-Eight's in house pizza kitchen, turning out fluffy Sicilian-inspired pizza, snacks and desserts that go together with beer like leotards and legwarmers. Head Chef, Colin Metcalfe, leads a team of passionate cooks that make (almost) everything from scratch to guarantee that you'll arrive with Hungry Eyes and leave with a full belly.
This Meatballs in Sunday Gravy recipe was adapted from a traditional Italian family recipe. On Sunday you put a large pot of tomato sauce on the stove and, over the course of the day, you simmer different types of meat in it. At the end of the day, you serve the braised meats along with the sauce (Sunday gravy) alongside some pasta or gnocchi for your Sunday dinner.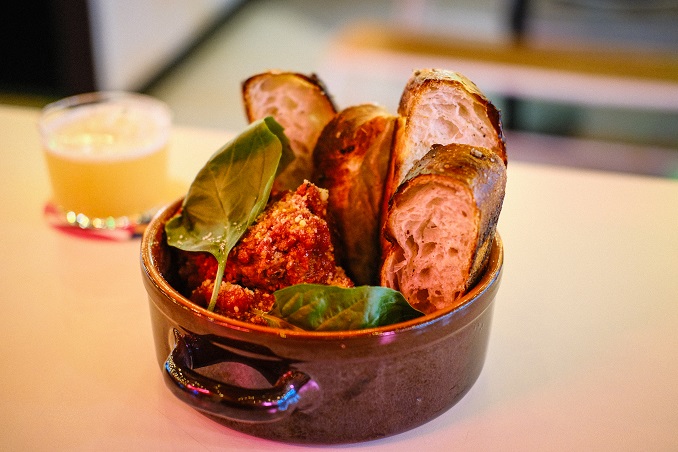 Meatballs in Sunday Gravy
Makes 16 meatballs
Recipe is a two-day process
Ingredients:
500 grams ground pork
500 grams ground beef or veal
50 grams day old bread, torn or cut into bite sized pieces
100 grams whole milk
1 egg
15 grams fresh parsley, finely chopped
40 grams pecorino, grated
32 grams salt
100 grams onion, small dice
10 grams garlic, thinly sliced
50 grams olive oil
2 grams red chili flakes
4 grams dried oregano
8 grams fennel seeds
50-100 grams cured meat (salami, bacon, pepperoni, etc.), diced *optional
2 x 400 gram can whole San Marzano tomatoes
Extra salt to taste if needed
Grated pecorino to garnish
Fresh basil leaves to garnish
Serve with focaccia bread
Directions:
Day 1
Start by sauteing the garlic, onion, chilli flakes, fennel seed and dried oregano in the olive oil. Cook these ingredients until the onions turn light brown then remove them from the heat and allow this to cool to room temperature. While the mixture cools place the bread, grated pecorino, parsley, salt, egg and milk into a bowl and crush it all together with your hands. Once your onions have cooled, add it into the bread mixture along with the ground meat and mix everything together with your hands until well combined. Place the meatball mixture into a bowl, cover it with plastic wrap and place this in the fridge overnight so that the flavours all come together.
Day 2
Preheat your oven to 425F. Portion out the meatballs into 75 grams and roll them into balls. Place the formed meatballs along with the optional cured meat in a roasting pan and cook them in the oven until nicely browned. This process should take at least 20 minutes but could be up to 40 depending on your oven. Once the meatballs are browned remove them from the oven and lower the heat to 385F. Open and crush the canned tomatoes by hand until there are a few small chunks left but overall, they look like tomato sauce. Add the cans of tomatoes into the roasting pan with the meatballs, cover the top with aluminum foil and braise the meatballs in the oven for 90 minutes. After 90 minutes the sauce should have slightly reduced and caramelized a little. Taste the sauce and add more salt if needed. Garnish the meatballs with grated pecorino and lots of fresh basil leaves. Serve them right away with focaccia bread or over a pasta of your choice.