Canadian MSC Ambassador Chef Charlotte Langley shared with us this recipe for Shakshuka with Haddock. Made from simple, healthy ingredients, shakshuka is the perfect dish for breakfast, brunch, lunch or dinner. Traditionally made of gently poached eggs in a spiced tomato, onion and pepper sauce, Chef Char updates this Maghrebi staple with roasted red peppers and the addition of MSC certified sustainable haddock.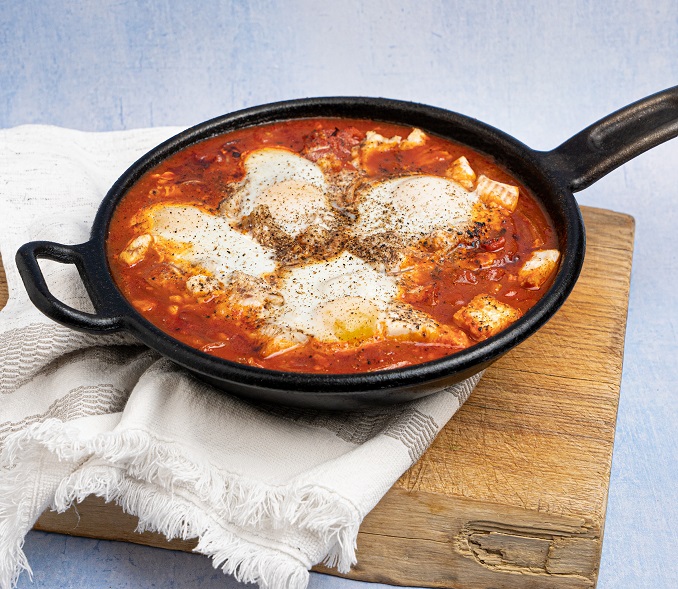 Shakshuka with Haddock
Prep: 10 minutes
Cook Time: 15 minutes
Serving size: 4 as a main for breakfast or brunch
Experience level: Beginner
Ingredients:
1 lb (454 g) MSC certified sustainable frozen haddock, thawed and cut into 2-inch (5 cm) pieces
1 large tin (28 oz, 796 ml) of chopped tomatoes
1 jar (12 oz, 350 ml) roasted red peppers, cut into strips
1 white onion, sliced
2 cloves of garlic
2 tbsp (18 g) cumin
1 tbsp (18 g) smoked sweet paprika
4 eggs
Bread for serving
Coriander (cilantro) or any fresh herb for garnish
Directions:
1. Preheat oven to 375°F
2. In a medium-sized, oven-proof pan on medium-low heat (ideally a cast iron pan), add 2 tbsp olive oil and sweat the onion until translucent and soft, about 3 minutes.
3. Add the garlic and cook for 1 more minute.
4. Add the cumin, smoked paprika, and mix well.
5. Add roasted red peppers, the can of tomatoes with the juices and bring to a light simmer.
6. Gently push in the pieces of haddock, then crack the eggs right on top of the sauce. Bake in the oven for 15 minutes or until eggs are cooked through.
7. Serve hot with a sprinkle of fresh herbs and crispy toast.
Note: Build the base of this dish the night before so you can wake up, top with eggs, seafood and throw in the oven for a no-fuss breakfast or brunch.