This week Jinhee Lee, Chef and owner of JinBar, shared this Ahi Tuna Crudo recipe to try at home. Enjoy!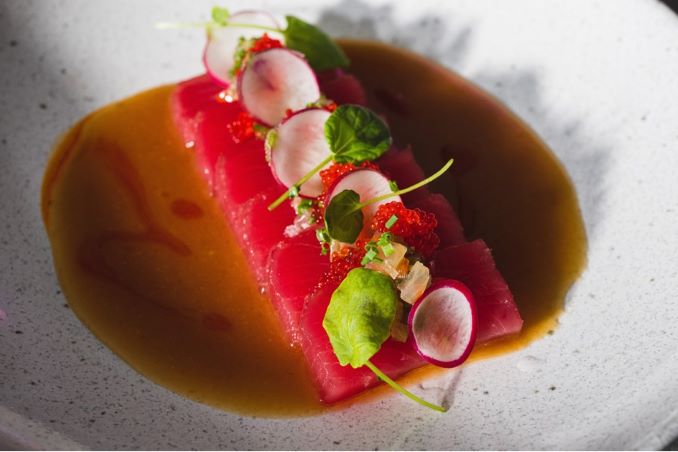 JINBAR Ahi Tuna Crudo
Ingredients:
– Sushi grade Ahi Tuna, sliced
– Green onion sofrito
– Yuza soy vinaigrette
– Chili oil
– Sliced radish
– Chopped chives
– Watercress
– Red tabiko
– Green onion sofrito
– 5 spring onions chopped
– 1 yellow onion brunoised
– 3 red Thai chili chopped
– 1 pinch of salt and fresh ground black pepper
– 100ml EVOO
Cook all aromatic vegetables with olive oil over low heat until the vegetables are soft and tender for about 20 minutes then cool it down before serving.
Yuzu Soy Vinaigrette
– 250ml soy sauce
– 20g ginger
– 120g mirin
– 1 lime juice
– 50ml yuzu
– 15ml Korean mustard
– 120g blended oil (60g olive oil and 60g canola oil)
– 80ml sesame oil
In a blender put all the ingredients without blended oil and sesame oil
Blend the ingredients well then slowly add blended oil to emulsify.
To plate the dish…
Nicely place the ahi tuna on the plate and put green onion sofrito, chopped chive and tabiko over the tuna.
Drizzling the sauce and chilli oil aside of tuna slices.
Garnish with slice radishes and watercress over the tuna.