Charla Vall believes the Business sector has untapped potential to impact society's most pressing challenges, well-beyond Corporate Social Responsibility and philanthropy. For that reason, she founded her consulting business to help them develop strategies that will deepen their social and environmental impact, all while creating business value.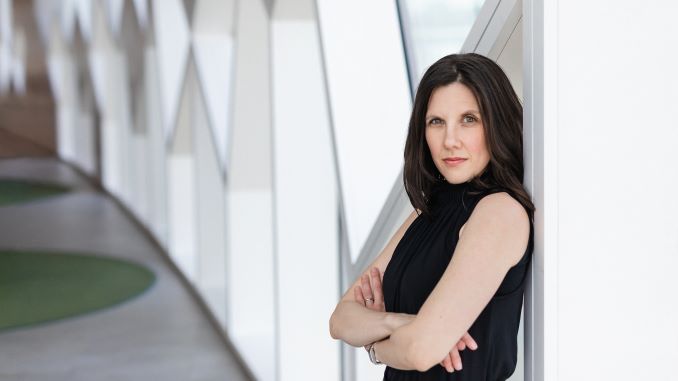 What is your business called and what does it do?
I own an independent consulting firm that helps organizations develop strategies that deepen their social and environmental impact.
What made you want to do this work?
Given the gravity of the issues facing humanity, I'm really not that interested in band-aid solutions that, while essential in the short-term, do little to disrupt the status quo.
I spent nearly 15 years working on complex social problems in the non-profit sector, and I always focused on going upstream to address the root causes. This is incredibly challenging work, but we need every organization – businesses and non-profits – to find their role in it. My role is to guide organizations on how to use their unique strengths and capacity to solve societal problems. Lately, I have been focused on working with Businesses.
At first, their impact will represent just a small splatter – like the base layer of my logo. But as they learn, improve their capacity, and grow their influence, their impact will grow too.
With a remarkable, profitable strategy they stay focused on, they might just create a masterpiece one day. In more literal terms, they might be able to solve some of humanity's most pressing challenges.

What problem did you want to solve with the business?
There is an outdated perspective that if a business operates ethically and sustainably, and sends out donations here and there, they are doing their part.
I believe that businesses can do so much more than that, and in fact, it's essential they do. Not only because consumers are demanding it and they'll eventually be left behind if they don't, but because businesses are such a major player in creating both the problems and the solutions.
To create meaningful impact though, they need to identify their overarching Purpose: the reason they exist that describes how they aim to benefit society.
By embedding this Purpose throughout their business – into their core strategy, operations, talent and marketing – they can positively impact society through the very act of running their business.
This is a relatively new approach to corporate impact. Perhaps not surprisingly, it has picked up a lot of steam during the pandemic – we have seen so vividly that the wellbeing of society is interconnected with the wellbeing of business. But given this alternative approach to impact, businesses need help finding their Purpose. They need help developing strategies to meaningfully embed it throughout their company, in a profitable way.
Profits are not a dirty word. In fact, profits are critical to being able to sustain and grow impact. So my job is to help them find their Purpose, develop profitable strategies that allow them to achieve their Purpose, and help them evaluate their impact so they can improve.
Who are your clientele/demographics?
I work with both businesses and non-profits, but my attention is increasingly shifting towards businesses.
Typically, these are businesses who have an interest in sustainability, CSR, or a social cause, but they want to level-up. They know they can do more, but they're not quite sure how to get there.
How does your business make money? How does it work?
Businesses can select specific service packages listed on my website, while the work tends to be more varied for non-profits.
After an in-depth Discovery call, I develop a proposal outlining the services I intend to provide, and once we've agreed on the details, including my fees, we sign a contract.
Where in Calgary can we find your profession?
You can find me through my website and follow my posts on Instagram and LinkedIn. Set up a virtual call with me, or if you're in Calgary, I'd be happy to grab a coffee.
I love connecting with new people and would love for people to reach out and say hello.
What is the best question a prospective customer could ask a member of your profession when comparing services? Give the answer as well.
A prospective client might ask, 'how can I be sure my company will achieve a greater impact on society and greater business value by working with you?".
My answer is, it won't.
That is, not unless you do the work to implement what we develop together.
But what I can assure you of is that we are not simply going to develop another tangential CSR initiative for your company.
My approach is to transform the way you think about your business and its role in creating impact. Through the process, I'll give you an abundance of tools, resources and guidance that will help you successfully execute on it, profitably. But ultimately, it's going to take hard work, creativity, and pursuit of a Purpose that is bigger than – and fuelled by – your profits.
If you're ready for that, then we're a good match.
What is the best part about what you do? What is the worst part?
The best part is seeing business owners realize that making a positive impact on society doesn't have to be entirely charitable.
When they figure out that addressing a societal problem can also benefit their business, their motivation to solve that problem sky-rockets, which in turn drives creativity, innovation, and ultimately their impact on the world.
For example, a nightclub in Scotland is working to capture the energy from people dancing on their dance floor. This will obviously cut their energy use costs, but it will also save up to 70 tonnes of CO2 emissions per year.
This kind of win-win – especially when it feeds into an overall company purpose – pays off in spades, fuelling employee engagement and customer loyalty, while reducing turn-over.
In fact, a 2018 study by DDI showed that purposeful companies outperform the stock market by 42%. Now, what makes me nervous about businesses taking on a more prominent role in social and environmental impact is that the leadership team may not have the background to understand the complexity and nuances of societal challenges.
Without guidance, entering the social impact sphere might come across as performative (ie., inauthentic). But at worst, they could do real damage, particularly to vulnerable or marginalized populations, if their strategy is not well thought out or poorly executed.
That's why I think it's so important for businesses to call upon the expertise of individuals who have a deep understanding of these issues and how to tackle societal problems.
What is your favourite joke about your own profession?
I honestly don't think this specific profession has been around long enough for there to be jokes about it! That said, there are lots of great jokes about consultants.
Here's a decent 'tell me you're a consultant without telling me you're a consultant' joke:
You believe you never have any problems in your life, just "improvement opportunities". This might only get a laugh from other consultants though!
Where can we follow you?
Instagram | LinkedIn | Website
PAY IT FORWARD: What is another local business that you love?
I'd love to call attention to one of my current clients, The Naked Leaf.
The Naked Leaf is a tea shop selling sustainably sourced tea and tea-ware in the heart of Kensington and on The Naked Leaf website.
Jonathan Kane, the Owner, already does a lot to benefit the community. But he wants to take it to the next level. We worked together to identify his company's unique role in contributing to social change, giving him the clarity and focus he needs to do exactly that.