This week, Chelsea Kram from XO&So shared with us a hearty Goat Cheese Grilled Cheese with Honey and Spice recipe. This is the perfect spin on traditional comfort food, featuring ingredients like fresh goat cheese and spicy chili flakes. This sandwich is best paired with a flavourful tomato soup, making it the ultimate meal! Of course, the thick fresh baguette is the perfect surface to create this delightful sandwich. Try this delicious recipe and share it with your family and friends!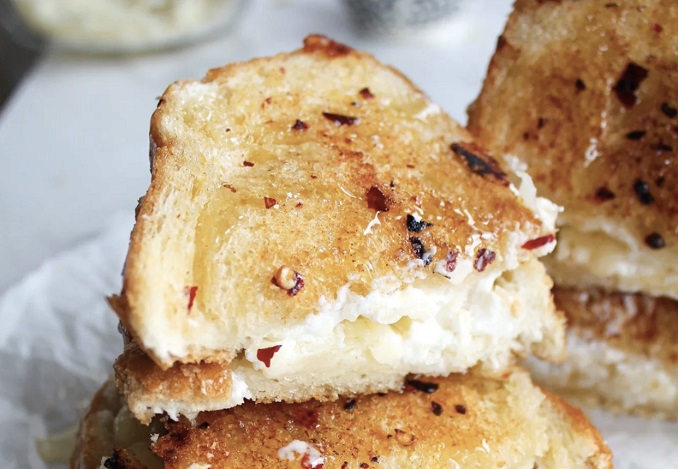 Goat Cheese Grilled Cheese with Honey & Spice
Ingredients:
● 2 slices thick, good quality white bread (I use a crusty French loaf I slice myself!)
● 2 oz goat cheese, crumbled
● 2 oz white cheddar shredded (you can also use shredded mozzarella)
● 2 tablespoon liquid honey, divided in half
● 3* tablespoon butter, melted
● ⅛ teaspoon red pepper flakes more or less, to taste
Directions:
1. Melt the butter in a large saucepan on medium low heat WITH the red pepper flakes. This allows the butter to be infused with the spice from the flakes.
2. Allow to cook for about five minutes, careful not to let it burn.
3. Carefully transfer the melted butter to a small bowl. Set aside the pan for the grilled cheese — don't wash it!
4. Use a pastry brush or the back of a spoon to spread the butter on ONE side of BOTH slices of bread (you likely won't use all of this butter*).
5. Heat the pan again over medium heat. Arrange one slice of bread buttered-side down on the pan.
6. Add the crumbled goat cheese** and shredded cheese** to the bread, and drizzle one tablespoon of honey overtop. Top this with the other piece of buttered bread, buttered side out to form the sandwich.
7. Cover with a lid to help the cheese melt. Cook until the bottom of each slice of bread is toasted and golden brown and the cheese is melted, likely 5-7 minutes.
8. When done, drizzle the top of the sandwich with another tablespoon of honey. If some of your red pepper flakes stayed in the pan and not the sandwich, you can sprinkle more on before serving.
9. Slice, serve, and enjoy!
*You likely won't use all of this butter, but this helps make sure you have enough to coat one side of each slice of bread evenly. If you're using really big slices of bread you may use all of it. I had about a tbsp. left over.
**You might not be able to fit all this cheese on your sandwich depending on the size of your bread. Just use as much as you can/you'd like.