Chef Lynn Crawford shared with us this tasty Bacon and Egg Wedge Salad recipe. It is just as easy to make as it is delicious. Complimenting any main dish, this egg-ceptional salad uses classic holiday flavours like dried cranberries and can be customized with a choice of sprouts for friends and family.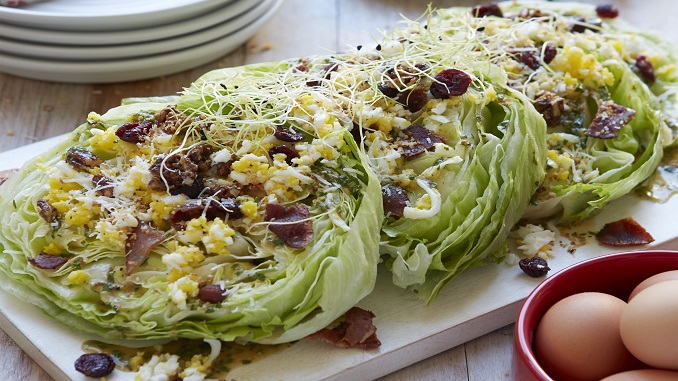 Bacon and Egg Wedge Salad
Prep Time: 20 minutes
Cooking Time: 15 minutes
Serves: 4
Ingredients:
Salad:
4 slices cooked crispy bacon, crumbled
2 eggs, hard-boiled and grated
3 tbsp (45 mL) brown sugar
2 tbsp (30 mL) maple syrup
½ tsp (2.5 mL) kosher salt
1 cup (250 mL) coarsely chopped pecans
1 head of iceberg lettuce, cut into 2 inch (5 cm) thick horizontal slices
1 cup (250 mL) sprouts, your choice of single variety or combination of lentil, alfalfa, sunflower, or broccoli
3/4 cup (175 mL) dried cranberries
¼ cup (60 mL) grated parmesan cheese
½ cup (125 mL) crispy panko breadcrumbs
Pinch of pepper
Cranberry Herb Vinaigrette:
Makes about 1 ½ cups (375 mL)
2 egg yolks
1/4 cup (1.2 mL) cranberry sauce
3 tbsp (45 mL) red wine vinegar
Zest and juice of 1 orange
2 tbsp (30 mL) whole-grain mustard
2 tbsp (30 mL) maple syrup
¼ tsp (1.2 mL) freshly grated nutmeg
¾ cup (4 mL) olive oil
1/3 cup (75 mL) finely chopped parsley
2 tbsp (30 mL) finely chopped mint
Kosher salt and black pepper
Crispy Panko Breadcrumbs:
Makes 1 cup (250 mL)
3 tbsp (45 mL) unsalted butter
1 cup (250 mL) panko breadcrumbs
A pinch of Kosher salt
A pinch of pepper
Directions:
1. Cook bacon in a large skillet over medium heat, until crispy. Remove from heat and let cool. Once cooled, crumble into small pieces and set aside.
2. Place eggs in a single layer on the bottom of a pot and cover them with cold water, about an inch higher than the eggs. Cover pot and bring the eggs to a rolling boil over high heat. Remove the pot from heat and let the eggs stand in the water for 10-12 minutes, reducing the time slightly for smaller eggs. Drain water and run cold water over eggs until cooled. Grate and set aside.
3. Preheat oven to 350° F (180° C). Mix the sugar, maple syrup, and kosher salt in a bowl. Add pecans and toss to coat.
4. Spread pecans on a parchment-lined rimmed baking sheet and bake for about 6-8 minutes until sugar is bubbling. Then, continue to bake for 3 minutes longer to allow the sugar to caramelize. Let cool and break into small pieces.
5. To prepare the crispy panko breadcrumbs, melt butter in a medium skillet over medium-low heat. When butter is melted, stir in the breadcrumbs. Continue stirring until the crumbs are evenly crisp and golden brown. Season with salt and pepper. Allow to cool. These crispy panko breadcrumbs can be stored for two weeks in your pantry in a sealed container.
6. To prepare the cranberry herb vinaigrette, whisk all the ingredients together in a medium bowl. Season with salt and pepper. This cranberry herb vinaigrette can be stored in a sealed container in the refrigerator for up to 1 week. Make sure you save your egg whites for holiday treats like meringue, macarons and soufflés!
7. Place sliced iceberg lettuce onto four plates or a serving platter. Drizzle cranberry herb vinaigrette over the lettuce and top with bacon, grated eggs, dried cranberries, sprouts, crispy panko breadcrumbs, parmesan, and toasted pecans. Season with salt and pepper. Serve immediately.