The Rehabilitation Society of Calgary (Rehab) is a small, local, independent charitable organization run by and for adults with any kind or combination of physical or developmental disability. We spoke with Terri Vallance, Development Coordinator, to find out more about them.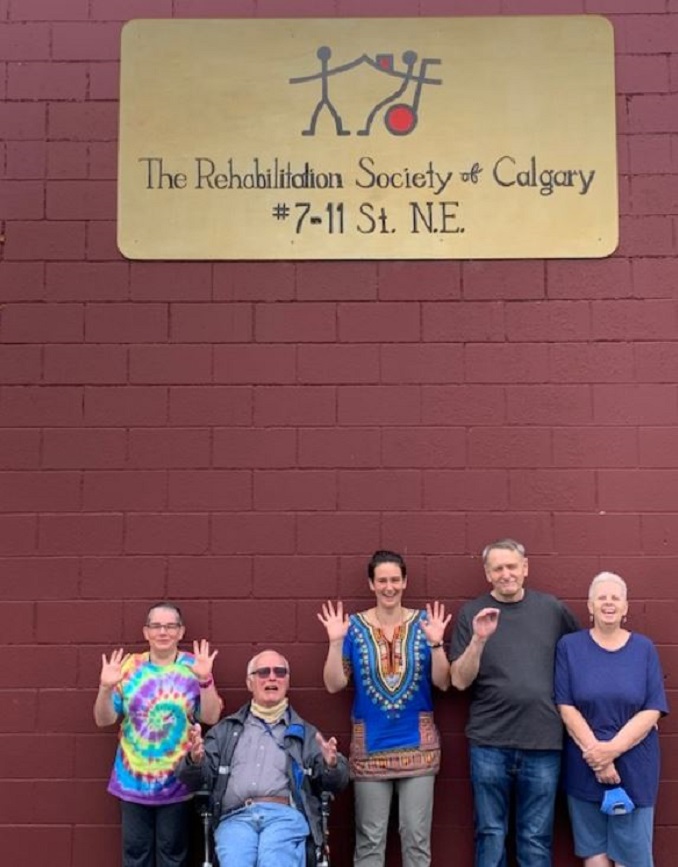 Describe your charity/nonprofit in a few sentences
The Rehabilitation Society of Calgary(Rehab) is a small, local, independent charitable organization that has been an important part of the community for 67 years. Rehab is a community centre run by and for adults with any kind or combination of physical or developmental disabilities. Members volunteer in all activities needed to run the Centre, the Board of Directors, fundraising efforts, classes, activities and social events, and are supported where needed by 2.5 staff. The average membership is over 150 member-participants.
What problem does it aim to solve?
There are lots of programs for children with disabilities, but the world kind of forgets that, as adults/older adults, these people still want to make new friends, and try new activities. Often they live in a world mostly populated by paid staff. A family or home of their own isn't 'in the cards'; jobs/careers may not be an option either. But like all of us, they want very much to share their experiences with those they have things in common with, and be a meaningful part of something. The Rehab provides a sense of purpose and community belonging for many people with moderate to severe disability challenges.
When did you start/join in?
I have been involved with Rehab as a supporter, staff or volunteer off and on for most of the last 26 years
What made you want to get involved?
I was deeply moved and impressed to find this little, local organization maintained and run totally by the 'clients'. They were so determined to have their own place, where they made decisions on what they most wanted or needed, and where staff truly worked for them – a place a bit outside of the system of professionals. They were welcoming, and very open to some help; as long as, as a "professional social worker", I respected their direction and boundaries.
What was the situation like when you started?
The members could say what they didn't want but had some difficulty communicating what direction they did want and what they needed. The world of community non-profits/grant applications/public communications had become a lot more professionalized, sophisticated, and competitive; they needed some help translating their organization to that world. As a result, they were also struggling with no money for even basic building expenses, upkeep, and any kind of program/activity supplies.
How has it changed since then?
Well, Rehab is still very much a small, grass-roots organization. It has, however, built a modest fundraising stream that has provided for gradual upgrades to the building, program and activity supplies, and 2.5 staff who provide front-line support where needed. It has changed and adapted to the needs and challenges of the current members. The membership has tripled over the past few years!
What more needs to be done?
We are always looking to reach out to people with disabilities who may be lonely, Isolated, and looking for community. We are working on improving our website and social media outreach, as well as ways to reach the many who do not have the ability or access to tech.
How can our readers help?
Do you know of a business that outsources very simple light assembly work? (e.g. stuffing envelopes, attaching sticker labels)? We'd like to talk to them!
Have time to volunteer? We currently need someone to help organize a simple Arts/crafts class. Also, looking for a guitar player to facilitate a Sing-Along, and someone With experience in a sit-down basic exercise/movement activity. Donations of craft or painting supplies are welcome, also simple, complete jigsaw puzzles.
Financial donations are always gratefully accepted.
Do you have any events coming up?
Rehab is having a Mural Refurbishing Workshop in August, to brighten up the mural on the far side of the building. In late fall/early winter, our Laughing Allowed class will be performing stand-up comedy for our second Annual Comedy Club Evening. Event dates and times are announced on our Facebook page.
Where can we follow you?
PAY IT FORWARD: what is an awesome local charity that you love?
BeaglePaws Calgary is a small local volunteer rescue and support organization for Beagles.