Focus Window Cleaning is a Calgary business that offers window, janitorial and house cleaning. We spoke with Caleb Skinner, the owner, to find out more about them.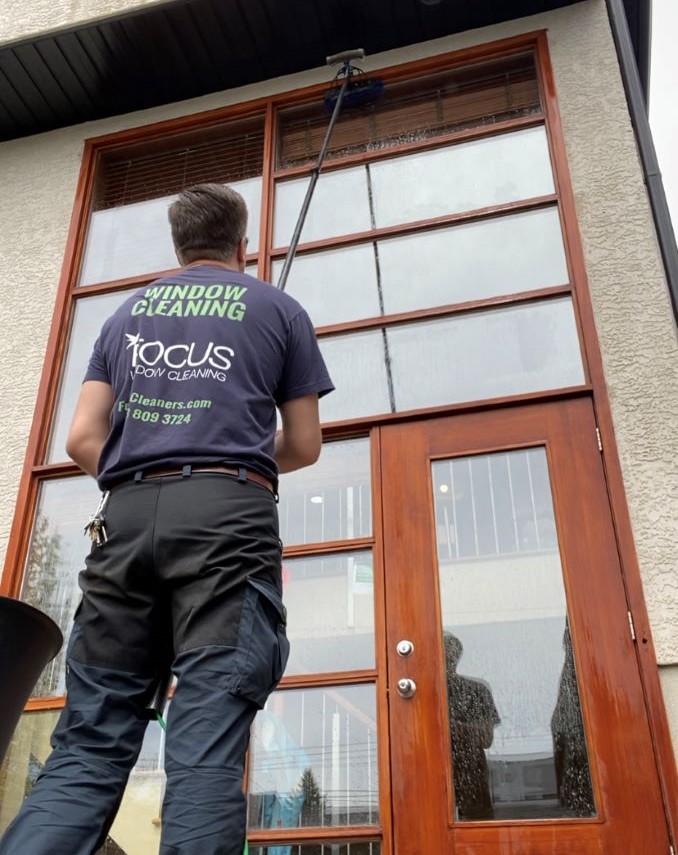 What is your business called and what does it do?
Focus Window Cleaning automates your cleaning.
We use proven technologies to help protect your most expensive investments (your homes and brands) and we use cleaning agents that won't hurt your people, pets, plants or property.
We offer: Window Cleaning, Janitorial and House Cleaning (very limited space)
What made you want to do this work?
It's what I do. Since I was young, I've worked in my family's cleaning businesses.
I enjoy learning about the chemistry, engineering and science behind building hygiene and property maintenance.
It's extremely satisfying to use this knowledge to create change in someone's life or business. The look on people's faces when they see the change in their property is fantastic.
What problem did you want to solve with the business?
My goal is to create a system that first honours the customer, shows appreciation and support for the people doing the work and gets the job done extremely well.
Hiring a cleaner is risky and sometimes scary. Anyone can clean, but it takes training and experience to clean without doing damage.
A lot of research has gone into our products and methods so they won't harm your people, property, pets or plants.
Who are your clientele/demographics?
For Window Cleaning, we service about 80% residential customers, both renters and homeowners.
For Janitorial we service businesses with between 1 – 25 employees. Consulting firms, specialists and medical offices for instance.
How does your business make money? How does it work?
-The fastest way to get an estimate is to text photos of your home or business to 403-809-3724.
-We'll send you back an estimate and give you the opportunity to accept one or more services and book a date.
-You'll receive verification and reminder emails about the appointment.
-We arrive and clean on the service date.
-Payment can be made using: EFT, Online payment, Cash or most credit cards
Where in Calgary can we find your profession?
We're based in Central Calgary. Since we're a cleaning services company, we come to you.
What is the best question a prospective customer could ask a member of your profession when comparing services? Give the answer as well.
Are you insured for liability and workman's compensation? If they don't answer yes to both, that means you, the customer are on the hook should anything go wrong.
Damage from a careless cleaner can cost tens of thousands to repair. An injured person on your property can cost far more.
Focus Window Cleaning is licensed with the City of Calgary, Government of Alberta. We're bonded and insured for liability and Workman's Compensation.
What is the best part about what you do? What is the worst part?
My favourite part of Focus Window Cleaning is seeing people's faces when I'm done. Generally, they have a "wow" expression and that makes me feel great. We're not the cheapest option in Calgary, so to see people still feeling like they're receiving excellent value from us, feels fantastic.
There are many potential "worst parts" for a cleaning company, but I work very hard to design our systems so there are no worst parts.
What is your favourite joke about your own profession?
Oh wow, if only I was funny.
I was trying to think of a window cleaning joke, but they were all transparent and panefull.
PAY IT FORWARD: What is another local business that you love?
There are so many, but I think Koki Aihara is doing amazing things with ramen at Shiki Menya in Bridgeland.