Goodwill provides Albertans with disabilities the opportunity to enhance their lives through meaningful employment.
Through donated goods, Goodwill Industries of Alberta is able to fund a number of important programs and community events.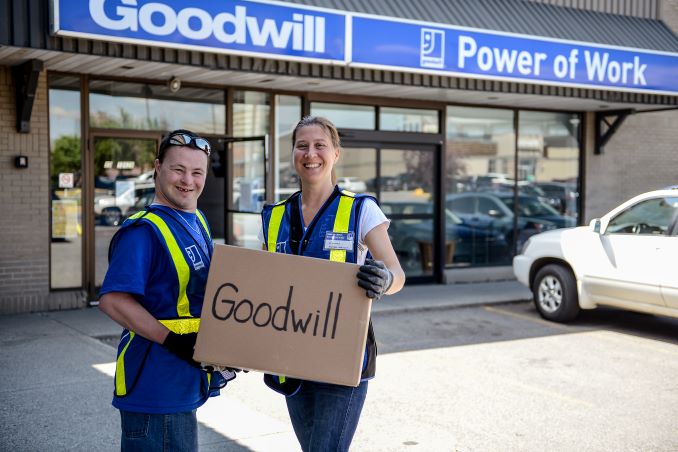 Describe your charity/non-profit in a few sentences.
Goodwill Industries of Alberta is a local for-impact social enterprise, strengthening communities and making a positive impact across Alberta. Since its first thrift store opening in 1963, Goodwill has continuously worked towards changing lives for the better through the dignity of a job and the power of work all while being a steward of a better environment through our recycling, upcycling, and repurposing.
What problem does it aim to solve?
We are in the business of people, ensuring that Albertans with disabilities have a place where they can be included, empowered, learn new skills, and make their own impact through volunteer opportunities, Goodwill employment opportunities, or work placements with other community partners.
When did you start/join it?
In 1963, our organization began as the Edmonton Rehabilitation Society. In 1975, we officially registered as a not-for-profit organization under the Goodwill banner.
What made you want to get involved?
Our main goal is to provide a hand-up, not a hand out by providing the right opportunity for the right person, to fulfill their purpose. Having someone being able to contribute back to their society not only empowers the individual, but it empowers our community as a whole. Through the power of work, dignity and joy is made possible.
What was the situation like when you started?
Goodwill Industries of Alberta fulfills a gap in services. For too long, people with disabilities were being overlooked and not assisted. Through our Career Connections program, we are able to assist where needed, train, educate and coach with overall goal of independence. Having each individual fulfill their goals and objectives, strengthening families and lives through the power of work.
How has it changed since?
Initially, Goodwill Industries of Alberta employed people directly through our organization. With an influx of talent and more individuals seeking opportunities, we have opened our doors and our job coaches seek out employers, so each individual finds the right opportunity. These employers are terrific partners, enabling people to succeed where they may not have succeeded before. It's not just about a job, it's about the right job for the right person.
What more needs to be done?
We are continuously seeking out more employers and more opportunities for people. By working with other non-profit organizations with the same objectives, like DEAM (Disability Employment Awareness Month) or the Pan Disability Connection, more opportunities can be made and will be made so everyone has more favourable circumstances. It's about becoming a more inclusive and diverse society and not relying on old outdated models. We need to break down the barriers that have been set-up to ensure that everyone has an opportunity to succeed.
How can our readers help?
By donating your unwanted items or shopping sustainably for thrift goods, you'll directly impact the lives of Albertans with disabilities and create employment. 89 cents of every dollar spent in our locations goes directly towards improving and enhancing our mission. Not only are you making a difference in the lives of others, but you'll also be reducing unnecessary waste in our community landfills!
Do you have any events coming up?
The month of October is Disability Employment Awareness Month (DEAM). For we come together to promote employment inclusion for people with disabilities and celebrate their achievements and contributions. In November, Goodwill Industries of Alberta looks forward to thanking all of our amazing volunteers, team members, shoppers, and generous donors who have helped create stronger, more sustainable communities.
Where can we follow you?
You can follow along with Goodwill Industries of Alberta's mission and read stories of people directly impacted by the province, on Instagram, on Facebook, on Twitter or on YouTube.
PAY IT FORWARD: What is an awesome local charity that you love?
You Can Ride 2 is another incredible and local charity that we cannot say enough GOOD things about. This organization offers children with disabilities the opportunity to find joy and freedom through movement by reducing barriers to riding a bike.