Well hello! It's Pip here, coming to you from my foster mom and dad's house. They're awesome people, but it's time for a family of my own! A bit about me – I love to play! I love squishy balls that I can bat around and carry in my mouth, and anything that looks like a mouse for me to pounce on. I'll give most toys a try. I have two favourite wand toys, one is a long rainbow felt toy that I hunt like a snake, and the other is a bug on a string that I jump into the air for. I am also hooked on mouse T.V. My foster mom puts in on for me, and she hides my mice and a few treats behind the computer screen for me to catch. It's so much fun!
I've been told that I'm a pretty small and timid girl, but my courage is growing a little every day, and my foster mom and dad are so proud of my progress. I forget to be scared when we're playing together. I'm happy to eat treats from your hand. I have a favourite bed where I feel super safe, and when I'm in it you can pet me or gently brush me and hear my purr. It feels so good! My foster mom also sometimes picks me up, bed and all, and holds me on her lap, which I'm learning is pretty nice too. The longer I spend with my foster family, the braver I am about enjoying pets and attention, so if you pick me, you'll have the pleasure of watching me continue to grow into an amazing companion!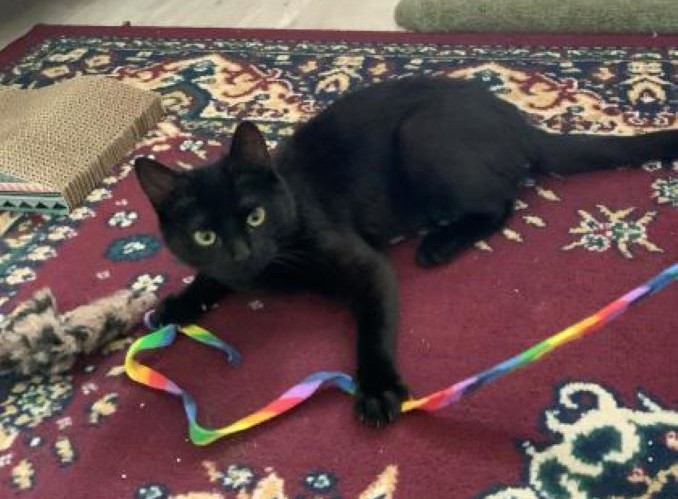 Pip
Age: 1 year
Gender: Female
Size: Medium
Colour: Black
Spayed/Neutered: Yes
Pip is available for viewing at the Calgary Humane Society! Interested adopters are welcome to self-schedule for an adoption appointment using our online calendar here.
About this column:
Each week we feature animals available for adoption from local shelters in the Calgary area with the hopes that our readers will assist in finding good homes for them. If you, or someone you know, has the resources to take care of one of these animals, please do get in touch with the appropriate shelter via the links provided.