Unshelf Design is an interior design and occupied home staging studio that is also opening a consignment decor brick-and-mortar store called Unshelf Boutique. We spoke with the owner, Sarah Kirkpatrick, to find out more about them.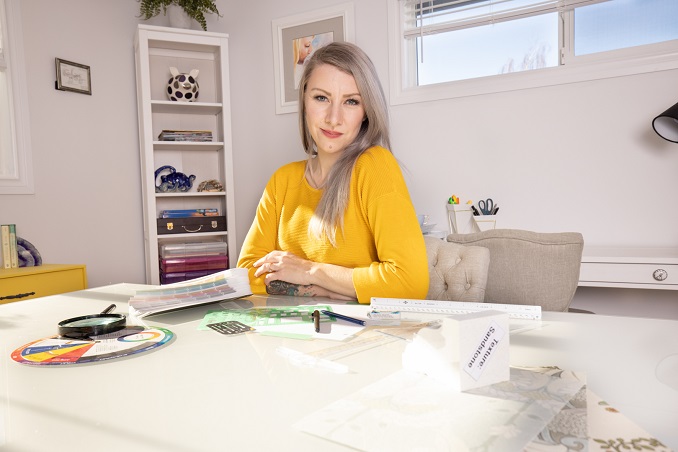 What is your business called and what does it do?
Unshelf Design and Unshelf Boutique. We are an interior design and occupied home staging studio. We are also just opening a consignment decor brick-and-mortar store!
Here is a little diagram that shows our services and how they play together!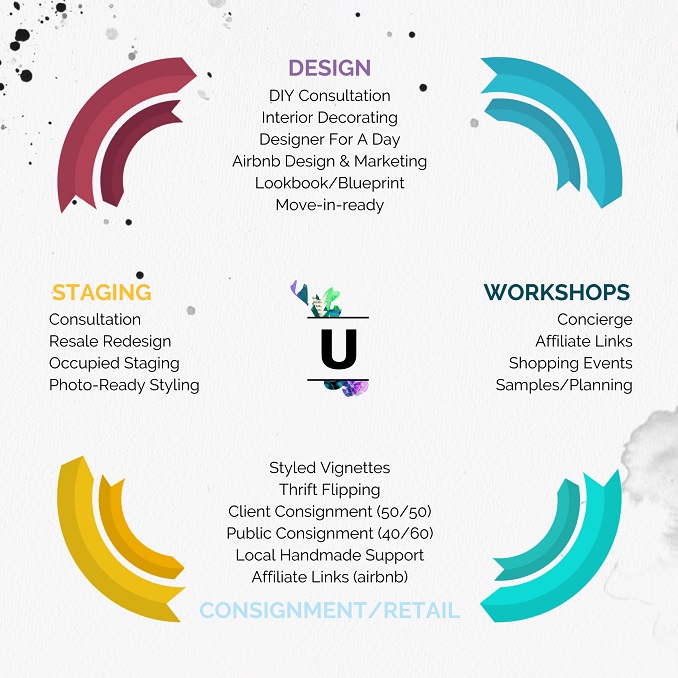 What made you want to do this work?
I owned a digital marketing company for 9 years and got really burnt out. Over covid, I, like most people, took a good look at my life and decided I needed to do something that brought me more joy. I have always told people to "find something you love doing and find a way to make money at it". I had gutted and redesigned my very first house 3 years prior and flipped my husband's rental property the year before and I loved it. And so I decided to do online schooling while the world was shut down and changed careers. I believe it was the best decision I ever made and I love it every day again.
What problem did you want to solve with the business?
My interior design company grew and I found myself scouring garage sales and thrift stores for unique pieces for their homes. I also had clients who wanted to get rid of their old decor after our redesigns and I found that there were not many great options for selling items that didn't involve the pains of Facebook marketplace. I decided that there needed to be a store where designers, stagers, and the public could shop to find sustainable and affordable decor that was still modern without having to spend hours in thrift stores and at garage sales, or always resort to Homesense. This store also needed to be available for professional organizers and downsizers and the public to drop off their old decor and make some money (so they could buy new decor if they wanted to!). And so, I decided to open that store – Unshelf Boutique.
Who are your clientele/demographics?
– 80% Female / 30% Male. Calgary and area residents.
– People choosing to update/redesign their home
– People moving and selling off items
– People who just moved and shopping for new items
– Home stagers (for themselves and their clients)
– Interior designers (for themselves and their clients)
– Professional organizers/downsizers (for themselves and their clients)
How does your business make money? How does it work?
Clients consign their lightly used trendy/modern home decor with us. We curate that decor into styled vignettes (designed groupings) and sell them as bundles or individually. The consigner gets 40% of the sale cost of their item etransfered to them (or 45% as credit in the store). We keep 60% (or 55%).
We will also be hosting workshops in the 'design lab' within the store. With our large library of design finish samples (tile, flooring, countertop, wallpaper, fabrics, etc) we will be working with people to design a room in their house and create flat lays of beautiful finishes to inspire their renovation.
Where in the city can we find your profession?
3411 8th street SE, Calgary. We have a retail storefront opening soon! Currently doing the build-out but the sign is up 🙂
What is the best question a prospective customer could ask a member of your profession when comparing services? Give the answer as well.
Why would I consign with you rather than sell myself? And why are you over another consignment store?
The answer is simple. Selling on marketplace sucks. People come to your home, you have to be available, you have to answer 100 messages, they barter with you, and you have to keep the clutter around until it sells. We will sell it for you for probably more than you would be able to sell it yourself thanks to our curated styled vignettes, and although you only make 40% of the cost, you don't have any of the hassles. On the flip side, I like to consider us the stop before donation. If you don't want the hassle of selling, consign with us as a stopover before donating. If the item does not sell we will donate it for you to one of the wonderful local charities in the city free of charge!
As for why us over them? Unshelf Boutique is the only designer-owned consignment store in Calgary. Our items are thoughtfully curated into styled vignettes that help to sell your items for more money. We also specialize in Decor. There is no other exclusively decor consignment store in the city, and so people coming to shop here are looking for items just like yours.
What is the best part about what you do? What is the worst part?
I absolutely love design. Having multiple income streams and different tasks each day keeps me busy and excited and creative. I also love that I am playing a part in a sustainable future in the interior design industry – one known for so much waste.
The worst part is definitely destaging homes. I am also an occupied home stager and I absolutely love styling people's homes and bringing in rental decor and accessories to improve buyers' experiences. But having to repack and move boxes…. way less fun. lol!
What is your favourite joke about your own profession?
I have a few jokes scattered throughout my website, including the very first text on my home page – because why not?
Other than those, I saw this on google and was pretty impressed: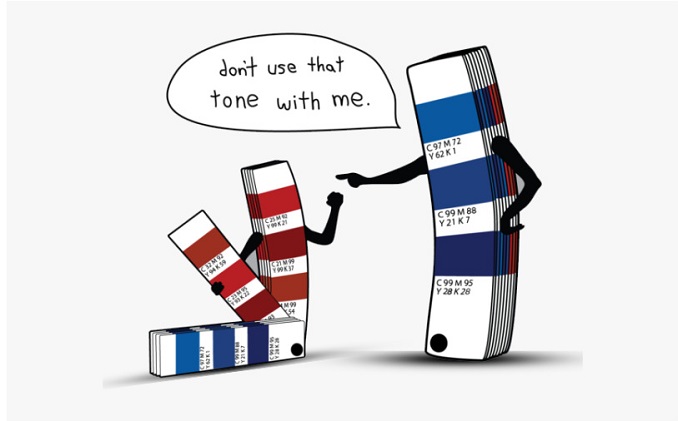 On a serious note, I think the joke (or misconception) is that we shop and look at pretty things all day when in reality being an interior designer and a store owner is 80% paperwork and emails. And without a very strong background in project management, this career would be impossible. I thank my 9 years of agency ownership every day for preparing me for setting up this business.
Where can we follow you?
Website | Instagram | Facebook | Pinterest
PAY IT FORWARD: What is another local business that you love?
First Edition first aid training