This simple and delicious Fettuccine in Black Pepper Sauce dish is the perfect meal to satisfy any belly and is sure to become a regular in your weeknight (or weekend!) dinner plans. You can find this recipe, and 59 others in Lloyd Rose's new fall cookbook called "Crazy Good Vegan".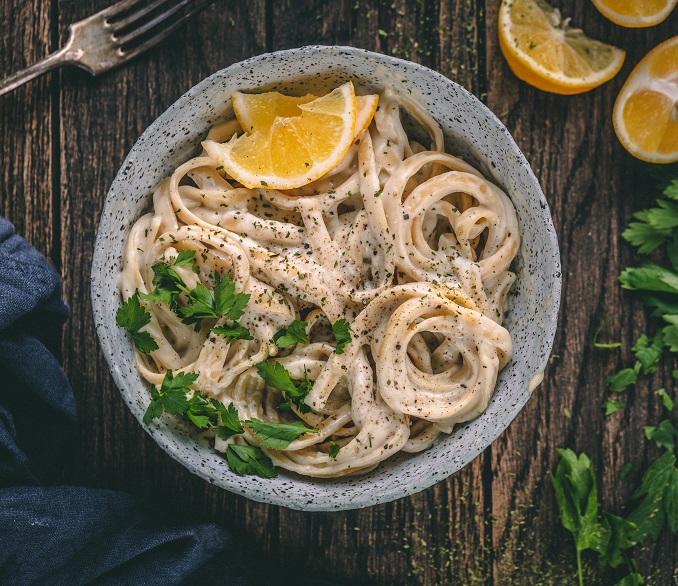 Fettuccine in Black Pepper Sauce
Serves 3
Ingredients:
– 16 oz (454 g) fettuccine
– ¼ cup(64 g) plant-based butter
– ¼ cup(31 g) all-purpose flour
– 2 cups (480 ml) unflavored plant-based milk of your choice
– ¼ tsp celery salt
– ½ tsp kosher salt, plus more to taste
– 1 tsp extra-virgin olive oil
– 2 tbsp (30 ml) lemon juice
– 2 tbsp (30 ml) red wine vinegar
– 2 tbsp (30 ml) water
– 1 tsp freshly ground black pepper, plus more to taste
– 1 tbsp (5 g) nutritional yeast
– ½ tsp onion powder
– ¼ tsp garlic powder
– ¼ cup(15 g) finely chopped Italian parsley
Directions:
Bring a large pot of salted water to a boil. Add the fettuccine, and cook it for 1 minute less than the time listed on the package. Before draining, ladle out 1 cup (240 ml) of the starchy pasta water and set it aside. Drain the pasta, then rinse it with cold water to prevent it from sticking together and set it aside.
Meanwhile, in a large skillet, melt the plant-based butter over medium-low heat. Whisk in the flour until there are no clumps. Reduce the heat to medium, then whisk in the milk until it is entirely combined in the roux and there are no lumps.
To the skillet, add the celery salt, kosher salt, olive oil, lemon juice, red wine vinegar, water, black pepper, nutritional yeast, onion powder and garlic powder. Cook for 7 to 10 minutes—7 minutes if you like your pasta sauce runny, 10 minutes if you prefer a thicker sauce for your pasta. (Keep in mind it will thicken a bit more once the pasta is added.)
Gently mix in the cooked fettuccine until it is entirely coated with the sauce. Let it cook for 1 minute more, then turn off the heat, and season with additional salt and pepper to taste. Stir in the parsley, or use it to garnish the top of the pasta for each serving.
***