The Good Lane is a Calgary online shop for those who are looking to make a difference with their purchases. We spoke with Brenna Devlin, Founder, to find out more about them.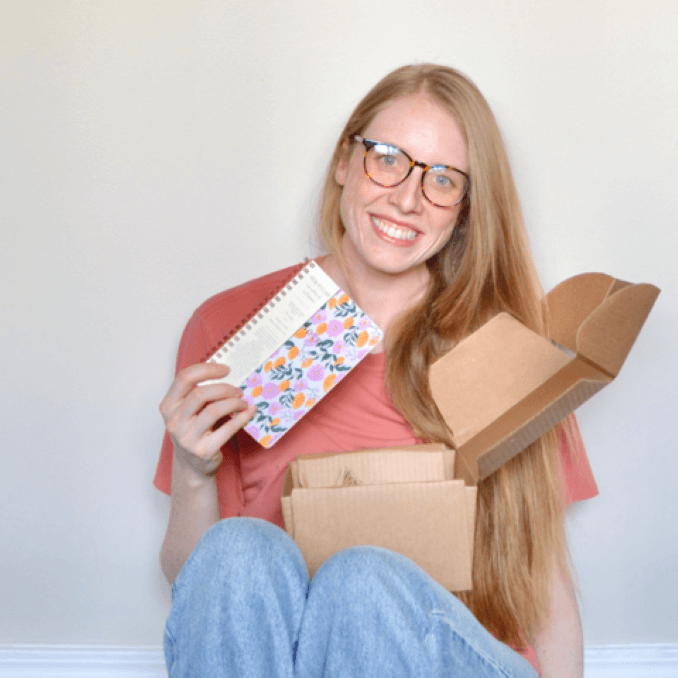 What is your business called and what does it do?
My business is called The Good Lane. The Good Lane is an online shop for conscious consumers who are looking to make a difference with their purchases. On thegoodlane.com you'll find curated gift boxes and a subscription box offering where upon signing up you'll have ethical goods delivered to your door each season! From home goods to lifestyle and wellness products our boxes only include brands that are putting people and the planet first. This means each product in any of our boxes is ethically made, eco-friendly and sustainably sourced.
What made you want to do this work?
In 2020, like many others, I began trying to figure out how I could best support small businesses, especially those going above and beyond. I soon realized there are more businesses than I ever imagined doing wonderful things, like giving back, using only eco-friendly materials, employing vulnerable populations and so much more. My background is in marketing, and I currently work full time at a job I love, so initially, The Good Lane started as a passion project and a way to further support ethical businesses, not with just my own purchases but on a larger scale. Now I am almost 6 months in, and I am super excited to continue to grow. My hope is The Good Lane will help more people discover ethical small businesses – there are so many that are worthy of your support!
What problem did you want to solve with the business?
The core purpose of The Good Lane is to connect socially conscious consumers and kind brands. Thus making it easier for people to support businesses that align with their values and understand the impact of their purchases. To quote Anna Lappe, "Every time you spend money, you're casting a vote for the kind of world you want."
Who are your clientele/demographics?
Anyone who is interested in shopping consciously and would like to discover and support ethical brands.
How does your business make money? How does it work?
I source products from small businesses, nonprofits and cooperatives from around the world and right here at home in Canada. These products are included in our gift boxes which are sold online via our eCommerce website. 5% of all of our profits are donated, proceeds from our current boxes support Food Banks Canada.
Where in Calgary can we find your profession?
You can find The Good Lane online at thegoodlane.com and occasionally at local markets around Calgary & area. To stay up to date you can follow along on Instagram or visit the website to join our email list.
What is the best question a prospective customer could ask a member of your profession when comparing services? Give the answer as well.
What makes this product ethical and/or sustainable/eco-friendly?
It can be challenging to determine if a product is ethically made or eco-friendly. Unfortunately, many large brands also make inaccurate claims about their supply chain purely as a marketing tactic, further muddying the waters. These tactics are known as Greenwashing or Fairwashing, in definition, both involve conveying a false impression or providing misleading information about a company's environmental impact and/or labour practices. Being aware of such tactics is a great starting point and asking questions like where was this product made, how was it made, and who made it also helps! Ultimately, transparency is key. For products included on The Good Lane, I make every effort to verify claims through 3rd party sources such as Fairtrade International or B-Corp Certification, in addition to general research on the brand and their supply chain. There is no perfect way to approach this but I believe asking questions and putting consideration into your purchase is a step in the right direction, and even small steps can have a big impact.
What is the best part about what you do? What is the worst part?
I love that I can support small businesses and help customers discover conscious brands. The biggest challenge is navigating the competitive nature of selling online, consumers are inundated with information and options, so I am constantly working to improve our offering and figure out how to best serve our community.
What is your favourite joke about your own profession?
My official title at The Good Lane might be owner, but really as a small business owner that is just a catch-all for bookkeeper, packer, admin assistant, photographer and more! I have loved every minute so far, but a special shout out to my fellow small business owners who wear all the hats, I see you, and you're doing a great job!
PAY IT FORWARD: What is another Calgary business that you love?
Calgary has so many amazing small businesses! To keep with the theme that is close to my heart (shopping based on values), I am going to say Without Co., which is a zero-waste boutique and refillary in Mission. Michelle, the owner selects the most wonderful products and I love the focus on minimizing waste.