Bubbles and Tap is a premium rental business that provides a unique bartending service for any event! We spoke with Hilary and Jacob, owners of Bubbles and Tap to learn more about them.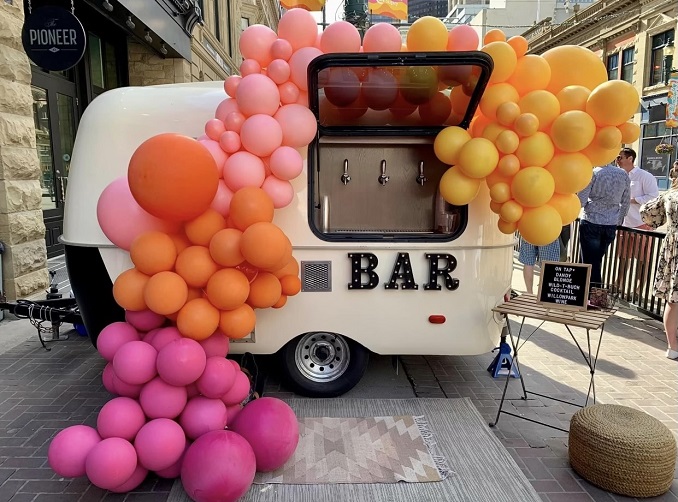 What is your business called and what does it do?
Bubbles & Tap! We are a premium events rental business that provides an eye-catching and unique bartending service. We've cultivated great relationships with many local vendors to be able to connect our clients event's with a delicious variety of boozy and non-alcoholic options to pour through our revamped 70's Boler trailer.
What made you want to do this work?
Both of us have worked in the hospitality industry for years and thrive off connecting with people. We saw the potential in this little trailer to further engage with our community while throwing ourselves into the entrepreneurial world. What keeps us here is the joy this business brings to others and how we're able to help elevate events in Calgary and surrounding areas!
What problem did you want to solve with the business?
Functions are looking for that unique feature to set their event apart and this is where Bubbles & Tap can accommodate! Bridging the gap between the tons of amazing local vendors we have and providing a fun experience for their guests.
Remote weddings or venues without bartending services connected now have access to not only bartenders but kegs of whatever they choose. Groundbreaking events for developing communities, show homes, car dealerships, golf tournaments, stampede breakfasts (the list goes on)… They all have an option with Bubbles & Tap to make their events one to remember. Plus, who doesn't like balloons and bubbly!?
Who are your clientele/demographics?
Anyone and everyone! If it's not too far and we're not already booked, we would love to be there! Our trailer can hook up three different kegs at a time, let's say one beer, one wine and let's throw a cocktail on there. We also have lots of non-alcoholic options making our business great for parties small or large, young or seasoned 😉
How does your business make money? How does it work?
Since we are a rental-based business, that is exactly it. We charge for the rental trailer depending on the size and length of the event. Plus we always provide a bartender or two (depending on the size of the event), cups/garnishes, ice and of course, our well-known balloon display!
Where in the city can we find your profession?
In Calgary, AB (& surrounding area) at an event near you! Plus we pop up when we can and where we can! Be sure to follow us on Instagram & Facebook!
Both of us have full-time jobs so this side business is just the cherry on top of our weeks! You'll typically see us out and about during the evenings and weekends. But that doesn't stop us from having a good time throughout the week too! We've been known for a weekday golf tournament or stampede breakfast 😉
What is the best question a prospective customer could ask a member of your profession when comparing services? Give the answer as well.
Best question would be something around what sets us apart from typical bartenders for hire. Well, this is easy, we bring a unique asset to every event we attend. Our balloon feature bubbling around our vintage trailer immediately catches the public's eye. Also, we have the capability to tap kegs, plus bartend and utilize what's tapped and turn that into a cocktail/mocktail. Simply put, we elevate a standard bartending service into a fun spectacle!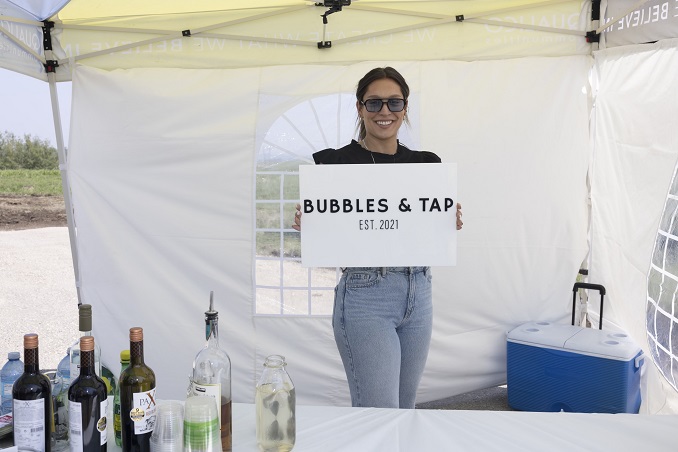 What is the best part about what you do? What is the worst part?
Best part is seeing how much excitement our business can provide for the guests and our clients. We stand out and in a good way, so photos are always welcome with our trailer, as long as you tag us!
Worst part could potentially be social media, but we also wouldn't say we dislike it! We constantly try to keep our content informative, yet funny and light-hearted so writers block does come up! As this is our side business, we have a newfound appreciation for all those creators and influencers out there as it can be much more time-consuming than we initially thought when taking this opportunity on.
What is your favourite joke about your own profession?
Our favourite joke is a little bit of a Dad joke but it goes like this… What is a bubble's least favourite type of music? Pop.
This one actually hits close to home as this is the second worst part of our job… Dealing with popping balloons!!!
Where can we follow you?
You can check us out on our Instagram or take a look at our website!
PAY IT FORWARD: What is another local business that you love?
We are obsessed with D'Served Ice Cream Sandwiches here in Calgary! Definitely give them a taste!