Agu Athletics is a fitness brand whose products are all designed in Calgary. We spoke with the founder and owner JohnMary (JM) Igbelina to learn more.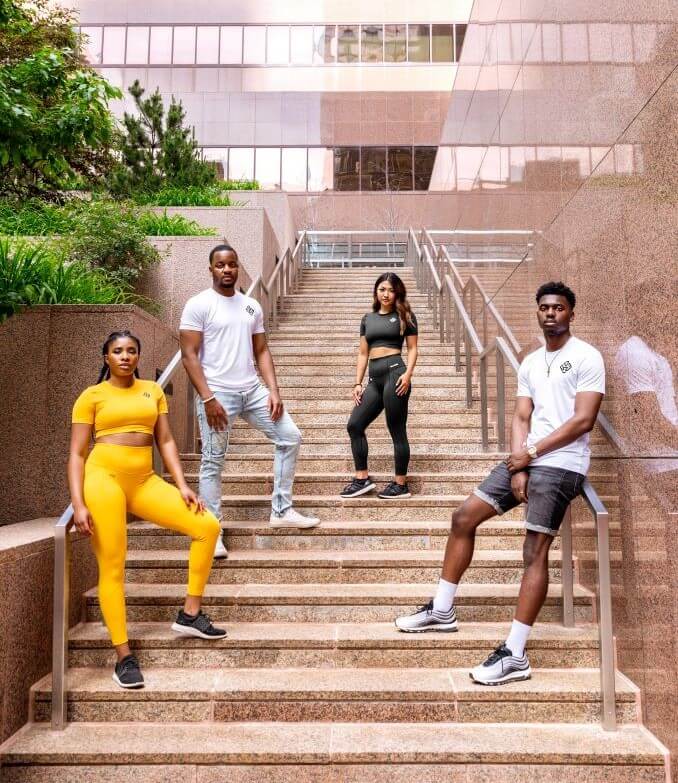 What is your business called and what does it do?
Agụ Athletics is a fitness brand that sells gym and lifestyle apparel. Our product catalogue currently includes shirts, tank tops, shorts, leggings as well as gym accessories.
What made you want to do this work?
At Agụ Athletics, we believe in the saying "when you look good, you play good". Confidence is a key component in stepping out of your comfort zone and experiencing growth. Hence, why we have the mottos "Be Fearless" and "Unleash your Confidence". We want people to be confident in chasing their fitness goals and believe they can do this with the help of stylish activewear.
What problem did you want to solve with the business?
Currently, activewear is very focused on products that are body-hugging and can be quite revealing. As a result, the integrity of the fabric is not always the best. Agụ Athletics wants you to crush your fitness goals and look great doing it. So, we strive to provide activewear that is functional and flattering.
Who are your clientele/demographics?
Our products are for anyone and everyone and our sales analytics shows this. Marketing-wise though, Agụ Athletics mainly caters to the 18- to 34-year-old age range. This is because this age range tends to spend most of their time in activewear/loungewear; not just to exercise, but also to work from home, go to the store and so on.
How does your business make money? How does it work?
We make money from the sale of activewear and gym accessories, such as hip bands. All products are designed here in Calgary. We then work with local and foreign suppliers to bring those products to life.
Where in Calgary can we find your profession?
You can find us online at our website.
You can also find us popping up at various local night markets around Calgary. Be sure to come and say hi!
What is the best question a prospective customer could ask a member of your profession when comparing services? Give the answer as well.
Are your leggings squat-proof?
This is a question we get asked A LOT from the ladies. Squat-proof means the leggings do not reveal what's beneath it, especially during squats and other lower body exercises. We have heard stories of leggings showing a little too much of what is underneath, even to the point of ripping during a workout.
Agụ Athletics' leggings are 100% squat-proof and are high-waisted too! It is important for us to check all the boxes of what is required for a great pair of leggings.
What is the best part about what you do? What is the worst part?
The people are an amazing part of what we do. From the various creatives, we work with on various projects to meeting our customers and hearing how much they love the brand and its products; the people are what makes running this business such a pleasure. Designing activewear can be stressful. It is not always glamourous and requires some grit to push through. Nevertheless, building something from the ground up is very fulfilling and once the final product has come to life, the feeling is like no other.
What are your social media channels?
You can find us on Instagram
PAY IT FORWARD: What is another Calgary business that you love?
Prescod Shea Cosmetics is an all-natural, shea-based cosmetics brand based in Calgary. Calgary has a very dry climate so cracked skin is quite common, especially in the winter. Their creams and body butters (lotion) work like magic. They will leave your skin soft, hydrated and looking amazing.