Pushpa's Pyrography is a Calgary business that creates handcrafted wood burn art from household items. We spoke with Pushpa Pyro, the owner, to find out more about them.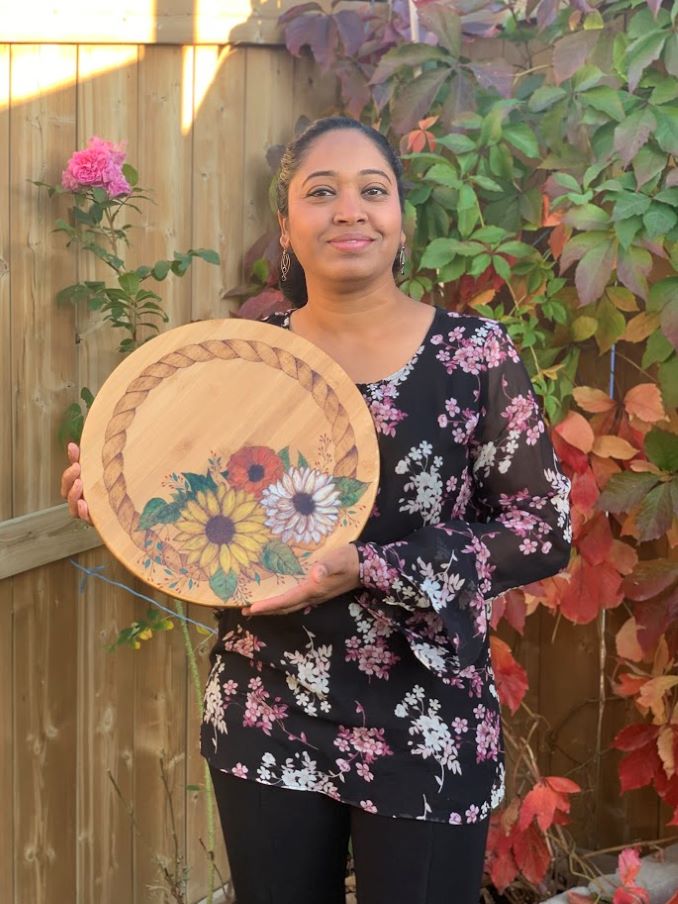 What is your business called and what does it do?
I am the artist and business owner of Pushpa's Pyrography. I create handcrafted wood burn art from household items to large wall art. I do custom woodburning including people/pet portraits, display signs, wedding decor and personalized gift items.
For the uninitiated, Pyrography (commonly known as wood burning) literally means "writing with fire". It is the art of creating decorative patterns on wood by burning using a heated metal tip.
What made you want to do this work?
I have been woodburning since 2017. As I was looking for things to do in my free time and try something new, I stumbled upon pyrography and was immediately hooked on it. Something that started as a hobby turned into a huge passion and soon a business idea was born. This has been a journey of creating my own identity and reconnecting with myself.
As my pyrography art became popular among family and friends and started generating interest at the local art and craft markets, I learnt that there is a genuine interest in buying local and handcrafted items and a fascination with pyrography, it is not commonly available in Calgary.
What problem did you want to solve with the business?
Mental health is a cause close to my heart. As someone who has struggled with depression, pyrography is a way to manage my well-being. The art of wood-burning has been a meditative and therapeutic process for me.
I have experienced firsthand how art and creativity can help in managing issues like depression, stress, and anxiety. Through my business, I want to support programs that are focused on mental health and wellness. I want my art to inspire others and share the positive impacts it can have in nurturing their well-being.
Who are your clientele/demographics?
My products are mostly household items including kitchenware aimed at being both decorative and functional and can be personalized to create items that are perfect for gifting.
My main demographic is aged between 20 to 75 years, typically mothers, grandmothers and friends purchasing gifts for special occasions like birthdays, anniversaries, Thanksgiving or Christmas. Basically, it includes anyone that is tired of mass-produced items and is looking for unique handcrafted, customized and personalized art.
How does your business make money? How does it work?
I sell my art through the "Be Local" online portal which is a network of local Calgary businesses and at seasonal art and craft markets. For commissioned work, I can be contacted via email or my website. A lot of customers find me on Instagram as well.
Where in Calgary can we find your profession?
I am a self-taught artist and work out of my home studio. I do not have a retail location
yet. My products can be purchased online and shipped locally or worldwide.
What is the best question a prospective customer could ask a member of your profession when comparing services? Give the answer as well.
The most common question asked is about price comparison of creating the same product using a machine like a laser engraving or a pyro printer that burns images on the wooden surface Vs hand burnt and the amount of time it takes.
And my answer always is handcrafted items are a labour of love and every piece is unique even if I am recreating the same images.
What is the best part about what you do? What is the worst part?
As an artist, I am happy that my art inspires others and as a business owner, I create a positive impact on the local economy and community and collaborate with other local businesses.
The only downside is as a sole business owner, it takes away time from what I love doing the most which is wood burning.
What is your favourite joke about your own profession?
Well, I have earned the nickname "pyromaniac" among family and friends. While the fire is known to consume, warm and illuminate, it can also be used to create if it can be controlled.
PAY IT FORWARD: What is another local business that you love?
coRISE Superfood – It is a food upcycling business in Calgary focused on people, pets and the planet.