Alberta Institute for Wildlife Conservation (AIWC) provides expert medical care and a safe place to recover for injured and orphaned wildlife around Alberta. We spoke with Katrina Terrill, the Community Engagement Manager of AIWC, to learn more about their organization and what we can do to support them.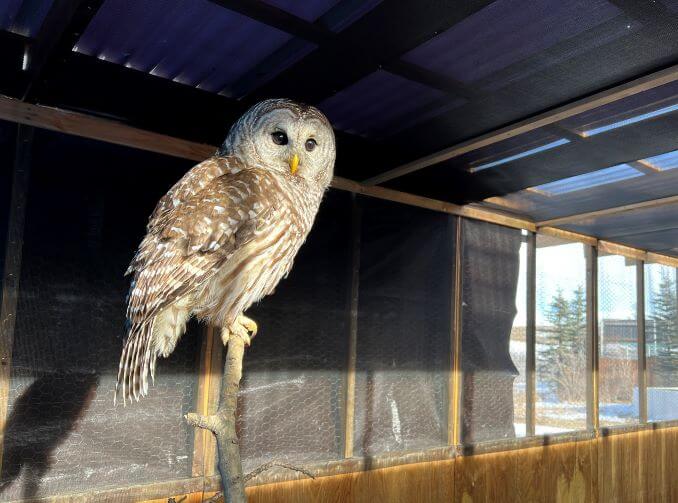 Describe your charity/non-profit in a few sentences
Alberta Institute for Wildlife Conservation (AIWC) is a champion for injured and orphaned wildlife through rescue, rehabilitation and release. We admit all shapes and sizes of wildlife in distress to our wildlife hospital, from hummingbirds to moose calves. AIWC also offers engaging public education programs to help inform the public of the importance of wildlife to our ecosystems and ways of life.
What problem does it aim to solve?
We provide expert medical care and a safe place to recover for injured and orphaned wildlife around Alberta. We also run a wildlife hotline where people can report potential animals in distress, and our education programs help people to learn how they can help wildlife in their own backyards.
When did you start/join it?
The organization was founded in 1993, and I joined the AIWC team in June 2016.
What made you want to get involved?
One of the things that attracted me most to AIWC was the unique nature of the work.
Not only does the organization provide hands-on care for injured and orphaned wildlife, but they also help to teach people about how to prevent animals from becoming injured in the first place! I love the combination of veterinary care and public education.
What was the situation like when you started?
When I first joined AIWC the team was fairly small, and though we were still doing great work, things were definitely a little overwhelming. This was especially true during the busy summer season, where we could be admitting upwards of 30 new animals per day!
How has it changed since?
Over time our staff team has grown, and we've even been able to add a full-time veterinarian to our roster, which has dramatically increased our success rates for getting animals back to the wild.
We are also able to care for more difficult-to-rehabilitate species, including orphaned black bear cubs. Additionally, our workplace culture is amazing, with extremely low turnover among staff and volunteers.
Everyone is so dedicated to doing what is right and helping the animals no matter what their role, which makes AIWC a truly amazing place to work.
What more needs to be done?
One of our biggest needs at the moment is rebuilding some of our older enclosures, and putting up more specialized structures for higher-needs patients. We also need to continue getting the word out about how to prevent wildlife injuries from happening in the first place! Approximately 95% of our patients are admitted due to human-caused reasons, many of which are preventable (such as accidentally kidnapping baby jackrabbits, who are left alone by their mothers on purpose and are perfectly fine on their own).
How can our readers help?
Your readers can help by assisting us in spreading the word to their friends and family about the Institute for Wildlife Conservation, and implementing a few easy things at home to prevent animal injuries such as:
1) Putting up window decals on windows to prevent bird strikes (we sell them on our website at www.aiwc.shop)
2) Keeping cats inside, or making sure they are wearing a leash/contained in a catio when outside. This is especially important with baby bird season coming up!
3) Not using rodent poison to get rid of mice or gophers, as these animals are often eaten by birds of prey like owls, hawks, and eagles, who then get severely ill. Try live traps or snap traps instead!
Most importantly, if you see a wildlife animal you think might be in trouble, give us a call on our wildlife hotline at 403-946-2361 as soon as possible!
Do you have any events coming up?
Our Wildlife Baby Shower fundraiser will run until May 31 is an extremely important fundraising event for us. We can admit over 1000 wildlife babies between May-August, and need all the help we can get to ensure these animals get the medical care and food they need to grow strong and be successfully released back into the wild.
Where can we follow you?
You can follow us on Instagram, Facebook and YouTube.
You can also check out our website!
PAY IT FORWARD: What is an awesome local charity that you love?
We absolutely love the Cochrane Foundation – they have been huge supporters of us and other local charities over the years, and just recently have helped us purchase some much-needed medical supplies for baby mammals!