Banff has gotten a little bit bolder with the opening of a new old-world-inspired restaurant in the town's historic Mount Royal Hotel.
The aptly named Brazen fuses classic and contemporary in an adventurous nod to the mountaineers who founded the town in the 1880s. Let's start with the bar, as hotel bars are among my favourite places to sit and swill a stirred drink. Pull up a stool!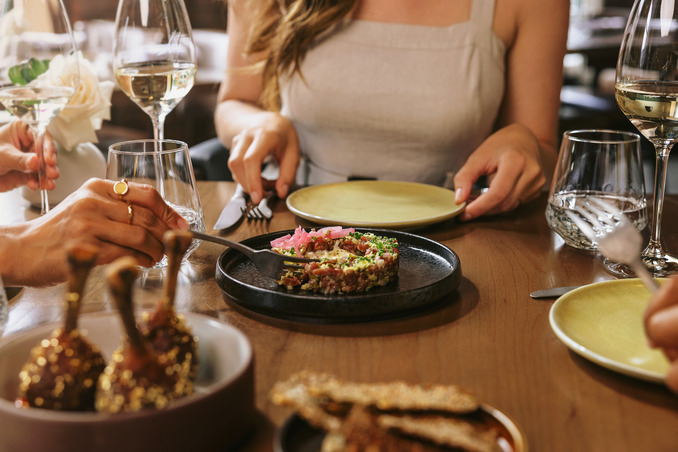 With a nod towards the vintage, the cocktail menu is playful, delicious and, brace yourself because I am going to say it,  Instagrammable.  The Garden Tea Party is the apex of aesthetic, drawing eyes from around the room as it is poured from a teapot over cotton candy, resulting in a drink that is as bright as a bluebird day in the mountains. For me, the cocktail of choice is the hotel's namesake, Mt. Royal. A riff on a classic French 75, it is an excellent way to kick off proceedings ahead of a great meal. However, if you're feeling pre-dinner thirsty (perhaps after a day of hiking or hitting the slopes), be advised that Happy Hour is between 4-6 and you can snag yourself $5 (!) Negronis, $6 wine and $7 draft beer. 
Fronted by award-winning chef, Scott Hergot, the vibe is low-key upscale tasty-playful (yeah, that's a thing, I declare it). If you're looking for a classy appetizer to pair with your Mt. Royal, I wholeheartedly recommend the Smoked Beef Tartare. Chicken Pops and Sticky Baby Back Ribs also appear to be popular choices, and I can personally vouch for the Stuffed Mushroom Caps With Prawn Mussolini, Wasabi Peas, and Miso Butter. So what of the large plates? Paying homage to Alberta's love of Ginger Beef, Angus Beef Hanger Steak is served up with a zingy ginger syrup. Weird, wild and completely delicious, the 14oz Alberta Angus Beef striploin rubbed in Banff Roasting Company Coffee and served in a Chocolate Jus is one of the more "brazen" articles on the menu. Rest assured, there are plenty of vegetable options to choose from too. The Beet Carpaccio and the Brussels with Blue Cheese, Dill and a Saskatoon Orange Glaze were delightful. 
The dessert menu is limited (although I've always been a pioneer of cocktails post main course), although what is on offer is on-brand with its light adventure. Miso caramel, chips and peanuts are a great accompaniment to chocolate cake, and I'm always here for a creme brûlée, and here Banff Coffee Roasters comes back to play, along with Baileys and hazelnut powder.
Brazen is a welcome addition to a plethora of excellent dining options in Banff, which is fast becoming known for its elevated dining as well as its outdoor sports and recreation. I've said it once and I'll say it again; there is nothing better than a day of hiking or skiing (pick 'yo season) followed by a hearty meal. Perfection.