A thunderous instrumental band, Father Moon begins anew with Shoegaze, Prog Metal, and of course downtrodden Doom. The guitar has taken center stage with singing melodies and varied textures while the bass maintains its central role heavily rooted in stunning grooves and a thick sonic palette. Gluing the band together the drums bring forth complex rhythms acting as a staggering percussive force. A completely DIY group, Father Moon offers up a fantastic sound unique to Calgary's burgeoning underground Metal scene. As Kaptain Carbon wrote in his review of their first EP for Tape Wyrm "Come confused, leave delighted."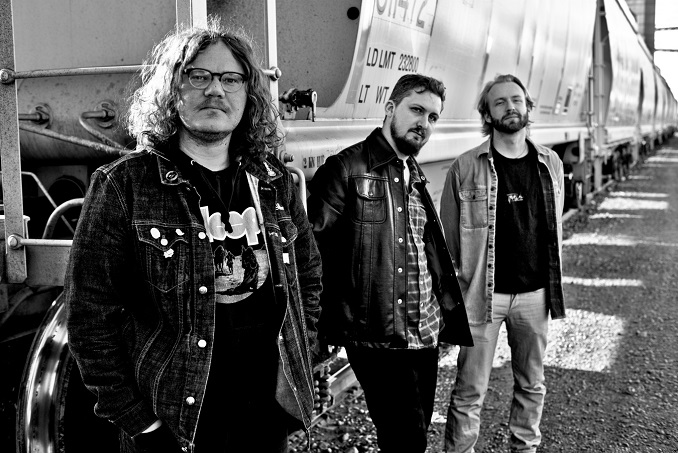 Name:
Father Moon
Genre:
We experiment with a lot of genres but make sure we are steeped in the traditions of Doom Metal.
Founded:
We became Father Moon in the winter of 2018 from the ashes of a previous project.
# of Albums:
We have two eps, our debut 2 and our sophomore self-titled EP Father Moon. We have also released 6 singles, beginning with Snow, written even before the rise of the band, followed by Solitaria, The Worm and The Raven, a quick instrumental called Word Slave and our most recent single Mother Earth (Single Version).
Latest Album:
Our latest album is our Self titled EP Father Moon, an EP that was 2 years in the making. With every new recording project we wanted to do something different, and so we leaned on a different and more crisp tuning, and really leaned on making a cohesive listening experience.
Latest Single:
Before our self-titled EP came out we released an abridged version of Mother Earth (Single Version) – giving our listeners a crisp 3-minute taste of our sound.
Latest Video:
Here is the video for our single The Worm and The Raven! It was the brainchild of our bassist Smash, who worked really hard to make it a tone piece worthy of the song. Keep an eye out for our next video next year for the song Iron God – he did a phenomenal job.
Favourite musician growing up:
Father Moon is made up of three Members now, Olek Janusz on guitar, Smash Thompson on bass, and Will (Backline) Guenter on Drums.
Olek – I first fell in love with guitar by mimicking the classics and especially discovered a deep love for Jimi Hendrix. He found a voice with his guitar, but I think he also is under-appreciated as a singer and lyricist. He never played a note that did not fit the song, and that restraint and understanding of songwriting ensure his albums continue to be heard and appreciated.
Smash – Growing up I was obsessed with Megadeth and Killing Joke. I collected all of their albums.
Will – Matt Cameron, Nick Menza, Bill Ward, Vinnie Paul.
Favourite musician now:
Olek – I have many musical loves that shift and change, but I have been most influenced by the songwriting and love of melody and song structures of Thom Yorke's Radiohead and the wall of sound of Shoegaze pioneer Kevin Shields from My Bloody Valentine. When I search for new artists I feel like I am looking for a painter because I love the texture and how it makes me feel. Every note has been played, and every melody sung and performed; the timbre, breath, length and texture of every melody, chord and interval are infinite.
Smash – Captain Beefheart will always be my absolute favourite musician. But I always keep an open ear to new stuff and I've been listening to Courtney Barnett recently. Really digging her lyrics.
Will – Layne Staley, Morrisey, Frank Sinatra, Gord Downie.
Guilty pleasure song:
Olek – I do not believe in guilty pleasures but if I had one it would be Carly Rae Jepsen's I Really Like You! It's a pop song that bounces with infectious energy and brings to light the universal language that makes pop music so easily accessible (and it's a bop!)
Smash – Trout Mask Replica in its entirety.
Will – Sicko Mode.
Live show ritual:
Olek – I am always happy to play pool if I can, but if not the first step is a good cup of coffee and a good meal.
Smash – Anxiety and pool if they have it.
Will – Meditation, rudiments, and beating Olek and Smash at pool.
Favourite local musician:
Olek – There is a great list of great local bands, but really my favourite local band has to be The Weir – a Doom band that leans into the low rumble of Sunn O))) with the melodic sensibilities of Bell Witch and low harsh vocals that are doubled and tripled to create a sonic wall of despair.
Smash – The Weir
Will – Dan from BLQ, and all my boys from WMD.
EP or LP?
Olek – I used to love EP's and how they inject a theme without overstaying their welcome, but now I have shifted to LP's – because there is nothing better than a full work with a sonic and/or lyrical statement and theme.
Smash – LP
Will – LP
Early bird or night owl?
Olek – I am an early bird now (such is the need for a strong cup of Coffee before every show).
Smash – Early bird.
Will – Night Owl.
Road or studio?
Olek – Since I record all of Father Moon's music and have a little home studio, I am a studio man. I love the ephemeral nature of live music, but the capturing of a moment that occurs in the studio is a unique treat.
Smash – I love studio time.
Will – Can't wait to get on the road.
Any shows or albums coming up?
Father Moon has been working hard on so much music, that it is now time to release our hard work. We have two releases planned for 2023 – two full-length albums. Keep an eye out for our first full-length (and last with our old singer) titled FM – and our second full length which will also be an instrumental album currently titled Resurgence.
Where can we follow you?
Instagram | Facebook | Band Camp | Website
***
Rapid Fire Calgary Qs
Favourite local restaurant:
Olek – Vegan Street Kitchen & Lounge
Smash – Streets (best tacos in town)
Will – Margaritas.
Favourite street in your city:
Olek – I love Inglewood which is off 9th ave SE in Calgary. I appreciate that it exists between an old almost run-down part of the city with cool shops and an eclectic feel!
Smash – Kensington.
Will – Inglewood or Manchester area – I love all the craft breweries in town.
Favourite park in your city:
Olek – Bowmont park is where we filmed our first music video for The Worm and The Raven – and with that, it cemented my love of the area.
Smash – Nose hill. Because it smells.
Will – I grew up playing with bb guns in Fish Creek Park. Haven't lost an eye yet.
Favourite music venue in your city:
Olek – With the rise of covid and its impact on local music venues, the options have shrunk, With that said, Vern's will hold a special place in my heart. It's worn out like a favourite pair of jeans, and every rip and stain tells a story.
Smash – The #1 Legion. There are not many shows there, so when there is one it's really special.
Will – Dickens, Vern's, and The Palomino.
Favourite music store in your city:
Olek – I will have to cheat since L & M has taken over Canada for music stores (I got to L & M near Chinook the most and the staff there is awesome!) – so I will pick one from Edmonton with Leprechaun Effects – which has a great online store and brings in pedals that no other music store in Alberta does!
Smash – L&M Chinook
Will – Everyone at L&M rocks.