Mountain biking is booming business. Since the COVID-19 pandemic started, bike shops in southern Alberta have seen an increase in sales. Biking was one of those activities that could still be enjoyed even during the quarantine period, so there was a run on bicycle purchases. Now that many of the restrictions are being relaxed, people are venturing outside their own communities and discovering a plethora of trails right in their own backyards. While you might be disappointed with the influx of visitors at your local trailhead, more people out on bikes, exploring nature, getting exercise, learning a new skill, and having fun are all good things.
I've wanted to feature a Mountain Biking Guide/Instructor in this column for awhile now. I didn't intend for this piece to harbour a slight COVID slant, but with the sport's popularity at an all-time high, now seemed like the perfect moment to explore the life and times of local guides. I reached out to Laura Mislan and Jeff Woodgate of Alberta 66 MTB to learn the ins and outs of their business.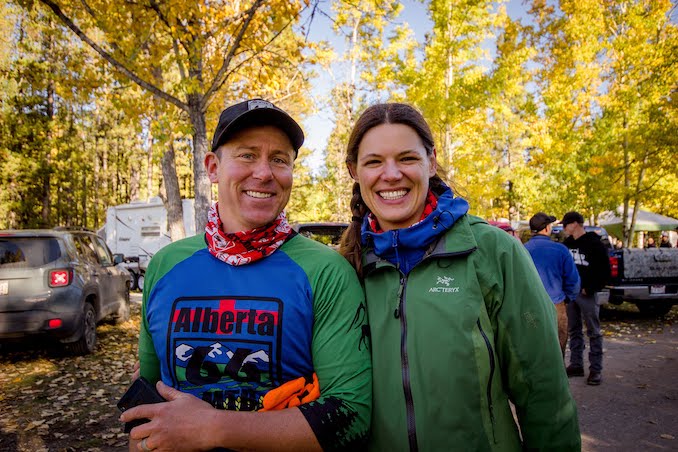 Both Laura and Jeff had been riding bikes for several years before they met in 2011. Laura first got into the sport in 2006 when her sister took her riding in the mountains. Jeff was introduced to it back in 1998 by a couple of his buddies. It soon became commonplace for people to recommend the two of them to their friends. People would say, "if you want to go mountain biking, talk to Laura and Jeff, they know all the good spots!"
Both of them used to race in the XC Mountain Bike circuit and then in 2013 discovered Enduro Mountain Biking, where they honed their downhill skills through racing. After a few seasons on the race circuit, Laura had the idea that they should start their own guiding and coaching business. The ever-expanding trail networks in Kananaskis and Bragg Creek provided an ideal location and the fact there were few other guiding/coaching outfits in the region made the prospect even more enticing.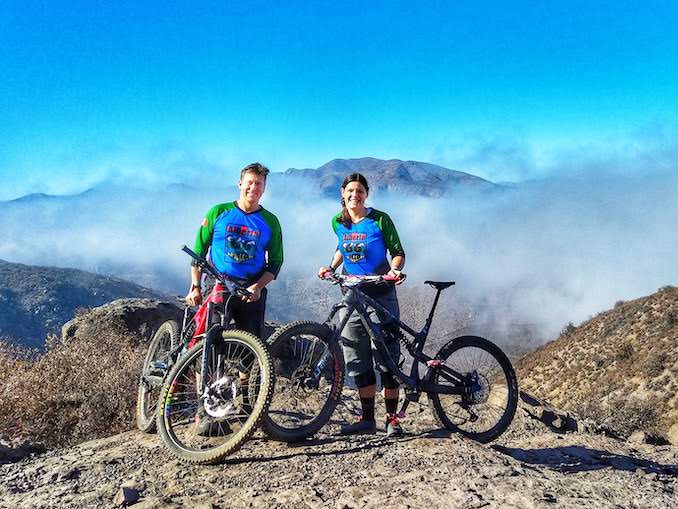 2017 saw the birth of Alberta 66 MTB. That first season the duo offered group coaching, private coaching, and guiding. Since then they have expanded to offer shuttle days at Moose Mountain and Baseline Mountain, and have added more advanced course offerings after obtaining their Professional Mountain Biking Instructor Association's (PMBIA) Level 2 Certifications in 2018. This year they've added a few more coaching contractors to the roster, so they can offer a range of coaching options from beginner to advanced, group and private sessions, single-night and multi-day, as well as guiding and shuttle services.
As you can already see, this tandem of hard-working, passionate people have a dedication and love for the sport that's rarely seen. What follows is a glimpse into their lives as professional guides and instructors.
Calgary Guardian: "Let's start with something easy. Where did the name 'Alberta 66 MTB' come from? How did you choose that name?"
Alberta 66: "Alberta 66 MTB is named after Highway 66. This small piece of highway is only 28 km long and is home to over 100 kilometres of singletrack mountain biking from five unique trailheads (Allen Bill, Station Flats, Moose Mountain Road, Ing's Mine, and Powderface). Some of the best mountain biking in Alberta is found off Highway 66."
CG: "How long have you been a MTB guide/instructor? Did you work for other companies prior to Alberta 66?"
AB66: "We were not guides or instructors before AB66, in fact Laura is/was an engineer in the energy sector and then an entrepreneur in Lithium technology, and Jeff was in IT sales. In 2017 Laura worked AB66 full time and Jeff was part time, in 2018 we swapped, and since then Jeff is full time AB66 and Laura still works a day job and then AB66 on evenings and weekends."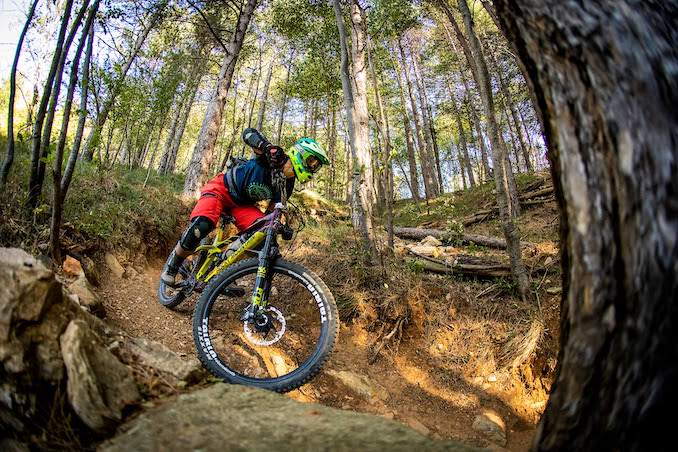 CG: "What's the best part of your job as a MTB guide/instructor?"
AB66: "We love sharing our passion for the sport with riders, especially folks who have been riding for a while, and they now want to ride safer, faster, and try more challenging terrain. We also love showing people new trails. So often riders get into a routine and go back to the same places over and over again. We know all the trails in the area and can usually take you somewhere new."
CG: "What's one of the biggest challenges with your job?"
AB66: "Logistics and weather. It's a short season here in Alberta. We can only operate May to October, or snowfall to snowfall, and we try to cram in as many rides/courses/shuttles as we can on days where people won't be cold and miserable."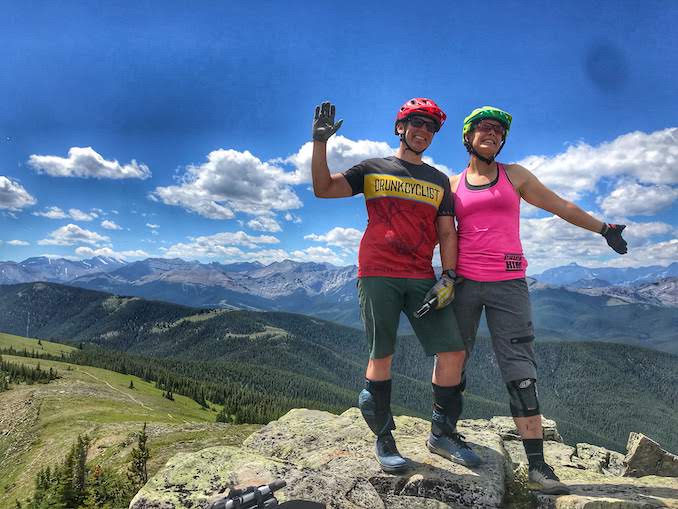 CG: "Is there one mountain biking skill that stands out as being particularly difficult to learn?"
AB66: "At every level, everyone could always work on improving their cornering. It's a skill that takes a lot of practice, and the components of cornering translate to helping every other aspect of your riding; balance, timing etc."
CG: "What type of education/certification/training is required for your job as a guide?"
AB66: "PMBIA Level 1 at a minimum. We both have our Level 2 certs now, and we both have 40-hour wilderness first aid. As well, people skills, leadership skills, and lots of riding experience so you know the area, are all essential."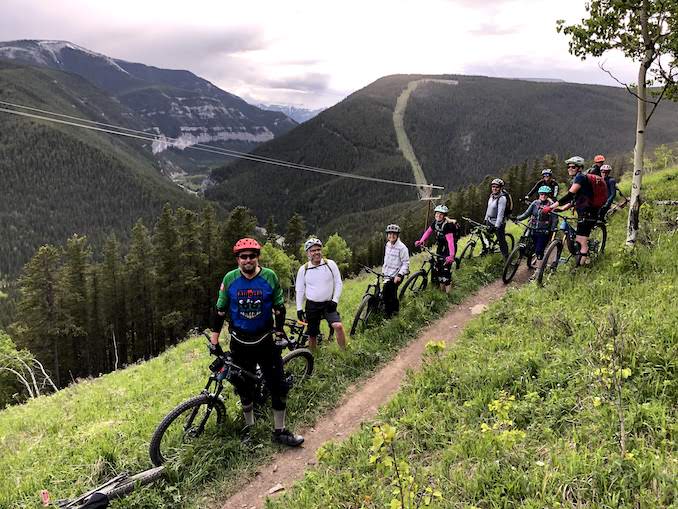 CG: "What trails/areas do you access as part of your job? Is it only along Highway 66?"
AB66: "We primarily coach on the Moose Mountain trail network, as well we take folks to West Bragg Creek, Barrier Lake area, Exshaw, and Baseline Mountain."
CG: "Do you have a favourite trail system to ride? What makes it so special?"
AB66: "We love Moose Mountain. The Moose Mountain trail network was built as a labour of love by passionate local diggers. There are flowy fun trails, gnarly steep trails with technical trail features, and everything in between. We've now ridden around the world, Chile, Costa Rica, Italy, BC, USA, and we know it's a world-class trail system that rivals the best trails in the world."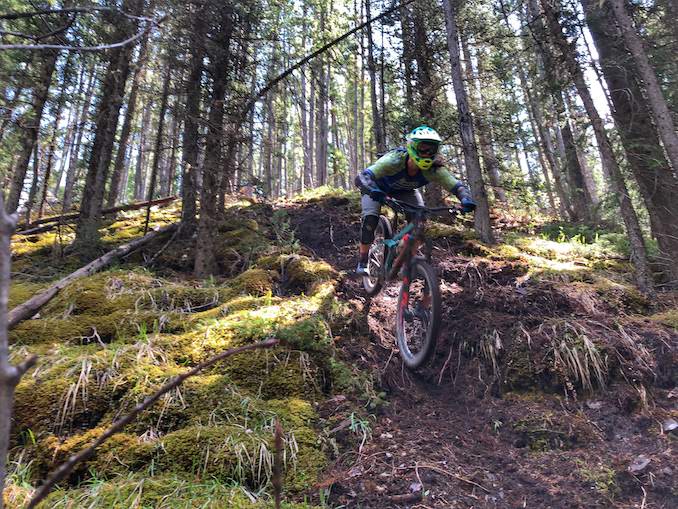 CG: "Is there a trail/area on your bucket list that you haven't ridden yet? Why do you want to ride there?"
AB66:: "We've been so lucky and have had the chance to ride some wonderful places. I would say we still love our home the best. However, we would like to spend more time in Squamish, the North Shore and other West Coast spots like Bellingham."
CG: "Mountain biking is an inherently dangerous activity. How do you mitigate those risks while guiding clients?"
AB66: "We do our best to set expectations early; this is NOT 'just like riding a bike', or riding on city pathways, there are hazards. We remind all our guided clients, and teach our coached clients, body position to keep them safe on the bike, operation of controls (brakes and shifting), and how to ride 'eyes up' so they can see if the terrain is changing. If they don't know how to ride a section we encourage them to get off the bike, look at the section, and the either ride or walk it."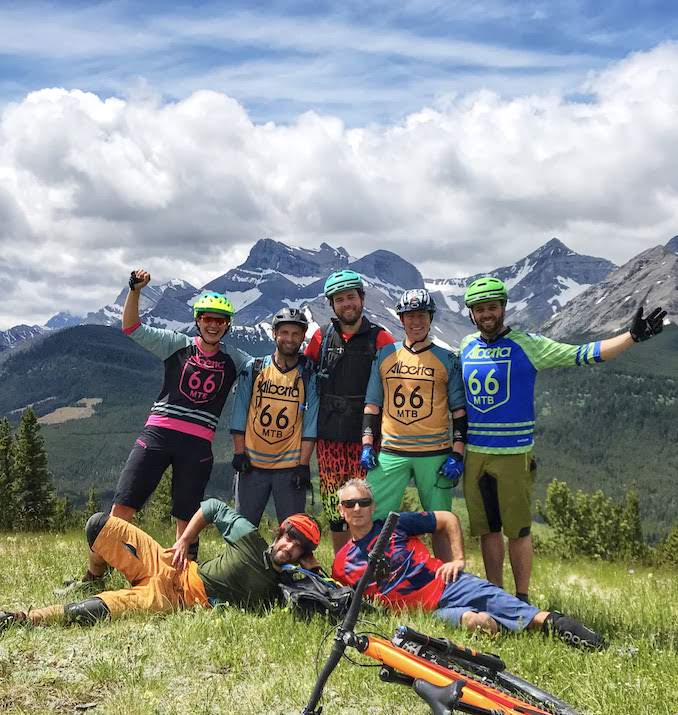 CG: "Let's take a virtual look inside your pack. What essentials do you bring with you for a day out on the trails?"
AB66: "Snacks! Coach Jeff has learned the hard way that hanger can hit Coach Laura at any time. Water, an extra layer or jacket (this is the Rockies, weather changes all the time), tire puncture repair kit and extra tubes, air pump, shock pump, first aid kit, and a chain break tool and extra quicklinks."
CG: "I'm sure there's no such things as a 'normal' day in your profession, but could you give me an idea of what a typical day of guiding might looking for you?"
AB66: "We do more coaching than guiding, I would say. This summer there has been an increase in the number of people on bikes as it's one of the few things people can still do during COVID. I'd say a typical day is wake-up, check emails to make sure we're responding to our customers, coach a private group in the morning or afternoon (many book a private session to work specifically on cornering, intro to jumps and drops, or how to ride steep terrain), return home to do paperwork/emails, then head out in the evening to lead a group course. We have had a lot of double bookings or triple bookings so the days are full of riding bikes and emails in between. We now live only ten minutes from the trailheads (we're just outside Bragg Creek) so it's easy to fit multiple bookings into a day."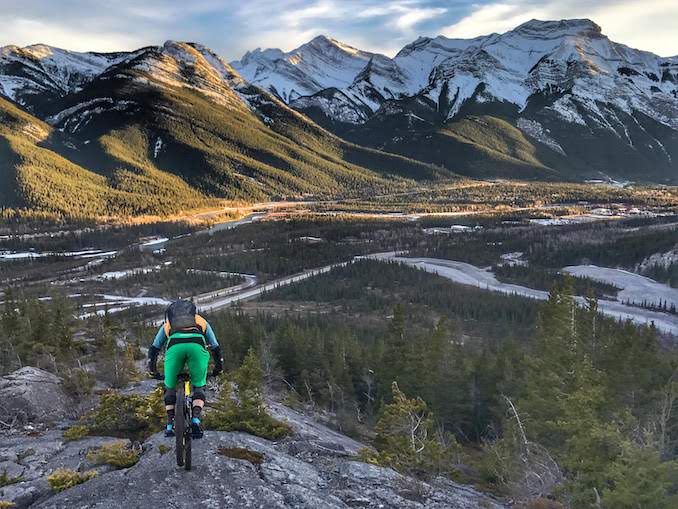 CG: "Why should folks choose Alberta 66 for their mountain biking needs? What sets you apart from the competition?"
AB66: "We offer co-ed bookings, which some companies don't do. We have more advanced offerings than many of the competitors, especially as we both have our PMBIA Level 2, whereas not many coaches in the province have their Level 2. We have Oscar the van, which is a fully commercial van so we are able to shuttle up the mountain and focus on descending skills without having to spend time climbing to the trail first. We also seem to attract more riders who want to work on descending and improving their downhill skills based on our background in Enduro racing and our preference for riding on Moose Mountain. However, we still coach beginners and have a great time doing it!"
CG: "What advice would you give to anyone looking to break into the world of mountain bike guiding?"
AB66: "Be a people person. A lot of coaching is helping people in a stressful environment. They're learning new skills or trying a challenging trail, which can be stressful for many people.  You have to be patient and encouraging and find a way to assist people in reaching their potential. You have to love riding your bike! On our days off Jeff and I still go biking and we have been taking trips in the winter to new destinations so we can still ride bikes when our season in Alberta is over. Lastly, there are inherent risks so you need to ensure you have ways to mitigate that risk. Waivers, insurance, first aid, coaching, training, back-up coaches etc."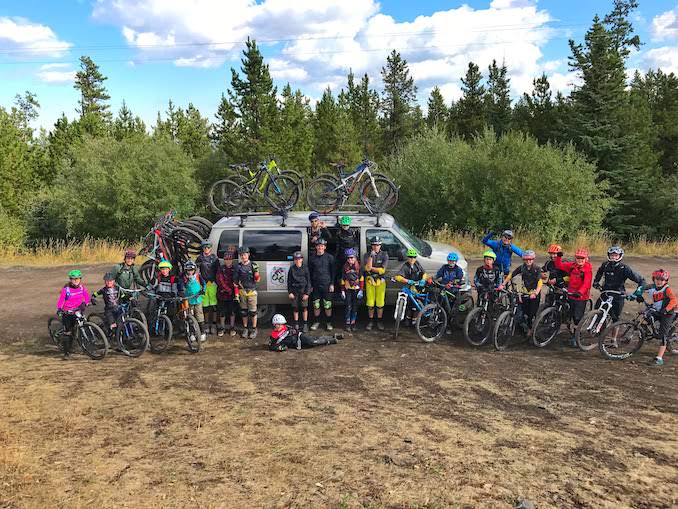 CG: "I would just like to take this opportunity to thank Laura and Jeff for making time for this interview. I know how busy you are right now with biking season in full swing, so I really appreciate it."
It's also worth mentioning that Jeff and Laura have become more involved with the executive of Moose Mountain Bike Trail Society (MMBTS). If you're not familiar with them, they are the group that builds and maintains the amazing trails in the Moose Mountain area. Laura manages memberships and the website, and Jeff is a jack of all trades, performing trail maintenance and labour for the society (to learn more about the dedicated work of Trail Builders, please follow that link). They routinely volunteer, and wanted to give a portion of their earnings back to the trails, so they started hosting an Enduro race on Moose Mountain called MooseDuro. Unfortunately, due to COVID, this year's event is currently on hold. This race has been popular from the beginning. They sell-out every year and raise over $5,000 per season that is then donated to MMBTS. If Enduro racing isn't your thing, you can also support MMBTS while drinking beer. Banded Peak Brewing created the Gate Razer, a frosty Vermont Blonde Ale where a portion of the proceeds will be going to support trail building and maintenance.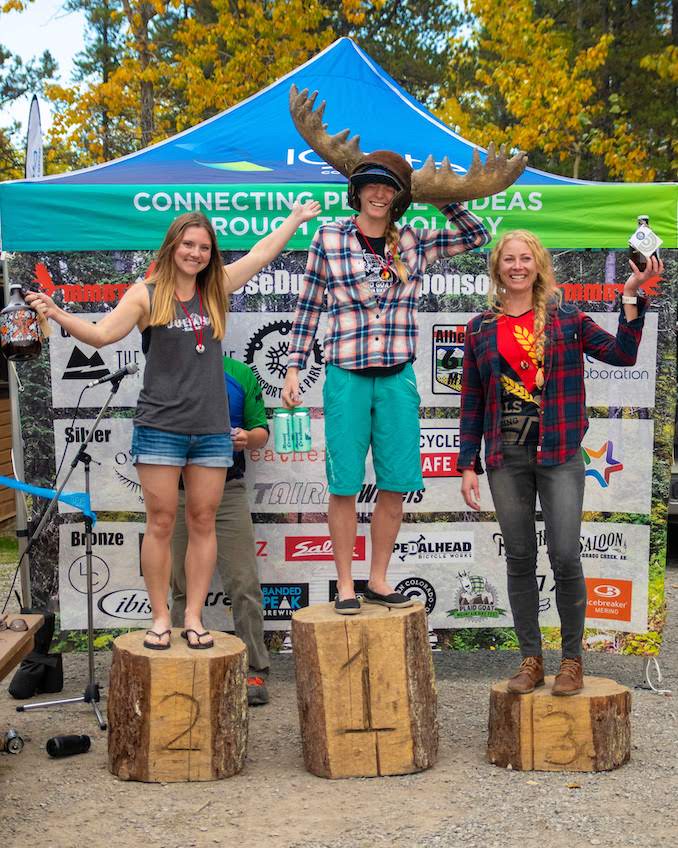 To book your next course or guided adventure please visit the Alberta 66 MTB website. You can also stay connected with AB66 on Facebook and Instagram. See you on the trails!
***
About this column:
Wild Jobs is a running series that focuses on people in outdoor-related professions. It provides a brief snapshot of their career and the duties that it entails. Please see my previous post, Wild Jobs: AdventureSmart Executive Director to learn more.