Our latest recipe comes from a partnership with local foodie Emily Mardell and the Turkey Farmers of Canada who worked on this dish together for a promotional campaign. Try it at home and let us know what you think. Enjoy!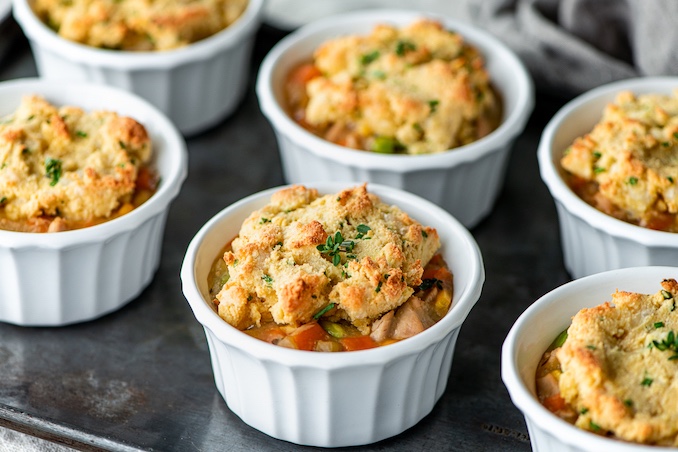 Ingredients
Turkey Filling
-1 tsp (5 mL) canola oil
-1 small onion, finely chopped
-1 medium carrot, finely chopped
-1 celery stalk, finely chopped
-2 cups (500 mL) low-sodium broth
-1 ½ cups (375 mL) cooked roast turkey, chopped
-½ cup (125 mL) frozen corn
-½ cup (125 mL) frozen, shelled edamame
-1 Tbsp. (15 mL) fresh thyme leaves
-¼ cup (60 mL) 10% cream
-1 Tbsp. (15 mL) cornstarch
-Salt and pepper, to taste
-½ cup (125 mL) cranberry sauce, for garnish
Biscuit Topping
-1 ½ cups (375 mL) almond flour
-2 tsp (10 mL) baking powder
-2 large eggs, whisked
-1 Tbsp. (15 mL) plain Greek yogurt
-1 Tbsp. (15 mL) fresh chives, finely chopped
-¼ cup aged cheddar, finely grated
Directions
1. In a Dutch oven, sauté onion, carrot and celery with oil on medium-high for 5 minutes.
2. Add stock and turkey to Dutch oven. Stir. Cover and reduce heat to medium-low. Simmer mixture for 15 minutes, until veggies are tender.
3. Preheat oven to 375F. Place 6 ramekins on a baking tray. Set aside.
4. Add corn and edamame beans to Dutch oven, stir and continue simmering.
5. In a small bowl, mix together cream and cornstarch to make a slurry. Add slurry to Dutch oven and stir well. Cook for another 5 minutes until mixture becomes thick and creamy. Season with salt, pepper and thyme. Reduce heat to low and prepare biscuit dough.
6. In a medium bowl, combine biscuit ingredients. Be mindful not to over mix the dough.
7. Fill ramekins with turkey mixture and top with a large dollop biscuit dough. Gently spread evenly with the back of a spoon.
8. Bake filled ramekins in the oven for 15 minutes until biscuits are fluffy and golden.
9. Serve mini turkey pies with your favourite winter salad, and a dollop cranberry sauce!