Calgary's own Julie Van Rosendaal has once again partnered with the Turkey Farmers of Canada to bring the Guardian's followers a series of hearty, home-style dishes featuring, you guess it, turkey! This recipe for Turkey Dinner Dutch Baby is easy to make, ready in less than 20 minutes and, of course, mouth-wateringly delicious.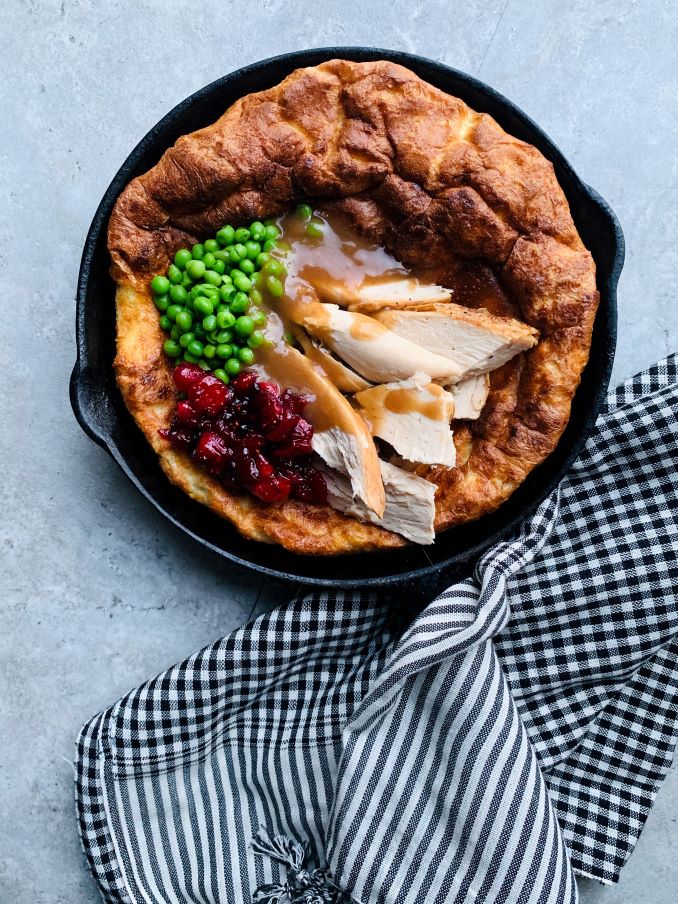 Turkey Dinner Dutch Baby
Serves: 2-6
Prep time: 10 mins
Cooking Time: 15 mins
Ingredients:
Dutch Baby
-1 Tbsp canola oil
-1 Tbsp butter
-2-3 large eggs
-1/2-3/4 cup all-purpose flour
-1/2-3/4 cup milk
Leftovers
-250 g Roasted turkey
-1 cup stuffing
-1 cup peas
-½ cup gravy
Directions:
1) Preheat the oven to 450°F; put the oil and butter into a cast iron skillet and put it in the oven while it heats.
2) Meanwhile, whisk together the eggs, flour, and milk (use 2 eggs, 1/2 cup each milk and flour for about a 6 inch skillet, 3 eggs and 3/4 cup each milk and flour for a larger 9 inch skillet).
3) Pour the batter into the hot skillet and slide it back into the oven.
4) Bake for 15 minutes, or until the pancake is puffed and golden.
5) Fill with warmed turkey, stuffing, peas and gravy.