Calgary's own Julie Van Rosendaal has once again partnered with the Turkey Farmers of Canada to bring the Guardian's followers a series of hearty, home-style dishes featuring, you guess it, turkey! This recipe for Grilled Turkey Shawarma is easy to make, ready in less than 20 minutes and, of course, mouth-wateringly delicious.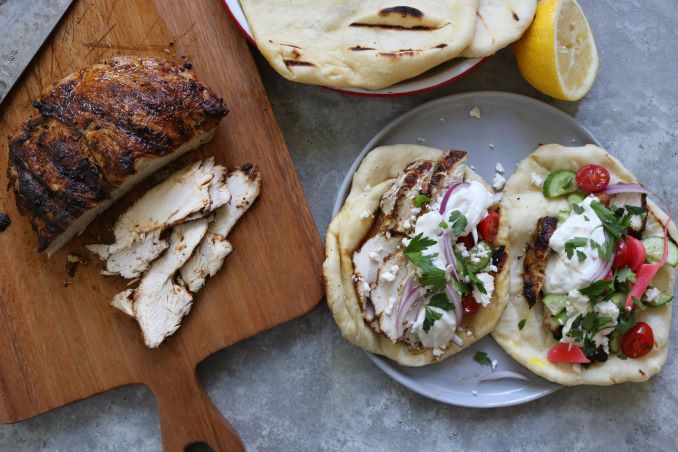 Grilled Turkey Shawarma 
Serves: 6
Prep time: 20 minutes
Cooking Time: 45 minutes (plus marinating time)
Ingredients:
Turkey:
-1 skinless, boneless turkey breast (or 2 thighs)
-1/3 cup canola or olive oil
-juice of half a lemon
-3 garlic cloves, crushed
-2 Tbsp chili powder
-2 tsp cumin
-1 tsp turmeric
-1 tsp salt
-1/2 tsp freshly ground black pepper
Flatbread:
-1 1/3 cups all-purpose flour
-1 tsp baking powder
-1/4 tsp salt
-2 Tbsp olive or other vegetable oil
-1/2 cup water
Garlic Tahini Sauce:
-1/2 cup plain yogurt
-1/4 cup tahini (optional)
-juice of half a lemon
-2 garlic cloves, finely crushed
-1/4 tsp salt
Directions
1. Put the turkey breast or thighs into a shallow dish or large, heavy-duty zip-lock bag, add the oil, lemon juice, garlic, spices, salt and pepper and combine with your hands (or a spatula), or seal the bag and knead it to combine the marinade ingredients and coat the turkey well. Refrigerate for a few hours, or overnight. (Or freeze for longer storage.)
2. Remove turkey and cook on a preheated grill, turning as needed and brushing with the excess marinade (stop brushing it at least 5 minutes before it finishes cooking), with the lid closed to trap the heat, for 30-40 minutes, or until the internal temperature reaches 165˚F. Set aside to rest for at least 10 minutes.
3. To make the flatbread dough, combine the flour, baking powder and salt in a medium bowl, stir in the oil and then the water, stirring until the dough comes together. Turn out onto the countertop and knead for a few minutes, until smooth. Set aside (cover with a tea towel or plastic wrap, if you like) to rest for about 20 minutes. When you're ready to cook them, cut the dough into 6-8 pieces, roll out as thin as you can on a clean countertop (don't flour it, or the dough will slide around) and cook on a preheated grill or in a hot cast iron skillet, with a drizzle of oil, turning as the dough puffs and each side gets grill-marked until cooked to desired consistency.
4. To make the sauce, whisk together the yogurt, tahini, lemon juice, garlic and salt. Add a bit of water if it's too thick. (Can be made up to a few days in advance—it will be better after a day in the fridge.)
5.  Thinly slice the turkey and serve in warm flatbreads, topped with your choice of chopped cucumber, tomato, purple onion, pickles and parsley, and drizzled generously with the yogurt-tahini sauce.
6. TIP: Turkey can be frozen in its marinade in a heavy-duty zip-lock bag for a longer marination time; thaw overnight in the fridge.