Calgary's own Julie Van Rosendaal has once again partnered with the Turkey Farmers of Canada to bring the Guardian's followers a series of hearty, home-style dishes featuring, you guess it, turkey! This recipe for Smothered Turkey Sous Vide is easy to make, ready in less than 20 minutes and, of course, mouth-wateringly delicious.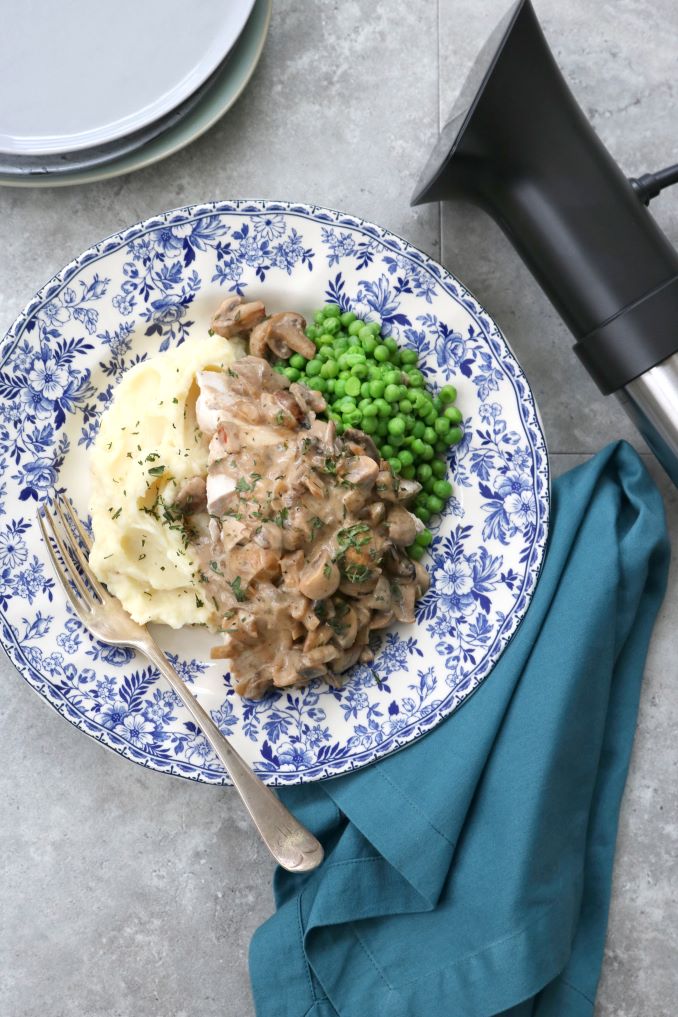 Serves: 4
Prep time: 15 mins
Cooking Time: 3.25 hours
Ingredients
1 boneless, skin-on turkey breast half (2 lbs)
salt and pepper, to taste
2 Tbsp olive or canola oil
2 Tbsp butter
1 large onion, thinly sliced or chopped
2 cups mushrooms, quartered
a few sprigs of fresh thyme
1 1/2 Tbsp all-purpose flour
1 cup chicken or vegetable stock
1/2 cup whipping cream or (full fat) sour cream
Directions
Season the turkey breast with salt and pepper and place in a large zip-lock bag. Seal using the water immersion technique, set the Anova Sous Vide Precision Cooker to 145˚F (62˚C), place the bag in the water bath and set the timer for 3 hours.
Meanwhile, set a large skillet over medium-high heat and add the oil and butter. When the butter foams, add the onions and mushrooms and cook until they start turning golden, about 5 minutes.
Shake the flour overtop and stir to coat. Add the stock and cream, bring to a simmer and cook until the sauce has thickened.
Remove the cooked turkey breast from the sous vide bag, slice and slide into the pan with the sauce, or serve with the sauce spooned overtop. (If you used skin-on turkey, you could brown the cooked pieces in the skillet first to crisp the skin, then transfer to a platter and cook the mushroom sauce in the same skillet to spoon overtop.) Serves about 4.