Calgary's own Julie Van Rosendaal has once again partnered with the Turkey Farmers of Canada to bring the Guardian's followers a series of hearty, home-style dishes featuring, you guess it, turkey! This recipe for Turkey Croquettes is easy to make, ready in less than 20 minutes and, of course, mouth-wateringly delicious.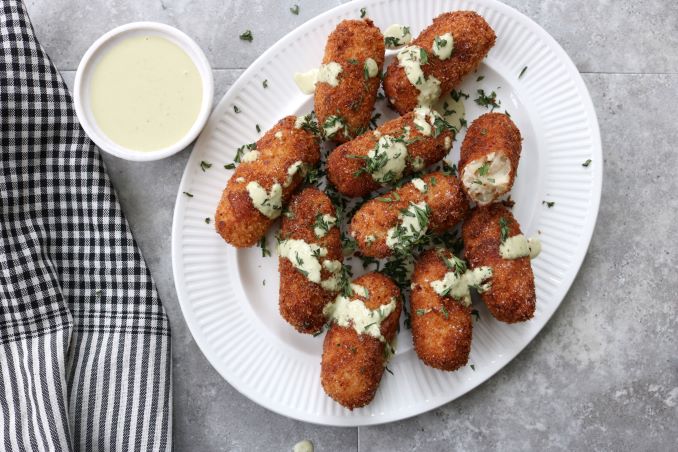 Serves: 4
Prep time: 15 mins
Cooking Time: 3 mins
Ingredients:
-2 cups cold mashed potatoes
-1 cup chopped cooked turkey
-salt and pepper, to taste
-2 eggs
-1 cup fresh or dry breadcrumbs
-canola or other mild vegetable oil, for frying
Directions:
In a medium bowl, combine the mashed potatoes and chopped turkey; season with salt and pepper. (If you like, add Parmesan cheese, garlic, herbs or spices.)
In a shallow dish, beat the eggs with a fork. Put the breadcrumbs into another shallow dish.
Shape the mashed potato mixture into small balls, patties or logs. Roll in the beaten egg to coat, and then in breadcrumbs to coat. (Use one hand to dip them in the egg, and keep the other dry to help coat them with crumbs.) Place them on a baking sheet as you coat them.
Heat an inch or two of oil in a heavy pot set over medium-high heat until it's hot, but not smoking. A few breadcrumbs should sizzle when dropped in, and if you have a thermometer should read about 350˚F.
Cook the croquettes in batches, without crowding the pot, turning them as they turn golden, about 3-5 minutes.
Transfer to a paper towel lined plate with a slotted spoon, and sprinkle with salt while they're still warm. Serve immediately, with cranberry sauce, green sauce or aioli, if you like.
Make sure to check out the other recipe Julia provided here!