Our Homegrown Business feature this week comes from a local couple looking to change the faces of your coffee mugs! Together, Blair and Sarah Dawes form Salty Sea Dog Designs, create bright and cheerful animal themed pottery that are sure to keep you company during your workday! We had the pleasure of speaking to half of the creative duo, Sarah, to learn more!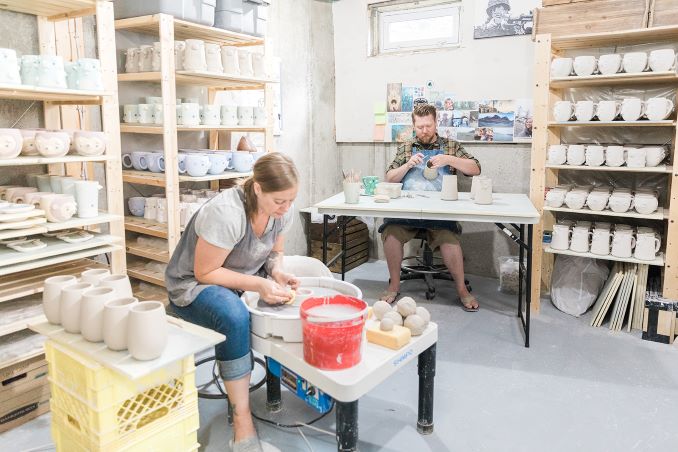 What is your business called and what does it do?
We are Blair and Sarah Dawes and our business is called Salty Sea Dog Designs. We are ceramic artists creating one of a kind functional pottery. Our creative designs are based on 3D animal forms that bring fun and whimsy to your home.
What made you want to do this work?
Blair and Sarah both graduated AUarts (formerly known as ACAD) with a BFA in ceramics in 2005. Clay was always a medium that was challenging as well as exciting. What we can create out of clay is limitless and is always expanding our talents and creativity.
Who are your clientele/demographics?
Our art speaks to people with a whimsical spirit and choose to not take life too seriously. Our clients range from young in years to the young at heart. We tend to draw collectors who have a playful nature and love to brighten everyday moments with handmade creations that inspire joy.
How does your business make money? How does it work?
Salty Sea Dog Designs sells on many platforms including our website, retail outlets and handmade markets throughout Canada.
Where in Calgary can we find your profession?
You can find our handmade one of a kind designs in The Curated Shop in Southcentre Mall and Crossiron Mills Mall as well as The Ravens Room on 17th Ave. Our website is also a great place to shop any time.
If you would like to meet us in person we will have a booth at the Calgary Comic Expo April 23-26 and Etsy: Made in Canada Market May 9th.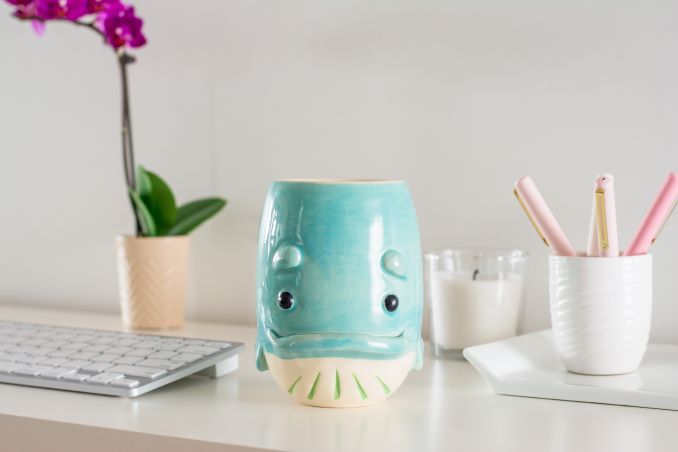 What is the best question a prospective customer could ask a member of your profession when comparing services?
We love when people ask about our process. Pottery is an amazing art form that takes so much time and dedication. We love to have the opportunity to educate and enlighten our fans with how much work is required to create what we do. At first glance, people tend to think our work is mass produced through molds and slip casting techniques. In fact, every item we create is built by hand one at a time. We first create our forms on the potters wheel and then sculpt each detail by hand. We painstakingly add each element ensuring that every item we create will have slight uniquenesses to them. Every item is also painted by hand. When you look closely you can see our brush strokes in the underglaze, further enriching the details and individuality of each piece. We love explaining how many hours and skills are dedicated to each design.
What is the best part about what you do? What is the worst part?
The best part of Salty Sea Dog Designs is the ability to be creative and be inspired with the one you love beside you each and every day. We are so fortunate to be able to have the life we do.
The hardest part of Salty Sea Dog Designs is the physical time and exertion it takes to create on a scale to make our art form profitable. Ceramics is a very slow medium and is precarious and delicate in nature. We are constantly balancing how far we can push ourselves physically and mentally in order to grow while maintaining our high standards of quality in our art form.
What is your favourite joke about your own profession?
When people realize that we are a couple and we are both dedicated to the medium of clay we often get asked if we have many moments like the movie "Ghost" in our studio. We stifle our grimace and politely say no. Clay requires a large amount of bacteria in order for the material to function properly. This bacteria is not welcome in any intimate area… EVER. We often laugh that we have ruined that movie for many people over the years.
PAY IT FORWARD: What is another Calgary business that you love?
Calgary is an amazing community filled with some of the most talented people you will ever meet. We love our product photographer Bethaney Scheuerman who's company is called Brier Breton. Bethaney is a true product photographer with an amazing eye for detail. We have been working with Bethaney for a number of years and she always blows us away with her photos.
We also adore Candace Boudreau who is the mastermind behind The Curated Shop. She has grown from producing local markets to having 6 retail location in 3 cities in Canada. All Curated shops only stock items that are handmade and locally produced. She is a champion for local artists and creators.
We shouldn't forget to mention Axe Throwing and partial owner Dan Gerber. Axe is one of our favourite places to blow off some steam and have a great time. Dan has created an environment where you feel welcomed wether you're on a first date or hosting a big corporate event. Axe is always on our list when we are planing a fun night out.