Our next featured business is Lemonberry Pastries, which was started by Caroline Lem. The company sells all kinds of sweets, from tarts to cookies to cakes, all made with fresh ingredients.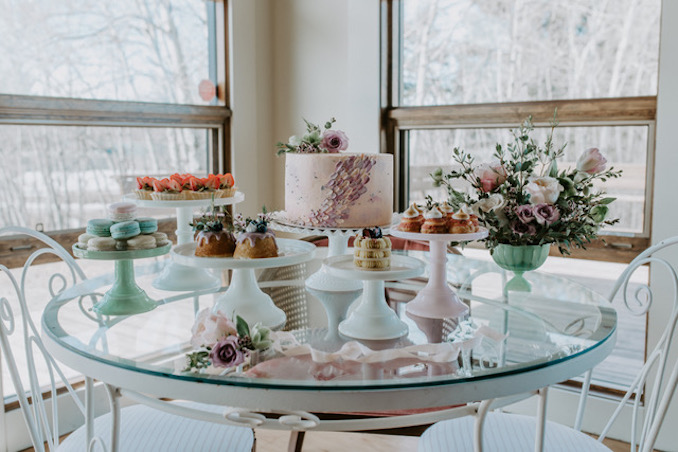 What is your business called and what does it do?
My business is called Lemonberry Pastries and I make delicious treats and cakes for the Calgary area.
What made you want to do this work?
My first job was in a pizza place in a mall food court, and the owner was pretty passionate about food. Even though he ran a franchise, he cared about the quality and process. I think that passion and care for food rubbed off on me in a great way. Eventually, I went on to get my Red Seal in cooking and baking. Baking and pastry always appealed more to me, because of the mix of science and art.
What problem does this solve?
Lemonberry is about creating and experiencing great flavours and textures in a beautiful way. Whatever the occasion may be, whether it be a wedding, office party, a get together with friends or if you just need an indulgence for the week; we bring the memorable treats and make it complete.
Who are your clientele/demographics?
Anyone that likes to eat! Our clients range from children and their parents to young couples planning their wedding and then grandparents planning anniversary's and birthdays.
How does your business make money? How does it work?
We offer many different services. While many know us from our retail farmers' market booths, we do office catering, gift boxes, custom orders and weddings. Our website shows a good amount of our offerings, it is: https://www.lemonberrypastries.ca
Where in Calgary can we find your profession?
Find our product line up, how to contact us and our event calendar on our website: https://www.lemonberrypastries.ca
What is the best question a prospective customer could ask a member of your profession when comparing services?
What kinds of ingredients do you use? Do you use artificial flavourings?
I've believe in the power of butter (and for our dairy adverse friends, coconut oil and vegetable oil), flavourful fruit, real vanilla beans, fresh eggs, quality liqueurs and real wholesome ingredients. I know customers can tell the difference after each bite, and my goal at Lemonberry is to create exciting flavour combinations that do not rely on artificial flavourings.
What is the best part about what you do? What is the worst part?
The best part about what I do is the ability to be creative. Being creative with flavours, with designs for cakes, and with a variety of goods for parties. I have some awesome customers in that, they let me do what I do best. They trust my vision and my creative ideas.
The worst part would be taste testing all the experiments I make. It can be a lot of fun, but there is a limit
What is your favourite joke about your own profession?
What kind of jokes does a baker make? Honeypuns!
*Thank you Reddit
PAY IT FORWARD: What is another Calgary business that you love?
I have met so many amazing entrepreneurs and businesses along the way, it is really difficult to pin it down to one. Having to choose, I would say Tina Vidak (https://www.tinavidak.com) She makes ceramic pieces like mugs, jars and planters. She has made a cake tasting set and a few cake plates for Lemonberry. Very inspiring and beautiful work!