Conductor Terry Edwards wears many hats. With a Bachelor of Arts Degree in French and German, a Bachelor of Education Degree in Secondary French and Music, and an Associate Diploma, Bachelor of Music Degree, and Master of Music Degree all in Piano Performance, Edwards is no stranger to school. In fact, he now teaches at Bishop O'Byrne High School in Calgary, where a typical day includes teaching French, General Music, and Financial Management courses to Grade Ten students.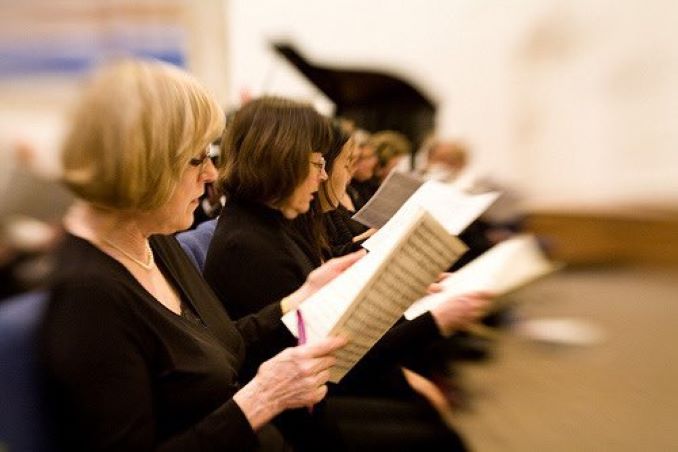 Edwards started playing the piano at age four, studying with his eldest sister. He went on to study with William Moore and Charles Reiner at the University of Regina and McGill University, respectively. After neurological problems in his right hand ended his career as a pianist just a few years after completing his Master's Degree, he turned to choral conducting. Having sung in a church choir for years from a young age in Saskatchewan, Edwards' degrees in languages and in music made choral conducting a natural choice. He successfully auditioned for the position of the Calgary Bach Society choir's artistic director in 2008, and will begin his sixteenth season with the group this fall.
The Calgary Bach Society currently consists of 42 choristers, but Edwards would like to see their ranks expand to around fifty members. Founded in 1988, the choir has ranged from twenty-four to forty-eight members over the years, usually hovering around thirty singers. All members are auditioned prior to joining, and most hold music degrees. "It is a choir for experienced choristers who are also willing to become responsible for their own music-making, their own note-learning, as well as their own interpretations of the pieces, working within the group," Edwards describes.
The choir usually has ten rehearsals prior to its first rehearsal with the orchestra. In addition to improving the choir's sound, tone, and timbre, Edwards says, "We deal with putting the feeling in, building the dynamics, and really creating the correct phrasing for each of the pieces that we're doing… The phrases and the line are so important in any type of music, and in choral music in particular." The group largely performs works from the Baroque era, but also performs music from the Renaissance, the Classical and Romantic eras, and the 20th century. "Our sub-motto is 'Baroque and Beyond,' and that means going in either direction," enthuses Edwards. They have showcased composers including Giovanni Pierluigi da Palestrina, the sons of J.S. Bach, Wolfgang Amadeus Mozart, Felix Mendelssohn, and Benjamin Britten, just to name a few.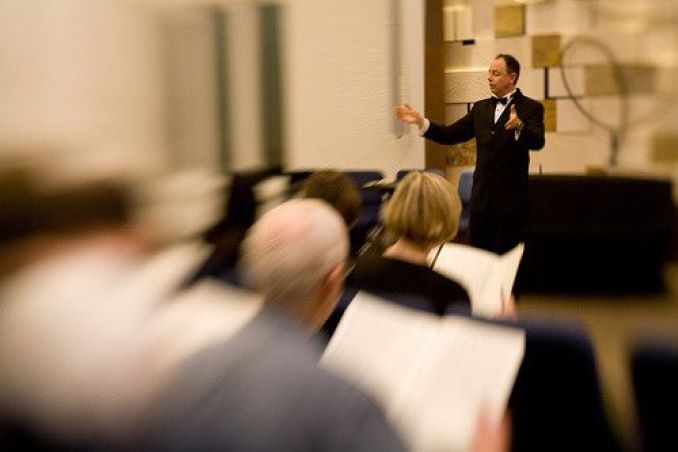 "I do not like to put us into the box of 'We just do Bach," he emphasizes. "We are not the 'All Bach all the time' choir. We are 'Baroque and Beyond,' and I think audiences appreciate that as well. Audiences want to have a variety of experiences when they come to hear us. Our choristers want to have a variety of experiences, and they become better choristers when we tackle music that is outside of our mainstream era, and are forced to grow by doing this."
Edwards says that by performing lesser-heard, smaller-scale choral pieces, the Society keeps the repertoire alive and accessible to Calgarians.
"We've been evolving together. I've seen the choir evolve into a group that's quite flexible in its ability to switch between musical eras and musical styles. They're able to adjust to different performance practices or to varying modes of expression through the music. And of course, the choir as well, linguistically speaking, they've become quite adept at switching between languages, because there are concerts where we may be singing one piece in German, the next piece in Latin, and then another piece in English, for example."
Having spent over half of his life as a pianist, Edwards says that conducting was not first nature for him. He studied conducting with artists from the United States, Norway, Italy, Venezuela, and England, and worked extensively with conductors in Vancouver and Calgary. With so many influences, Edwards developed his own personal style of conducting. "As a director, I've evolved too. I believe that my conducting gestures have become more focused as well as more expressive over the years."
Of the Calgary Bach Society's upcoming season, Edwards says, "Everything is a highlight." The three concerts of the 2023-2024 season will feature an astounding array of genres and eras. The third concert of the season, on June 9th, 2024, is a co-production between the Calgary Bach Society and the Kensington Sinfonia. "I really hope that we can continue this co-production with Kensington Sinfonia because they're such a wonderful group to work with… think that collaboration is such a way to go to build new audiences and to bring people to hear this wonderful music," Edwards says. He also plans to collaborate with two other choirs in the 2024-2025 season.
Catch the first concert of the season at 3pm on November 19th, 2023, at the Knox United Church. The program will feature festive pieces including J.S. Bach's Cantata BWV 192, Louis Claude Daquin's Grand Jeu et Duo X, and Marc-Antoine Charpentier's Messe de Minuit pour Noël.