Our latest featured business is an on-demand snow plowing and grass cutting app to find locals near you to help you maintain your yards and driveways. Here is our chat with MowSnowPros founder Aidan Klingbeil.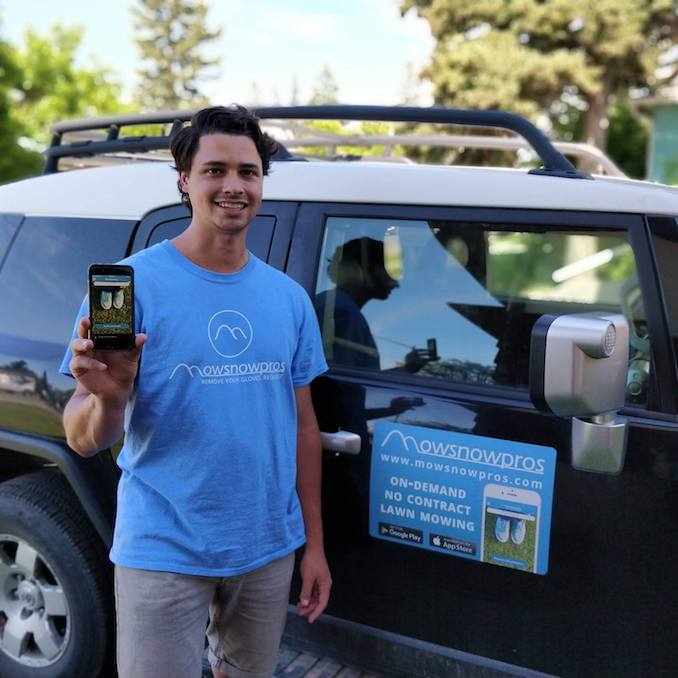 What is your business called and what does it do?
MowSnowPros is an on-demand lawn mowing & snow removal app. The app lets local contractors – called MowSnowPros – pickup snow removal and lawn mowing requests. We provide them with training, business support and marketing tools. Our customers simply push a button and can have their walk shoveled or lawn mowed within hours. There's no need for them to sign a contract or pay a monthly fee.
What made you start this business?
When I was 13, I shoveled walks and mowed lawns for neighbors in my community. I did this for 9 years and eventually served dozens of customers. Not exponential growth by any means, but the money I earned helped pay for my business degree at University. One of the reasons I started MowSnowPros was to provide others with that same opportunity that I had. After graduating, I worked for a small tech company in Calgary for two years. This was great experience in the tech industry, however it reignited my desire to work for myself again. I already knew that there was a need for contract-free, on-demand services in the landscaping industry from my previous experience, and the rise in Uber-style apps provided a platform that really made sense for delivering this.
What problem does this solve?
At the time, I would offer services on a pay-per-use model and customers loved this as most landscaping companies forced them into a monthly contract. When I started MowSnowPros, it was to fill this niche in the market servicing the "occasional user" – someone who may only need snow removal during an extra heavy snowfall, or lawn mowing for the two weeks they're on vacation. Customers only wanted to pay for the work that was actually done, when they need it. The app became the perfect platform to deliver this on-demand, no-contract experience. On the other side, MowSnowPros has provided a flexible opportunity to landscaping companies and individuals looking to earn extra cash.
Who are your clientele/demographics?
While we do service customers that need lawn mowing and snow removal on a recurring basis, we've found that the MowSnowPros app really makes sense for occasional users. Busy, young to middle-aged professionals can request snow removal when there's a heavy snowfall overnight and they're already running late for work. Frequent travellers can request our service from anywhere in the world, and receive a before and after photo of their property sent to their device in real-time. We've also found that the no-contract aspect of our service appeals to realtors and property managers, as they can use us for a temporarily vacant property, or before an open house.
How does your business make money? How does it work?
Through the MowSnowPros app, we give customers the average price based on similar property sizes to theirs, and then they set a pay-per-use bid price. This enables our contractors to earn more than they would working for a traditional landscaping company. We make money by taking a percentage of every transaction processed through the app, while each MowSnowPro keeps the rest.
Where in Calgary can we find your profession?
Download our mobile app on either store:
MowSnowPros is also available in Edmonton, Red Deer, Lethbridge, Saskatoon, Regina and Winnipeg.
What is the best question a prospective customer could ask a member of your profession when comparing services?
-What is the benefit of using MowSnowPros over a traditional landscaping company?
On-demand and contract-free: The status quo has been to pay a monthly contract for snow removal and if it didn't snow, tough luck. MowSnowPros allows customers to order service only when they need it, and as a result, only pay for the work that's actually done.
Same day service (and often a lot quicker): Our average response time across all requests is 6 hours. If you want service quicker, our bid price model allows customers to pay a bit more to incentivize MowSnowPros in the area to get their job done.
Streamlined process: You'll receive a notification in real-time to your mobile device when a MowSnowPro is on their way, a before photo when they arrive and an after photo once the job is complete. Payment is automatically processed once the job is complete.
Supporting local: We hire service providers in your community. By requesting a MowSnowPro, you are directly supporting an entrepreneur's efforts to run their own business or earn a side hustle.
What is the best part about what you do? What is the worst part?
The best part and one of the main reasons I wanted to become an entrepreneur is having the flexibility to set my own hours, and being my own boss. The worst part is realizing that being self-employed actually means there isn't a lot of flexibility, since I'm always thinking about the business and ensuring things are operating smoothly. Instead of having a boss, I'm accountable to customers, stakeholders and myself – this can be stressful but I love it!
What is your favourite jokes about your own profession?
You're an entrepreneur which means you must get to work in your underwear all day! (It's only funny because it's true, I do).
PAY IT FORWARD: What is another Calgary business that you love?
Alberta Treasury Branches (ATB). Specifically, the ATBX accelerator program provided us with office space, workshops and mentorship. ATB Booster provided us with a crowdfunding platform which helped us grow. There is no doubt that the exposure we've gained through ATB's programs have helped us get to where we are today. We simply can't say enough good things about how they have made community investment a priority in their business model. A lot of companies talk about enriching the community, ATB walks the walk.