Little did she know it the first year she stepped into a classroom as a freshman at Bennington College in Vermont, but Melanee Murray-Hunt was actually preparing herself for life in Calgary,
Alberta, Canada.
That was the first time the writer-director-actor-producer experienced the shock of going from Baltimore, a hot, humid port city in the mid-Atlantic, to snow and mountains and maple syrup in
Vermont. It was also, like Calgary, a place where Melanee blossomed as an emerging artist, after showing plenty of promise as a student at Baltimore's School for the Performing Arts, whose alum include Tupac Shakur, Jada Pinkett-Smith, Josh Charles and Tracy Nicol Thoms.
At Bennington, Melanee studied theatre, and writing, and developed plays under the tutelage of screenwriter Peter Hedges (What's Eating Gilbert Grape, About A Boy) and launched herself as
an actor on a journey that took her first to New York, then LA, then Calgary, where she's lived since 2006.
She spent half a decade in New York, studying acting and performing in an assortment of plays, a Wendy's commercial, an episode of Law & Order, before making her film debut in Norma's
Lament, a short film that ended up being screened at film festivals around the world, including Cannes and Sundance. She also worked on plays while attending a workshop night at Naked
Angels Theatre company. Her play Sister Satan was produced at the Mint Theatre in Manhattan.
One thing led to another, and Melanee soon found herself living in Santa Monica, California, with her Canadian husband, Steve. She acted in series such as Judging Amy, Everybody Loves Raymond, 24, and the Nickelodeon series 100 Deeds of Eddie McDowd, where she played a cockney teenager from the UK. She had a major role in the feature film K-Pax, a sci-fi film starring Kevin Spacey, Jeff Bridges and Alfre Woodard, and then had a son, Gus. She also was one of the writers on the television adaption of The White Guy, which she wrote for Quincy Jones and Warner Brothers (Telepictures). Melanee moved to Calgary with her husband and son in 2006, where she has continued to act, and added producing, writing and directing to her creative toolkit.
Acting-wise, she has done theatre (To Kill a Mockingbird, Making Treaty 7, The Motherf–er With a Hat) at Calgary's major theatre companies, as well as a variety of TV spots on shows
such as Heartland, Young Drunk Punk and APTN's new cop series, Tribal. She can be seen in the indie film Black and Blue which has toured the festival circuit and the feature length Cor
Values on Amazon.
Melanee also launched her filmmaking career, adapting her solo show The'Hoodwink into a short film, which she starred in, wrote and directed. That was followed by the award-winning Race
Anonymous, which she wrote, directed and produced, Do the Math, which she also wrote, directed and produced, and The Trial of Miss Mudimbe, which she directed. She's also got a fifth
film, The Invincible Trayvon Martin, Jayson Marshall in pre-production.
Melanee also wrote Our Canada, Our Story in its debut production in 2019 and is back in 2020 with the second installment and a whole new cast and creative concept. She's also directing Uniganisha, a dance-theatre piece about newcomers, and for the second year, curating the Black Film Festival at Mount Royal University. She's also part of the Artist as Changemakers Cohort at Mount Royal University Trico's Changemaker studios. The Artist Cohort is a collection of artists, administrators and social entrepreuneurs who are working to apply creativity to social issues.
She juggles all of these projects with raising Gus and taking occasional trips to places like Salt Spring Island, New York City, San Diego, and St. John's Newfoundland, where she met a lot of
amazing Canadian women filmmakers and was inspired to carry on down the long, winding road of an independent artist.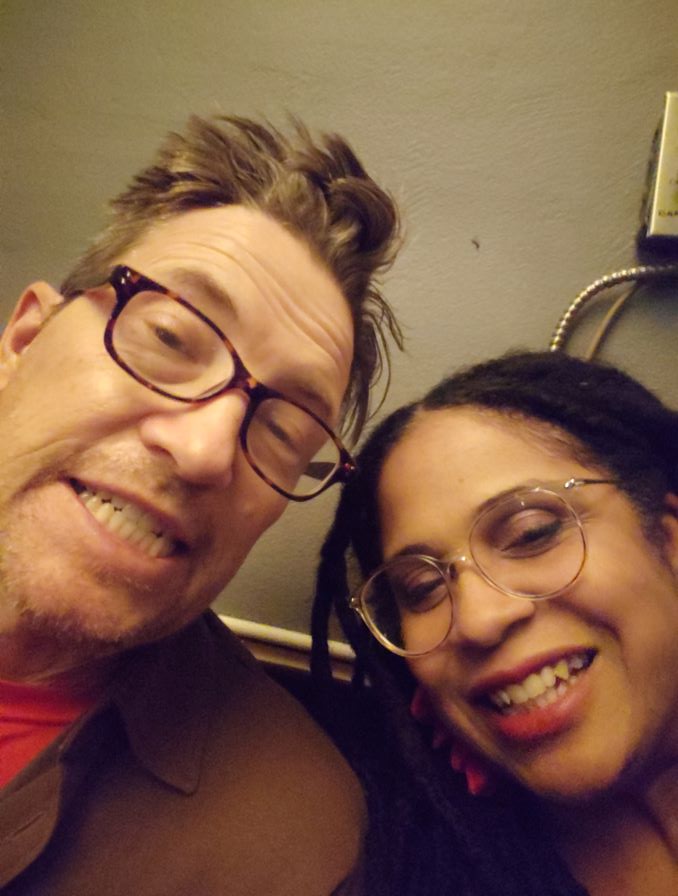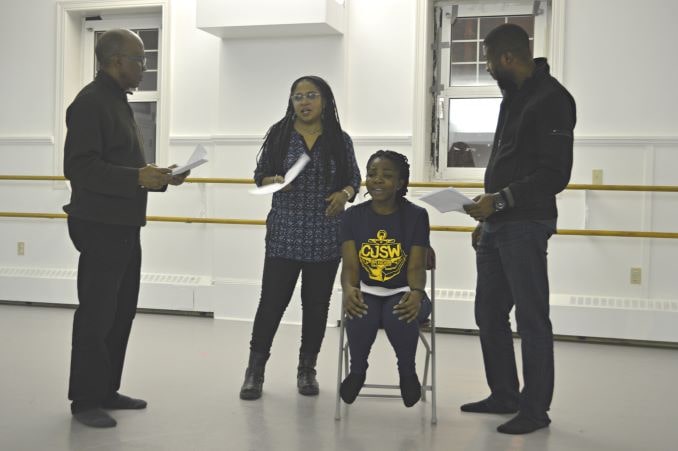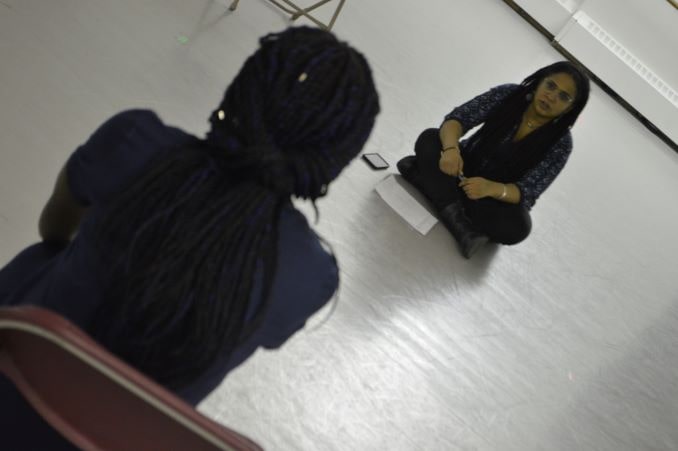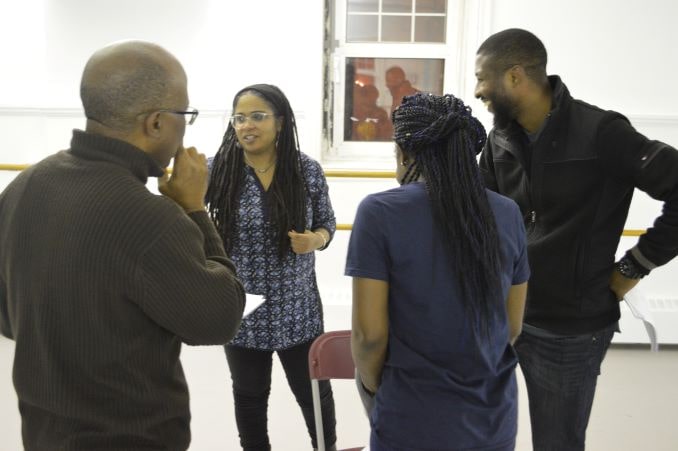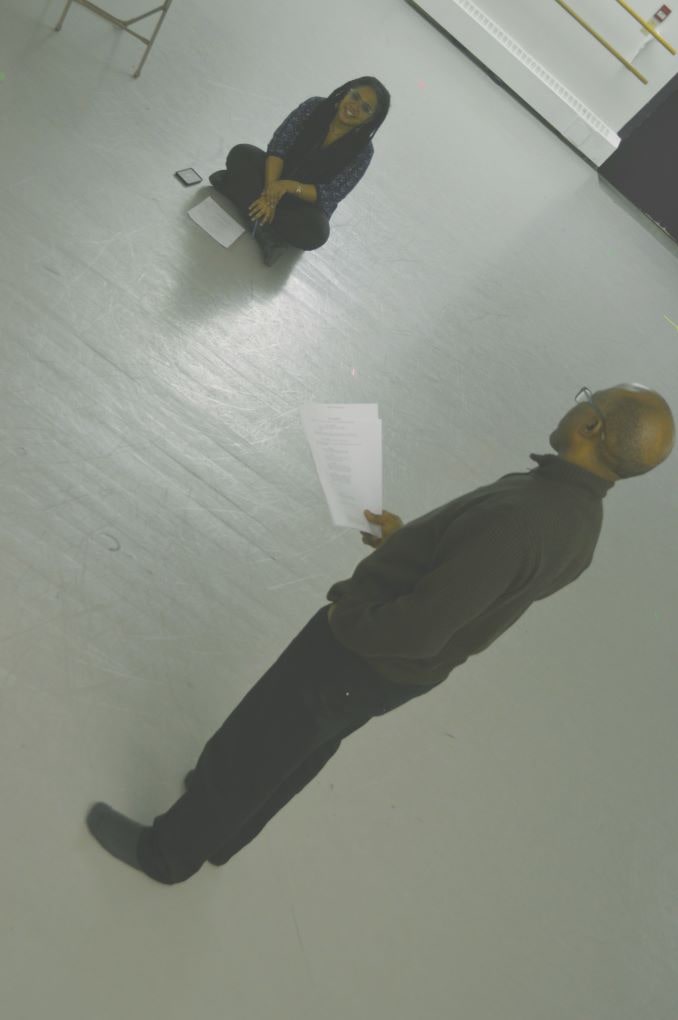 ***
What 'hood are you in?
I live in Kensington Hillhurst area.
What do you do?
I am an actor, writer, playwright, filmmaker, director, activist.
What are you currently working on?
I am currently working on a few things.
Our Canada, Our Story– a play that I created with my own writing and with facilitating with racialized youth writers and performers in Calgary.
Directing a play- "Girl Discovered"- that I adapted from a short story (A Subtle Tale) which was the winner of a short story competition for a project called Unganisha- a celebration of  theatre and dance in the African Diaspora
Joint residency for the Artists In Residence Program at the Trico Changemaker's Studio- connecting artists and non for profits to create art that can help address each non-profit organization's pressing social issues and priorities.
I will be working in the Spring on a ficitionalized afro futuristic film based on Trayvon Martin and other youth victims of gun violence called The Invincible Jayson Marshall. I am looking around for actors right now and generating new ideas to tell the story and rewrite the script.
Where can we find your work?
 You can find my work as an actor in a film that should be coming out soon called Jasmine Road– a narrative fictional film about Syrian immigrants settling in rural Alberta
the APTN show Tribal
Syndicated shows such as Judging Amy, Everybody Loves Raymond "24" 100 Deeds of Eddie McDowd on Nickelodeon and the feature film K-PAX starring Jeff Bridges and Alfre Woodard.
One of the short films I directed, The Trial of Miss Mudimbe will be at the Mt. Royal University Black History Month Film Festival this February.
Unganisha- which goes up on February 22nd at the Grand Theatre in downtown Calgary