This week our featured Homegrown Business is Bridgeland Distillery. Their passion for making spirits, attention to craftsmanship and a desire to take traditional spirits and experiences to another level, laid the foundation for Bridgeland Distillery start in Calgary, Alberta.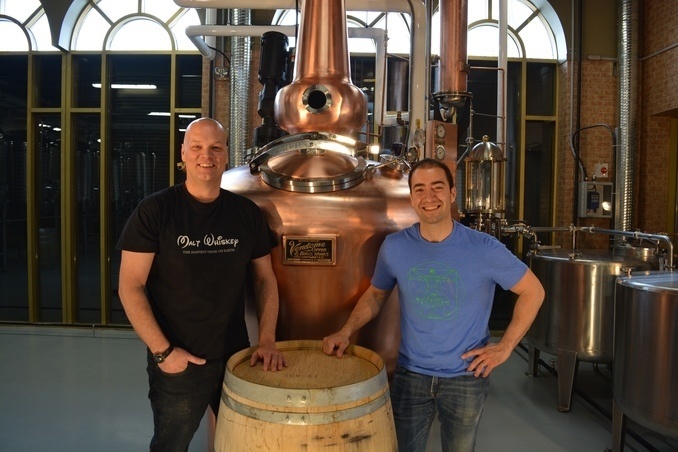 What is your business called and what does it do?
The business is called Bridgeland Distillery and it is a local craft distillery in Calgary specializing in high quality Brandy, Whisky and Grappa.
What made you want to do this work?
Jacques & Daniel both have an engineering background and wanted to do something in the distilling business that combined both their love of science with the art of winemaking and beer making that have been their hobbies for decades before starting this business.  Here in Alberta, there is an abundance of high quality grains and fruits within 6 hours of driving distance (Okanagan); it made perfect sense to established a distillery in downtown Calgary.
What problem does this solve?
We are one of the only distilleries in Canada that produces these premium products with a Copper pot still (as opposed to a Column still). We went down to Louisville, Kentucky to source the "Ferrari" of stills (Vendome) and have set it up here in our production facility.  We named her "Louise" after the Louise Bridge here in Calgary as she was manufactured in Louisville. This equipment is contributing to the awesome mouthfeel in our spirits and is how we keep the "personality" of the original agricultural product coming through in our spirits. Our focus has been to produce the best brandy, whisky and grappa and our Copper Pot Still is an integral part of this.
Who are your clientele/demographics?
Our tasting room cocktails and our spirits are quite popular with a wide range of people in their 20's to 50's.  Our bottles are unique and popular to all who have been in to try what we have to offer.  Our facility welcome minors accompanied by parents and we offer great instructive tours on the weekend.  Tours are free with paid tastings.
How does your business make money? How does it work?
We are selling our tasting flights, cocktails and bottles from our premises.  Fairly soon we will sell to selected liquor stores in Alberta.
Where in Toronto/Calgary can we find your profession?  
There are other craft distilleries in both cities and surrounding areas.
What is the best question a prospective customer could ask a member of your profession when
comparing services?
We would ask "Do you value local quality providers for your ingredients?"  We pride ourselves in sourcing  all our grains within a few hundred kilometres from the distillery and our grapes from high quality Vineyards in BC.  We know these farmers and their operations personally before sourcing their agricultural products
What is the best part about what you do? What is the worst part?
The best part is the creative process involved in producing, packaging and marketing of spirits.  We wouldn't say there is a "worst part", but if we had to choose it would be shovelling grain out of the mash tun and grape skins out of the pot still.
What is your favourite joke about your own profession?
We could write on a bumper sticker "I strip for a living", because the first of the two distillation runs is called a "stripping run", in order to strip the alcohol from the wine or the beer.
PAY IT FORWARD: What is another Toronto/Calgary business that you love?
Spolumbo's Fine Foods and Deli in Calgary!
Check out the Bridgeland Distillery website for more information and bookings.