Our featured recipe this week, Medica Mushroom Toast by chef Tyler Forsyth of Burwood Distillery. This mushroom dish is simple to prepare and is the perfect appetizer for a summer dinner party. It also looks pretty, too!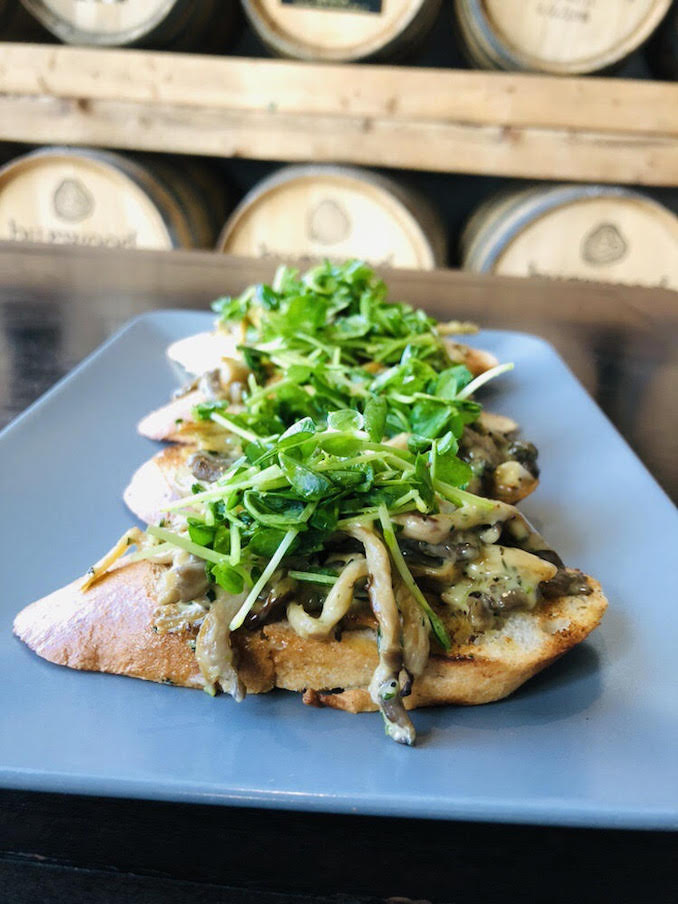 Medica Mushroom Toast Recipe
Serves 4 as an appetizer
INGREDIENTS
– 4 Crostinis
– 60g Oyster Mushrooms
– 30ml Medica
– 2g Thyme
– 60ml Cream
– 10g Pea Shoots
– 15ml Olive Oil
– 5g Salt & Pepper
Directions:

1. Preheat a large saute pan. Once hot, add mushrooms, picked thyme, salt and pepper.
2. Once the mushrooms are fully cooked, deglaze with medica and add cream.
3. Reduce until sauce thickens and check seasoning.
4. While the sauce is reducing grill the onion baguette crostini.
5. Split evenly the sauce and mushrooms between the crostinis and garnish with pea shoots seasoned with oil, salt and pepper.
Find out more about Burwood Distillery.
Burwood Distillery began as an idea between friends and became a shared vision to celebrate Alberta's agriculture. They serve high-end spirits, paired with top-notch food, in a beautiful space. Enjoy a complete dining experience with options featuring local hearty farm to table style food, including fresh salads, sandwiches, sharing boards, and meats from their neighbourhood and butcher Master Meats.