For our latest homegrown business, we spoke with Andrea of Andrea Kelly Designs. she creates spiritual jewelry, which is inspired by beaches, yoga and exotic travel.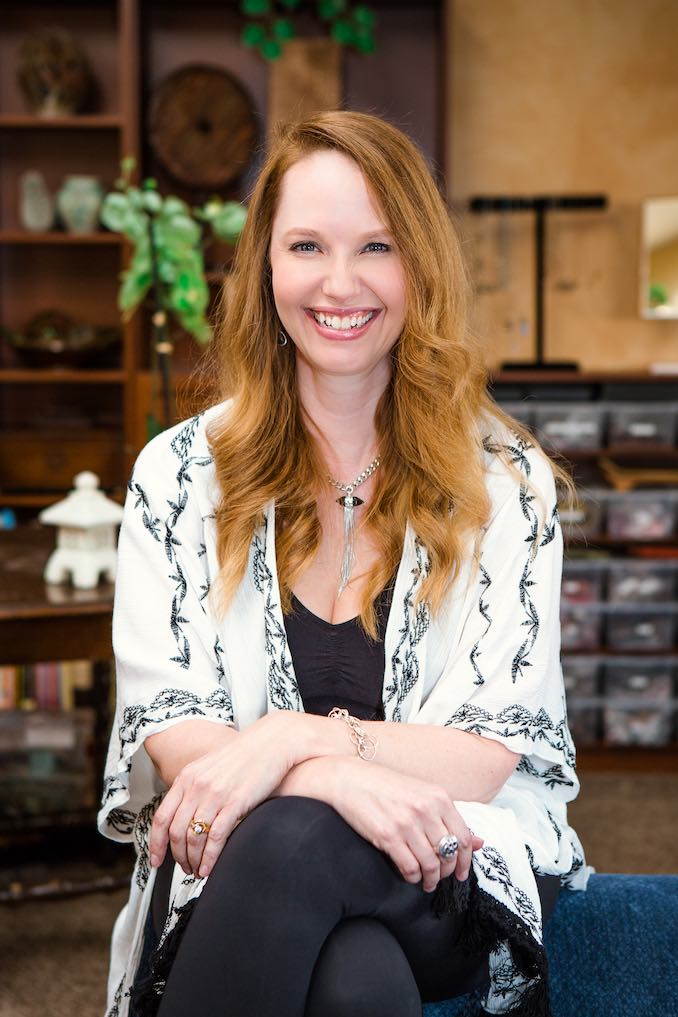 What is your business called and what does it do?
Andrea Kelly Designs. Designed in Calgary spiritual jewelry inspired by yoga, beaches & exotic travel. Collections feature vivid jewel tones & spiritual symbols.
What made you want to do this work?
I started making jewelry as a way to connect with the feeling of travel in 2008 after I became a stay at home Mom. Being home with 2 little ones meant I no longer traveled and had limited contact with others. My collections originally featured fair trade beads from Nepal, Tibet, Thailand and more. Each time a new batch of beads would arrive it was like Christmas. Sometimes beads would come on swaths of grass or wrapped in newspaper from far away. These things helped me vicariously connect with the traveling spirit. The selling side gave me a way to connect with local Calgary women that I wouldn't have otherwise crossed paths with. I didn't plan to start the business but I haven't looked back since.
What problem does this solve?
I create an affordable made in Calgary jewelry collection that is inspired by the feeling of travel, yoga & positive vibes. My designs now feature custom lab-grown quartz that I have treated with vibrant jewel tones. My Capri Collection, for example, reminds me of the Mediterranean & time I spent working in Greece or traveling Italy. In the middle of winter working with a vibrant colored collection that transports me to a warm far away destination is a great way to take away the cold-weather blues. My latest collection, The Aura Collection, is a new process that features quartz infused with 2 colors. This new collection has iridescent colors that are unique and stunning. Vibrant jewel tones have become my specialty and each year I tweak my collections or take my work in a new direction.
Who are your clientele/demographics?
Women 35-65
How does your business make money? How does it work?
I sell year-round via my website. I also sell in the downtown CORE in the TransCanada building 3 days/month, an opportunity that allowed me to fund the growth of my business year-round. Hats off the TCPL for having this opportunity available! I also sell at local events such as Stampede, Spruce Meadows, CLRC Rock & Gem Show, Okotoks Marketsquare and more. October onward I typically do a show/weekend and try to connect with customers at different locations around Calgary & surrounding areas.
Where in Calgary can we find your profession?
I am available year-round via my site www.andreakellydesigns.com with free shipping or at various locations via my events page.
What is the best question a prospective customer could ask a member of your profession when comparing services?
What inspired the design? Jewelry is a tactile product and wearing it should make you feel beautiful, evoke a feeling or memory.
Also important to know is what is the metal? Having nickel-free jewelry makes a much safer metal that is safer to wear. Some people have allergies while others prefer only specific metals.
What is the best part about what you do? What is the worst part?
I absolutely love designing jewelry however I've found the more jewelry I sell the less time I have to make it. I set aside at least 1 day/month to just create, without any real plan in place, which sparks my artistic side. I love connecting with Calgary women who I would have never otherwise met. I also love that my kids have helped me since they were young with my business and still do to this day which is wonderful to watch their abilities grow and feel their support. The worst part for me is the numbers side & forecasting. I've moved to having an accountant which is great and as much as I have learned to embrace this side of my business it still isn't my favorite. While the business side of my business took some energy to embrace I have taken at least 1 new course each year, learning everything from site development, creating cohesive collections, PR pitching and more. I have successfully placed jewelry on shows such as Bones & The Vampire Diaries, in publications such as British Vogue & Celebrity Page, Yogiapproved and more. Each aspect of business development has taken time to learn, plan & schedule for but has made me a stronger businesswoman.
What is your favourite joke about your own profession?
You can never have too much jewelry! It's a collection! Some people collect knick-knacks, I collect jewelry, as do many of my customers.
PAY IT FORWARD: What is another Calgary business that you love?
Anne B Designs – another local designer who is kind beyond words, helpful to other businesses and fearless in business.