Our featured dish this week is House-Smoked Gyros Marinated Lamb with Tzatziki Sauce, from SMOKE N FUSION. It pairs well with a salad or greens.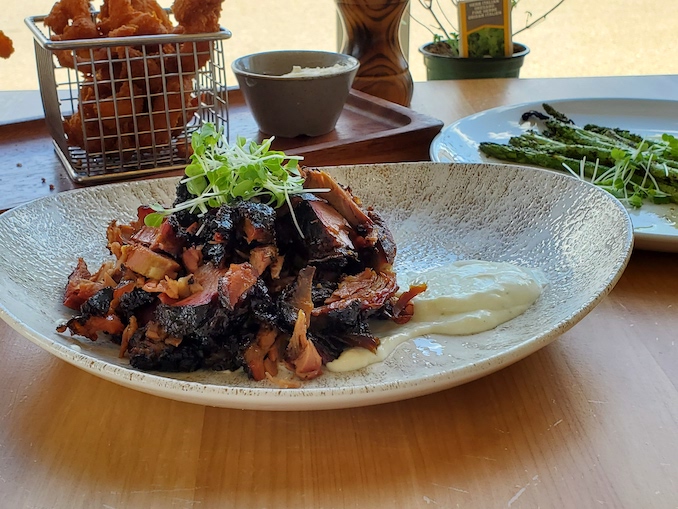 House Smoked Gyro Marinated Lamb Recipe
INGREDIENTS
Part A
– 8 KG Lamb Shoulder
– 8 Cups Greek Yogurt
– 3 Tbsp Dried Oregano
– 3 Tbsp Dried Thyme
– 3 Tbsp Paprika
– 3 Tbsp Crushed Garlic
PART B
– 3 Tbsp Salt
– 3 Tbsp Black Pepper, ground
Directions:
1. Combine Part A ingredients together in a stainless-steel bowl and let sit for 45 minutes
2. While marinade is sitting; remove the netting from the lamb and season with Part B ingredients
a. Ensure that you are seasoning the entire product (inside and out)
3. After 45 minutes, rub Part A ingredients throughout the lamb
4. Let marinade in the fridge for a minimum of 12 hours
5. Put lamb in your smoker (ensure that the smoker is cold)
a. Smoke the lamb for 6 hours at 200F
b. Continue cooking the lamb (without smoke) for 6 hours at 200F
6. Remove from smoker and let rest for 30 minutes
7. Server or refrigerate
Tzatziki Sauce
INGREDIENTS
– 1½ Cup Greek Yogurt
– 1½ Cup Sour Cream
– ½ tsp Salt
– 1 tsp White Pepper
– 1 tsp Lemon Juice
– 1 tsp Red Wine Vinegar
– 1 Tbsp Olive Oil
– 1 Tbsp Cucumber, shredded and drained
– 1 Tbsp Garlic, minced
Directions:
1. In a stainless-steel bowl mix all your ingredients
2. Let rest for 2 hours to allow flavours to blend
3. Refrigerate and use as needed
Find out more about SMOKE N FUSION.