Celeste Christie is a local artist who experiments in a variety of mediums including, acrylics, oils, spray-paint and abstract photography. She draws inspiration from bold colours, abstract forms, experimentation, nature and cityscapes. Celeste's artwork is a direct response to her surrounding environment and personal experiences. In each art piece she creates, Celeste strives for harmony in finding the perfect balance between nature and abstraction.
Celeste's passion and pursuits in her artistic endeavours, have fuelled her professional career, working as a commercial Interior Designer. Originally from Winnipeg, MB, Celeste lives in Calgary AB and sells her artwork through her website, restaurants, coffee shops, temporary art showings, real estate show homes and markets and events across the country.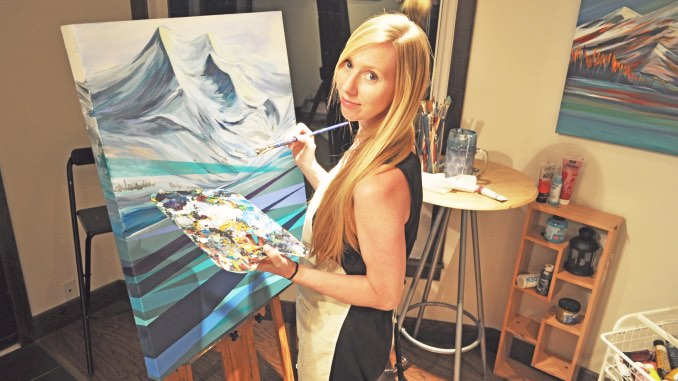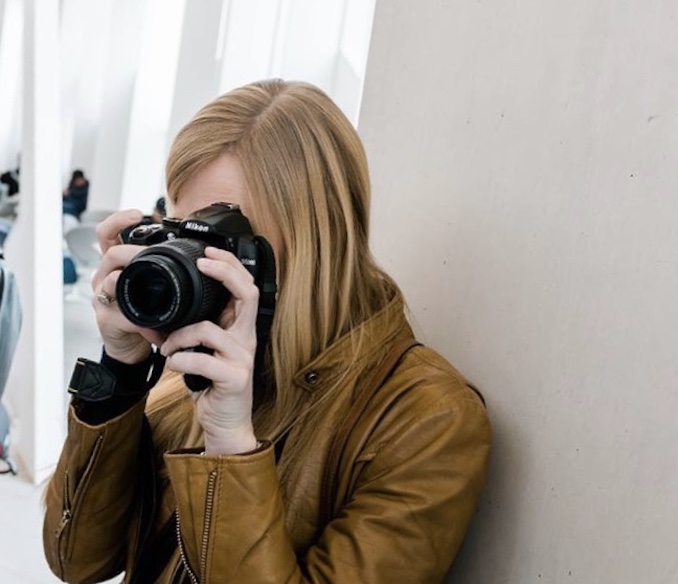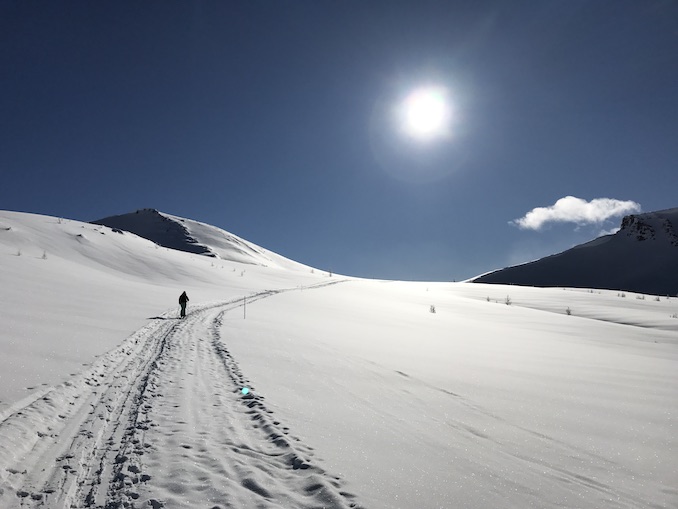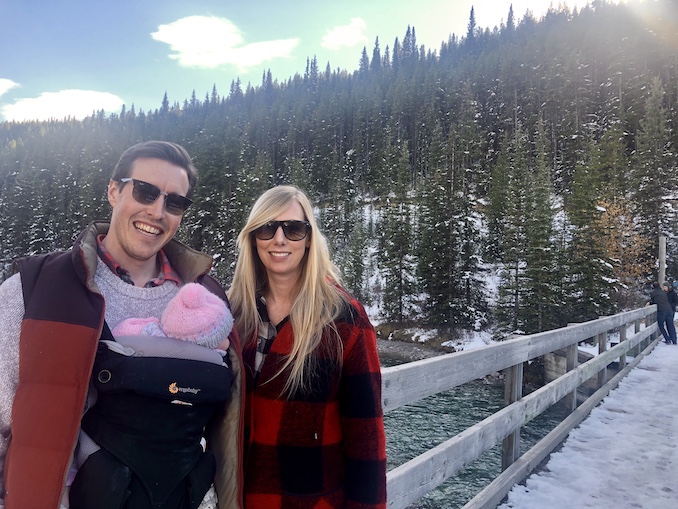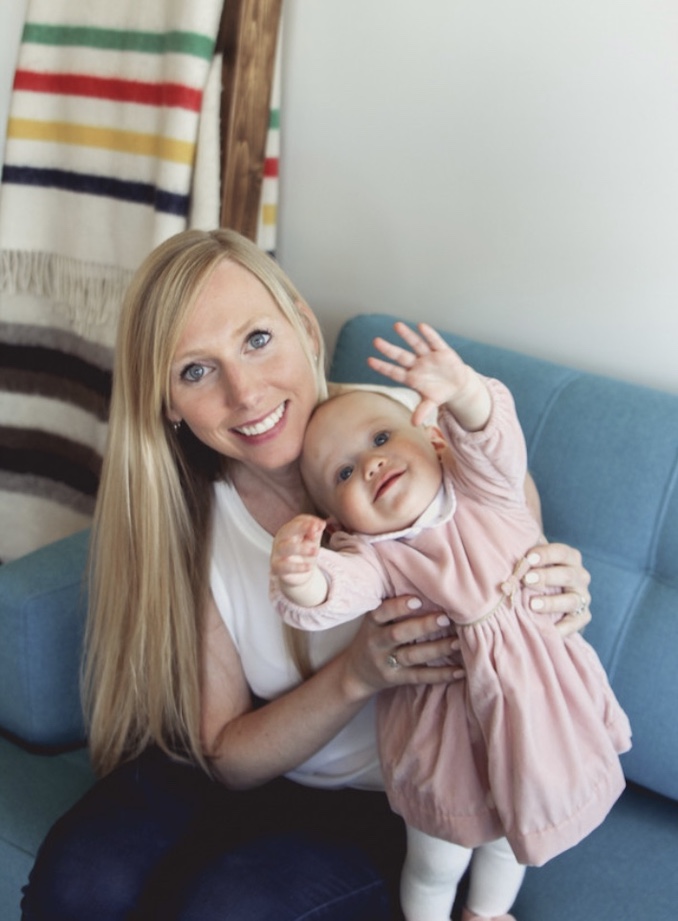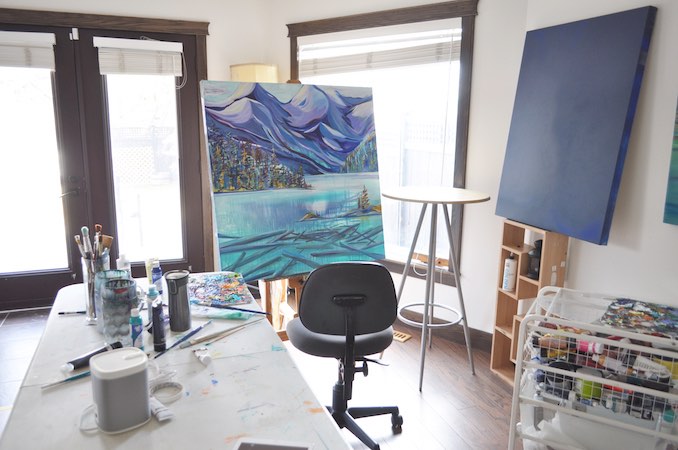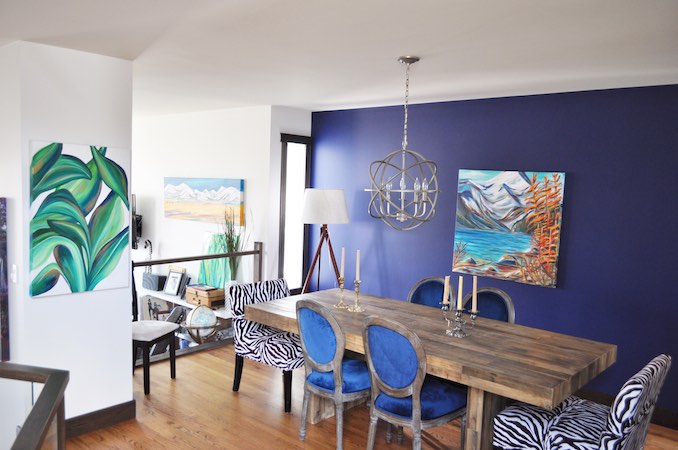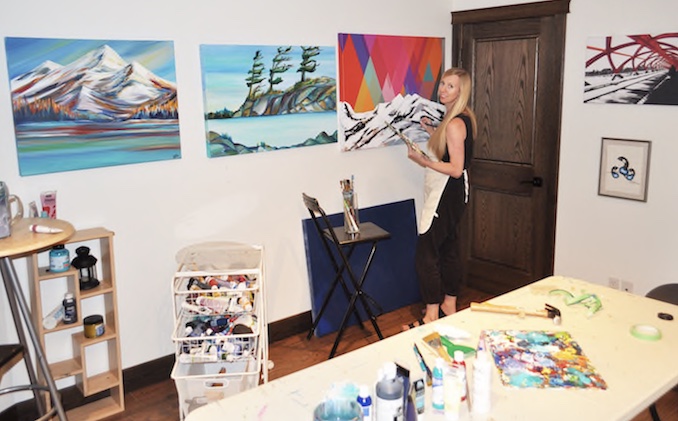 What 'hood are you in?
I live in Bankview. We've lived here for two years and I am so fortunate to have a fantastic studio space. For many years we've lived in smaller units and finding the space to be artistic was always a challenge. My previous roommates and husband would live in fear of never receiving our damage deposit back due to spilled paint on the floors, walls and in the sink. All of them have come home to the smell of spray-paint fumes at least a few times. Now I use our home as an art gallery with artworks that are constantly on display and ever changing.
What do you do?
I primarily work with acrylic paints and occasionally dip into spray-paint.
I also enjoy working with abstract photography. I photograph local scenes and manipulate them to create a unique balance between abstract and realism. The process is similar to painting as it is experimental and creative. Despite being on the computer, it is still a creative outlet for me. (all while enjoying the comforts of the couch).
What are you currently working on?
I am always exploring new themes in my artwork. A few years ago I was into spray-painted animals. Then I was doing abstract faces. (which were always a little creepy) More recently, I have been working on a number of mountains scenes. My work is constantly evolving and new things always inspire me.
Where can we find your work?
On line: My instagram page shows my most current and up to date projects and pieces. I also have works displayed on my website celestechristieart.com.
In Person: I do a few temporary showings throughout the city and will keep instagram users up to date on its locations. Currently, and over the next few months I will have pieces on display at venues such as Lazy Loaf & Kettle, Café Koi, Chinook Mall, Jubilee Auditorium and a show homes in Mount Royal through Foster Mac artists collective. My displays are always changing. People are also welcome to contact me for a studio visit and artwork tour. Seeing artwork in real life makes it easier for a person to connect to art.