With a golden voice that fills a room with warmth and honesty, Jennie Harluk captivates her audience from the very first note. She would say above all else, music is what moves her heart and soul and her passion is to share that love through her songs. Her home is the stage, and whether it is a crowd of thousands or an intimate gathering her only desire is to make her listeners 'feel something' when she sings. At only 16 years, Jennie is already a seasoned performer and has been captivating audiences from the Calgary Stampede to the Country Thunder stage for the last five years. Her love of the written word inspires her to capture and create the perfect message for each of her songs. She is involved in every part of the creation of her music, from writing, to recording and producing them so that each one is authentically hers. Jennie has now shared four of her original songs with both Canadian and International Radio as well as all Digital platforms.
Her song 'Bus Ticket' won the Pop Recording of the Year at the 2018 Calgary Music Awards and her first original 'Suitcase', spent 10 weeks in the Top Ten Countdown of the Internet radio station Music Road Radio, winning her rave reviews. Jennie also co-hosts and performs at her own event, 'Country Night Live', in Calgary, AB which showcases local artists and supports local charities as well as brings together fans, friends and families to enjoy an evening of live Country music. For Jennie this is the perfect opportunity to share her songs and to be a part of a meaningful collaboration with other artists. Not a day goes by when Jennie Harluk isn't singing. It is the truest expression of who she is. She writes and sings from her heart, hoping that her music will touch you and stay with you long after the last note. You can find her on all Digital Platforms at jennieharlukmusic.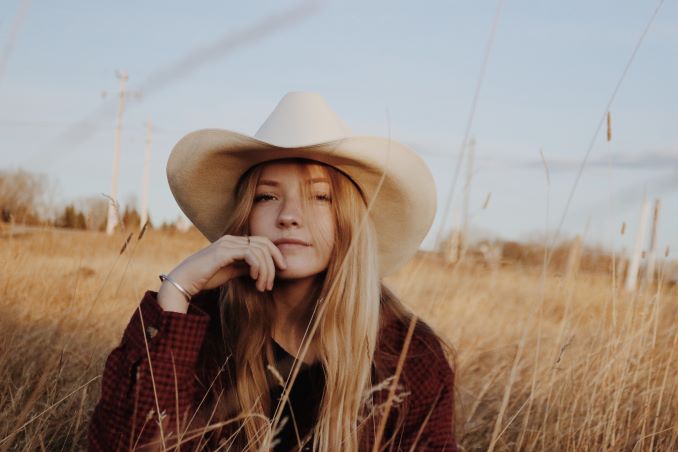 Name: Jennie Harluk
Genre: I ask myself "what is my genre" all the time haha! My music can cross between country, pop to americana. I love all genres and wish I could do them all! I always find this topic so hard whenever it comes to questions or categories in awards because I love exploring all sounds and all in all, whatever my genre whether it changes and morphs throughout time – I just want to make people feel something 🙂
Founded: I've been in love and practicing music for roughly 15 years if you count singing as soon as I could talk! I started performing when I was around 9 and began writing songs at 10. There was never a starting moment that determined my music, I think it was a slow but sure build that has just kept growing! However I released my first song "Suitcase" in 2016.
# of Albums: I don't have any albums out yet but I hope to in the future!
Latest Release: My Single "Fire" was released March 15th 2019!
Latest Video: I've been uploading covers and originals on my youtube channel recently! My latest cover is "I Hope You Dance" by LeAnne Womack
Favourite Local Restaurant
Ladybug Bakery & Cafe on the SW side of Calgary is a great little spot. It's small and has such lovely smells of coffee and pastries. Beautiful little desserts, lunch and breakfast. Such a great place.
Favourite Band As a Teenager
Well I'm still a teenager haha! So currently some of my favourite bands to listen to are "Gone West", "Little Big Town" and Canadian band "Wild Rivers"
Guilty Pleasure Song
"S.O.S" by ABBA ! I love all the ABBA songs but this one is so fun.
Live Show Ritual
You know I really don't have a routine before a life show, I don't like to eat before because I get the hiccups really easy and I don't want that during a show haha! If it's with a band we usually just hang out and share stories, talk and laugh. But if it's just me, I like to get a coffee or drink before hand and just hang out to take in the venue 🙂
Favourite Local Artist
Actually this is an easy one… it's my dad Shane Harluk! My dad has taught me just about everything I know and love about music. Right from when I was about 2 years old sitting on his knee listening to ACDC! We write, perform and record background vocals for each other. We are actually releasing our first duet in the near future!
Nose Hill or Fish Creek
Fish Creek!
EP or LP
LP!
Early Bird or Night Owl
Night Owl for sure. I have a hard time sleeping when my head hits the pillow and all the new ideas and inspiration for songs come to my head. I also think there's a really eery but magical thing about being the only one in the house awake, and there's a different kind of quiet when it's 2 or 3 in the morning. It makes me feel like I'm the only one in the world haha
Road or Studio
I haven't hit my "roadie days" yet so I'd have to stay studio, although I have recorded at many different studios in Calgary, and Vancouver and even Nashville so I guess I'm on the road for studios haha! It's always fun seeing how each studio is set up and decorated and the different vibes of each one! I travel to Vancouver and Nashville for writing and recording a lot and both are such great cities, I've met some great friends and writers in both places but Calgary will always bring me home, not sure I could ever permanently leave my fields and mountains!
Where Can we follow you?
I'm most active on my Instagram @jennieharlukmusic & my lifestyle instagram @jennieharluklife
You can also find my bio, news and pictures on my website as well as Youtube, Spotify and Apple Music under the name Jennie Harluk! Can't wait to meet you all!
Any shows or albums coming up?
Well unfortunately we're in a time where I'm not sure when my next show will be. I was pretty devastated to hear the Calgary Stampede had been cancelled this year but understand the good reasoning. Stampede is a very special part of my life and is always my busiest time of year! As life begins to go back to normal however and if anyone is ever looking for a performer at their summer gatherings and events, my schedule just opened up for July haha! As for music, I am beginning my "launch" this August and will be continuously releasing music starting at the end of the summer. I'm so proud and excited for what I'm going to release!