The first thing you might notice about Jay Coda Walker is his signature hairstyle, which you will see featured in his logo. Love the hair immediately or not, do not stop there, I caution you, because once you start looking deeper you will begin to understand the significance of what exists beneath. Though his music spans a breadth of honky tonk, rock, and blues – a style he terms "Rocky Tonk" – Walker is a true blues man in his soul.
A careful listen to the lyrics of his songs will allow you glimpses of the heartbreak intrinsic in Walker's life and art. You cannot have the blues without heartbreak, and, if you are lacking that experience yourself, not to worry as this man's sincerity will break your heart.
Take songs like "I'm Not Over You" and "Gone" for examples of tunes that will open a canyon in your being, communicating both pain and beauty. "I Can't Throw Stones," one of my absolute favourite Walker compositions, tells a tale of an older gentleman who has been broken by loss and regret. Walker paints a vivid picture with his lyrics creating authentic feeling that is very affecting on a human level.
Despite the heavy topics, you will also note that Walker remains a person who empathizes strongly with others and genuinely wishes the best for those in and out of his life. It is amazing that hearts can remain so giving and strong even after being torn apart. The scar tissue does not seem to have stilted that aspect in Walker.
Any great musician has range, and that is certainly true of Walker. He has a broad musical knowledge base, and the ability to adapt and fuse many musical styles in his performances. The urge to shed a few tears during Walker's ballads is tempered by the fire, attitude and kick in other songs like "Don't Hate Me," "Knockin' Out Ginger," and "Chaps My Hide."
Walker's stage presence allows this attitude to shine. His animation and energy truly add to the experience when you see him play live. He is an artist who likes to fully immerse himself in his music, playing from a space that is a world of his own. In turn, that world and that emotion – be it happy, angry, cheeky, melancholy, or all of the above – is genuinely communicated to his audience. And watch out: in moments, Walker also has a smile like the sun appearing around the edge of a storm cloud, so pay attention – you do not want to miss it.
Willing to make substantial sacrifices to stay true to his art, authenticity by no means stops at his songs. Maybe that is one of the reasons his work is so unique because regardless of having a persona created by a hairstyle and clothing that compliment his musical style, Walker lives his music. Having the privilege to speak at some length with this exceptional human being, I can say that, regardless of different stages and circumstances he has experienced in his life, I would be hard pressed to find another person as unassumingly, perhaps even unintentionally, true to what his art stands for.
And, of course, there is more.
A triple threat, Walker is not only a musical artist, but a teacher and inventor as well. Individuals who have been inspired by his live shows routinely request guitar lessons, and he has developed a unique method for these.
Walker also has a drive to invent new things, as happens with active creative minds. He has furthered his desire to contribute to the world of guitar through ingenuity. An exciting example of this is his Swivel Slide. A new approach to the challenges of slide guitar, Walker's Swivel Slide allows a player to seamlessly switch from playing slide guitar to having all fingers available on the frets. Worn like a ring at the base, the slide extends upward from that base covering the front of the finger, and, with a flick of the hand, will swivel to the back, out of the way. This means that you do not have to stop playing to put on or remove a slide and you do not have to sacrifice a finger. This is fantastic for players who might not have thought of incorporating slide elements into their music because of the limitations of wearing a traditional slide. Walker wears this clever device during all of his own performances.
Walker can be found playing Friday Happy Hour shows regularly at The Blues Can in Inglewood, as well as various other shows. Keep abreast of where you can catch a performance via his Facebook page, or The Blues Can website. If you don't have the opportunity to attend a show in the near future, you can check out his songs via Soundcloud!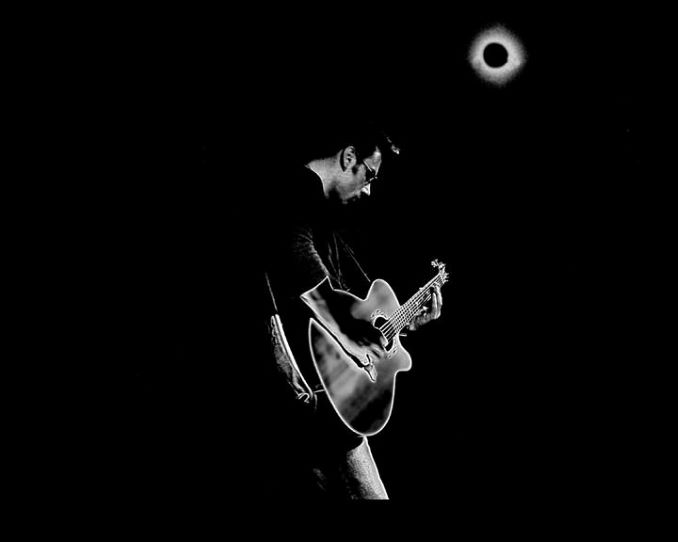 Name: Jay Coda Walker
Genre: Rocky Tonk
Founded: 1995
# of Albums: 7
Latest Release: It's a Mighty Long Road
Latest Single: My Baby's Gone
Latest Video: Live Video from my performance at the Blues Can on January 29, 2020
Favourite Local Restaurant: The Blues Can
Favourite band as a teenager: Dire Straits
Favourite band now: Benny Goodman
Guilty Pleasure Song: Come to Me – Tom Jones
Live Show Ritual: Chewing gum & whiskey
Favourite local artist: Oscar Lopez, Tom Phillips, Greg Demchuk
Nose Hill or Fish Creek?? Fish Creek
EP or LP? LP
Early bird or night owl? Night owl
Road or studio? Both
Where can we follow you?
@jaycodawalker and my Facebook.
Any shows or albums coming up?
Happy Hour LP, Performing every Friday at the Blues Can Happy Hour 5-7, Full Band show March 18th @ Blues Can