I Am The Mountain is everywhere, from bars and cafes, to caught-in-your-brain as you try and fall asleep. Beginning as a folk project of singer-songwriter Colton O'Reilly, the late-night campfire soul songs that once whispered between the pines in Kananaskis have echoed through almost every music-friendly space in Calgary. The horn-accented songs of I Am The Mountain are the most pleasant and reliable in a city with a maelstrom of eclectic indie. As the band grew into a full ensemble, the heart-on-sleeve earnestness of their early folk songs have morphed into luxurious still-life songs that bring bodies together with smart drumming and scintillating sparkly guitar work. The floating bass and fluttering horns circle around each other, sinking back like a warm hug from an old friend.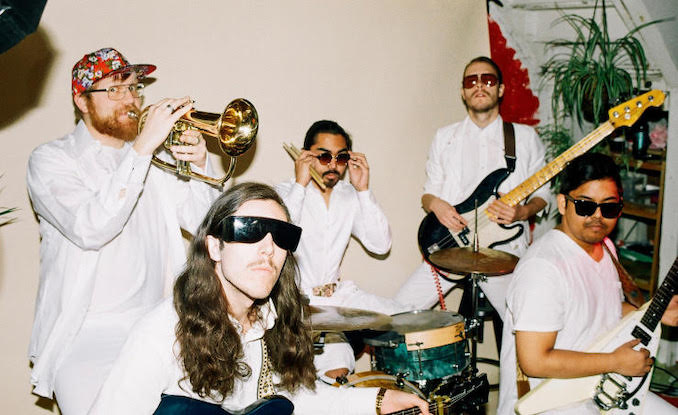 Name: I Am The Mountain
Genre: Soul/Rock
Founded: 2014
# of Albums: 2
Latest Release: 2018
Latest Single: 2020
Latest Video:
Favourite band as a teenager:
Alexisonfire
Favourite band now:
Typhoon (check them out!!)
Guilty Pleasure Song:
My Future – Billie Eilish
Live Show Ritual:
1 glass of blonde lager for a good show, 2 for a fun show. TUNE GUITAR! Go outside and do vocal warmups with the boys, it helps everyone get ready!
Favourite local artist:
Joe Nolan, A.Y.E. and the Extraordinary Gentlemen, Ghost Factory, John Lost & The Cause.
Nose Hill or Fish Creek?
I work right beside Nose Hill and it's nice but I prefer Fish Creek.
EP or LP?
We have mostly released EP's in the past due to many reasons. We would love to begin releasing full length albums, and will be doing so in the near future.
Early bird or night owl?
100% Night Owl. It is when the Akashic records are most open and available.
Road or studio?
We love being in the studio. Our band currently lives in a house/studio and we have been honing our skills. The road is fun, but home is where I'd prefer to be.
Where can we follow you?
Check out our cool Instagram design @iamthemountainmusic or anywhere else music is heard or found!
Any shows or albums coming up?
We have a big release coming up in the near future. It's titled Overthinking Conversations and it is an 8 min long epic about over-analyzing, over-critiquing, and overthinking everything. We are in the process of getting the music video going and will hope to release the song this summer/fall. We also hope to be playing shows again in the near future as we are missing the stage, the people, and the music.