Sweet as Candy handcrafts amazing, bright, delicious smelling bath and body products with very high quality, simple ingredients. We recently talked to the founder of the company who told us how much her customers and herself enjoy the products.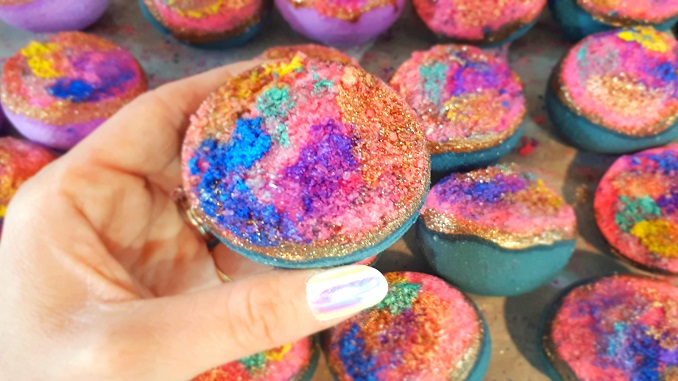 What is your business called and what does it do?
Sweet As Candy.
I hand make from scratch fun, bright, delicious smelling bath and body products. I focus on nostalgic smells and love seeing smiles on my customers faces when my products remind them of something happy.
What made you want to do this work?
I can honestly say that it came out of no where. It started with a few bath bombs and then escalated pretty quickly from there!
What problem does this solve?
All I can think is it makes people happy when they use my products! And they smell pretty afterwards!
Who are your clientele/demographics?
Mostly my demographics are moms buying bath products for their kids but I have something for everyone. A lot of my customers have been with me since I started this business almost 2 years ago. If I had to put a number to it I would say females ages 2-45.
How does your business make money? How does it work?
My business has grown a lot from word of mouth and from me being present at local craft markets showcasing my products.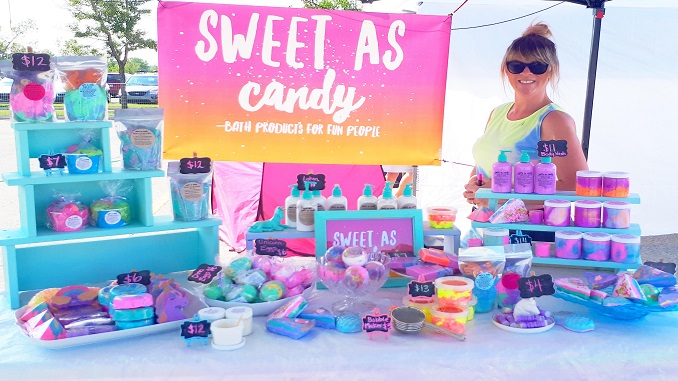 Where in Calgary can we find your profession?
I sell my products in the Curated Shop in Southcenter as well as Shared Spaces In Okotoks and online.
What is the best question a prospective customer could ask a member of your profession when comparing services?
I use very high quality, simple ingredients in all of my products. They may look bold and busy but they are very simple ingredient wise. People can feel good about using my products on their skin.
What is the best part about what you do? What is the worst part?
Meeting all the amazing, wonderful, people I get to meet and talk to on a daily basis whether on social media, at markets or in stores. I have made lifelong friends since starting this business… I am forever grateful. I also love re-creating my ideas and mixing colors and scents. Creating is therapeutic to me and my favorite thing to do!
The worst part is by far the cleanup after making bath bombs all day….
What are your favourite jokes about your own profession?
I don't think there are jokes about what I do.. if you have heard any please let me know!
PAY IT FORWARD: What is another Calgary business that you love?
​I love Crafted Origins Handmade, she makes the most amazing dolls, Silas and the Sloth, Silas and Ivy, Elle Bee Tree, First Glass Ladies, Ami and Emme.. The list goes on and on…..