For this week's "Charitable Choices" feature, we spoke with Kathryn Wagner, Program Director of Inside Education. This nonprofit is the largest environment and natural resource education organization in Alberta! Their aim is to encourage their students to work toward a balanced, sustainable future for the environment, economy, and society.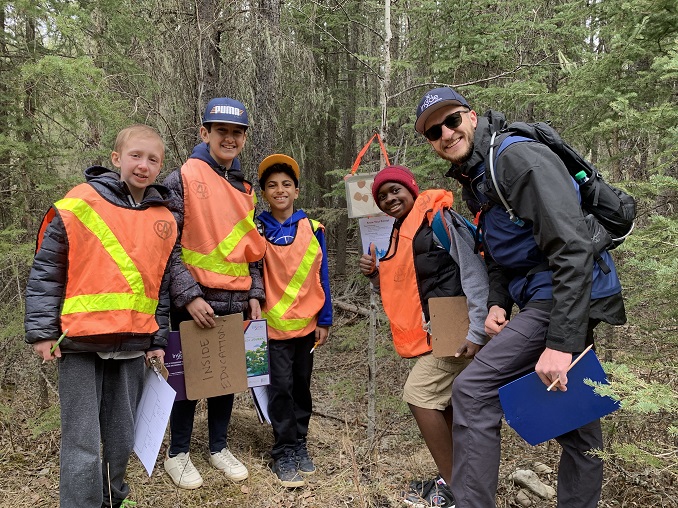 Describe your charity/non-profit in a few sentences.
At Inside Education, we support teachers and inspire students! We are an environmental and natural resources education charity with over 35 years of experience encouraging K-12 teachers and students to explore their role as environmental leaders through the lenses of science, careers, innovation and stewardship. We focus on experiential learning through our broad range of no-cost programs including field trips, classroom presentations, youth environmental leadership summits, learning resources and teacher professional development.
What problem does it aim to solve?
Alberta's environmental and natural resource landscape is complex and constantly changing. It can be difficult to approach big topics like climate change, water, land use etc. in a meaningful way in K-12 classrooms; it is for this reason that Inside Education provides access to programs to ensure that students and teachers are equipped with current information, access to experts from across a spectrum of perspectives and learning materials to support
critical thinking. We act as a conduit between schools and our partners in industry, government, conservation,
and academia in the development and delivery of our engaging, multiple perspectives environmental and natural resources education programs.
When did you start/join it?
Inside Education was founded by a teacher in 1985 under the name FEESA – Friends of Environmental Education Society of Alberta. I joined the organization in 2006.
What made you want to get involved?
I learned about Inside Education during my education after-degree and absolutely loved the organization and its approach to multiple perspectives of education. I recognized the importance of connecting young people with their local environments, helping students and teachers navigate key natural resources topics and providing no-cost support in classrooms across Alberta. I wanted to help create memorable and meaningful environmental experiences for both teachers and students and Inside Education does that every day.
What was the situation like when you started?
Understanding one's role in the environmental landscape is an important part of a well-rounded education for learners of all ages – the more we can include these topics and experiences in the classroom the better our environment, society and economy will be moving forward. Classroom teachers strive to include environment and natural resources contained in their lessons but they may lack current Alberta-based information, need access to learning materials and seek opportunities for hands-on engaging programs for their students. Inside Education addresses all of these challenges through award-winning, no-cost programming and resources tailor-made for K-12 students and teachers.
How has it changed since?
Youth are becoming more active in the environmental space and as an environmental education community, I think we've come a long way in terms of encouraging them to take part. Now we must focus on doing so in constructive and positive ways through critical thinking, stewardship actions and demonstrating that we are all working together to achieve a sustainable loop future. Our nationally recognized youth energy, climate, water and agriculture leadership summits are designed to inspire the next generation of environmental and natural resources stewards by providing avenues for engagement today, not in some distant "when I grow up" timing.
What more needs to be done?
The last several years have been especially challenging for K-12 teachers and students. A big priority for us right now is to help all schools get back outside, go on field trips and have great environmental education experiences. We need to ensure that students learn about exciting innovations that are changing the way we interact with the environment, provide them opportunities for young people to contribute their voices and ideas to the environmental conversation in meaningful ways and we need to connect with each other and the awesome places that makeup Alberta.
How can our readers help?
If you know a teacher, student or school, tell them about Inside Education! If you work in the environmental space we would love to connect with you so we can let people know about the great work you're doing so give us a call.
Do you have any events coming up?
We have a tonne going to kick off the 2022-2023 school year including our fall field programs, several teacher's professional development opportunities and our return to in-person youth leadership with Cultivate 2022: Youth Agriculture Leadership Summit slated for October in Olds.
Where can we follow you?
Website | Facebook | Twitter | Instagram | Online newsletter
PAY IT FORWARD: What is an awesome local charity/non-profit that you love?