Our featured recipe this week is a grilled broccoli salad with black garlic dressing by Derrick Gin Mill and Kitchen. Derrick Gin Mill and Kitchen is an affordable, locally sourced restaurant that features a food menu comprised of traditional classics, seductively smoked meats, and a spirit menu with an emphasis on GIN, all paired within a cozy atmosphere that should make you feel right at home.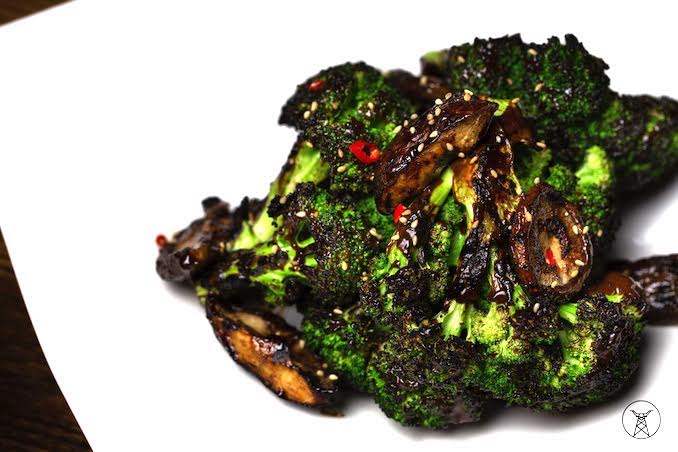 Grilled Broccoli Salad with Black Garlic Dressing Recipe
Serves 2 People
Ingredients:
2 Crowns of Broccoli
8-10 Shiitake Mushrooms
1 Thai Chili julienned
Sesame Seeds Toasted
2 Green Onions Sliced on a Bias
Dressing
4 oz Black Garlic
100 ml Soy Sauce
50 ml Balsamic Vinegar
1 T Dijon Mustard (Smooth or grainy)
Sugar
Canola Oil
Salt and Pepper
Black Garlic Dressing
Puree the black garlic, soy sauce, balsamic vinegar, and dijon mustard in a blender. Slowly add the oil to form an emulsion until the desired thickness. Thin with water if needed and season with salt, pepper, and sugar as desired.
Grilled Broccoli Salad
Trim off the bottom of the broccoli crown and cut the broccoli into rustically large chunks. Season with oil, salt, and pepper, and char on a hot grill. Trim the shiitake mushrooms by cutting off the base of the stem and cutting them in half. Season with salt and pepper and cook on the grill for 30 seconds to a minute and a half depending on the heat of your grill. Once the broccoli is fully cooked and has a nice char, toss with the mushrooms, as much dressing as required, and the Thai chili. Omit the chili if you prefer no spice. Plate the salad and garnish with sesame seeds and green onions
If you like this recipe, make sure to check out their restaurant!
Website: https://www.thederrickyyc.com/